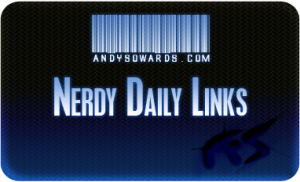 So this has been a good productive weekend for me, getting some programming work done for clients AND getting startup stuff done as well! I hope you guys have gotten a lot out of Daily Nerdy Links posts this weekend! I hope all you Subscribers are getting what you need! If not, Please send me some comments or suggestions! Enjoy the rest of your weekend and take something away from these nerdy web techy web developer/designery Resources! Now for the good stuff!
A Look into the Code Behind YouTube
Some good info behind how You Tube works, so next time you or your clients say "We should build something like YouTube" You can say, Its easier said than done.
Typography Love
Some good Elusive Typographies!

Really nice, and FREE, fonts. Gorgeous.
Freelancer Tips
Good read, Freelancer insight on Logo Creation and Workflow.
Flash Tutorials
If you love learning flash and have never seen this site, then shame on you.
Windows 7. Too Little, Too Late?
Windows 7. Microsoft, what hast Ye Done. Hopefully it makes vista suck a little less.
Web Developer/Designer Inspirations and Resources
Some amazing Designer Interviews can be found here!

Some really nice Windows Wallpapers, Maybe they should focus on the OS and not the Desktop 😉

Web Development Nerdy Daily Links For 11/01/2008 – Halloween was great! I hope you guys got to see Halloween Edition of Daily Nerdy Links post yesterday! I hope all you Subscribers are recovering nicely this weekend :). Enjoy your weekend and get your nerdy web techy web developer/designery Resources…

28 Really nice and inspiring tech ads! Good collection!

New blog! Welcome to think design! This is a new graphic design blog, aiming to bring you freebies, resources, inspiration and much more. This site was created by Nick Pagano, the (only) designer for Think4: Graphics + Marketing. (New Site Portfolio & Site in Progress)! Check it out!
WordPress Tutorials
If you make WP Themes, you need to know this information.
PHP Tutorials
This is a really good tutorial to watch, for anyone.
Social Networking
Create your own story/lifestream at your own URL
Freebies! (probably my favorite section)
Like free stuff? Me too. Well here is something to keep you busy on your sunday 🙂
Twitter Stuff
Estimate your Twitter worth with MagPie.

Use MagPie to Estimate how much your ads on twitter are worth.
iPhone News
Now you can Edit your documents easily on iPhone!

Money ain't fo nothin' and your hotspots for free. Not the case until Now for iPhone users.
Google News
Never really thought OpenID would catch on that much until now, Maybe I'll give it a try.
Cool Techy Nerdy Gear
Some really cool USB Products! Wow!
WordPress Themes
Consider your mind Blown.