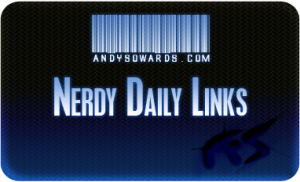 Happy Wednesday! Its been a busy week here at AndySowards.com and we would like to say Hello and welcome to all the new Subscribers, daily visitors, and twitter friends! Your nerdy techy web developer/designery Resources await! Feel free to leave some comment love or lay down some nerdy techy link enlightenment and Get Informed while doing it! Some really great inspirations, Freebies, and Info are below!
Freelance/Business/Marketing
GREAT collection of Business Related eBooks to read, best part is, they are FREE!

This is an important part of Any business really. Use your feedback information for good!

I Think the answer to this question is obvious, but read for yourself! 🙂

Tips to live by when it comes to Search Engine Visibility, I pretty much adhere to all of these 'standards'

Good Insight, Something to think about next time you offer stuff for free, I am a personal fan of Free, but sometimes ya gotta charge!

Blog Collaboration happens more often than not these days, here is why.

Tips for Success when Branding for your Small Business!

Learn how to Court Google. First 4 Steps of 7

Unfortunately, an all too true story most of the time when it comes to web development/design work, and clients.

Quick Guide to Categorization and Tagging with StumbleUpon, I know I don't use stumble upon to its full potential, check this out!
Web Developer/Designer Inspiration
For Padding Addicts. Good Web Examples of Good Padding Usage!

Another Great collection of Blog Footer Designs! Fuel your footers inspiration!

Good ideas to spruce up your feed footer! Never thought about it before really… Nicely done!

Nice abstract artist interview! Inspirational!

Amazing and Inspirational Portfolio done in Flash by a UK Designer. Very Nice.

Awesome Collection of the Best Innovative Designer in November 2008 – Biomachina – Wickedly awesome designs.

Nice Charity Games, Games with a purpose? Kind of cool to think about.

Great interview with Liam McKay of Function, Very Inspirational!

Inspiration for those with Innovative ideas and motivation to achieve goals on their own terms. Mostly Aspiring Startups.

Really Great examples of Clean and Simple designs!

Think all real estate sites are boring? They don't have to be, some of these designs are Nice!

Very Nice interview with one of my faves! Abduzeedo founder Fabio Sasso!
Business Card Tutorials!
Nice Collection of "How To" Tutorials for Creating Business cards in Photoshop! Awesome!
Web Tools
A Home for all your comments, Awesome concept!
Contests!
125×125 Banner Block Challenge!

Texture pack contest! 3 Commenters will be chosen randomly and will get to download all 6 of the Colorburned texture packs for free.
Frustrations!
We all have them. don't lie.
Freebies!
Tons of Marker Illustrator Brushes!

Freebies – Circular Fractal Photoshop Brush Pack!

Tons of cool Twitter Eye Candy to entice your future followers!
Web Developer/Designer Resources
Some good links found noteworthy by ThemeForest!

Web Development/Design Nerdy Daily Links For 11/18/2008 – Happy Tuesday, Feel free to leave some comment love or lay down some nerdy techy link enlightenment and Get Informed while doing it! Some really great inspirations, Freebies, and Info are below!

Really great Article for those Designers that Do Web Work Only, but want to learn PRINT work.
Laugh of the day – Most Annoying Commercial Ever.
Most annoying commercial ever.
Blogging Tips
Top Blog Post Editors! Which is your fav?
Go Gmail
So many people have this problem. Ditch that old email address and go Gmail. Just DO IT!
Twitter Stuff
Are you a UK Designer or a Geek on Twitter? Leave some love and your twitter ID Here!