1. Tell us about yourself!
The name is David Perel, 24 years old, born and live in South Africa. I'm the designer at Obox Design which is a family business which my brother (Marc) and I founded. My sister, Natalie Perel, also works with us full time. I started working in the web would the second I left school, initially my aim in life was to become a full time racing driver. I got very close and achieved many cool things but unfortunately my career peaked when the 'recession' hit. So since the middle of 2008 we have focused entirely on Obox.

David Perel
Marc Perel, 23 live in SA. I'm a php, coldfusion, jquery and WordPress developer for Obox design. Interests include, exercise, technology, programming.

Marc Perel
My name is Natalie, 18years old, live in South Africa. I am the video producer and editor of Obox-Design.

Natalie Perel
2. I have been following you guys since 'From the Couch' and 'WeAreNotFreelancers' and have watched you consistently explode in growth! Now you guys have http://www.obox-design.com/ in the mix!! What is the secret? How did you guys keep at it so regularly? Are you using any performance enhancing drugs!?
We are very driven as a team, when we were focusing on our sporting careers we always had to push the boundaries and what we did was carry that philosophy into our business world. Compared to what we had to endure as sportsmen this world can be a walk in the park.
3. What is your typical day like? What's it like working with your siblings?
Typical day? Start work at 9, the morning is taken up by emails, support and sometimes client site bug fixing/enhancements. 10-20min lunch, we then focus on new project work, like new designs etc. That lasts till 5. I then head off to gym for 1 hour, Marc goes for a 1hr cycle. Then after gym we work on 'private projects' (themes etc.) from about 6pm to 12-1am.
Working with the siblings is awesome, we love what we do and are incredibly fortunate to have had a great mentor (our father) who showed us the ropes in the first years after we left school.
We are also inspired by each other which I think is the drug that we have at Obox. The drug is inspiration. I believe that each one of us has an ability which fills the others lack of ability. Marc is good at programming, I can design and Natalie is generally an awesome creative. She provides the left-field-oomph that we require. Oh and her video and photography skills are pretty awesome for an 18yr old.
4. What is your favorite thing to do in any given workday?
I love working on private projects, or creating themes. Designing themes is was gets me stoked.

David Perel
Learing and creating an application from scratch with something I've never used before. ie Starting a new challenge and seeing it pull through.

Marc Perel
Definitely edit a good video, its always an awesome feeling to see the outcome.

Natalie Perel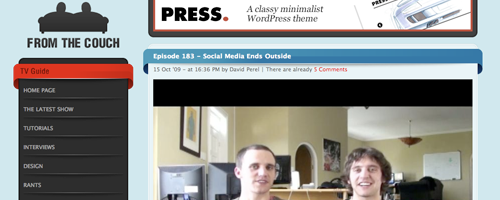 5. Where does your motivation and Inspiration come from?
It comes from looking away from the PC, cars, furniture design, anything really. Just as long as I keep my eyes open and I am focused I will find some inspiration. There are definitely days (and sometimes weeks) when I'm not even remotely inspired though, those are tough times.

David Perel
People's reaction to our work is a big motivator to keep on doing what I'm doing, but as far as inspiration for new ideas, those come after hours, usually on my bike or during a run (oddly enough)

Marc Perel
My brothers have motivated me so much this year. They are such hard workers and have shown me how much it can pay off.

Natalie Perel
6. What are some of the tools, programs, or amenities you use everyday that you can't live without?
I cant live without Fireworks and Dreamweaver. I also check my email every 2 seconds but Im not sure if that is a habit or a need.

David Perel
We don't use any 'apps' to streamline our work etc. I do have this thing called a 'Pen' which I use to write on something called 'Paper', that's still the best app I have used.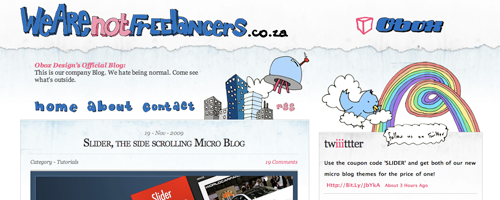 7. What other projects are you working on currently? What can we expect to see from you in the future?
Well there is the http://secret.obox-design.com/ which we have been working on. It will be out on the 2nd of November, I think we will be the first peeps to do it in the web world which is awesome stuff.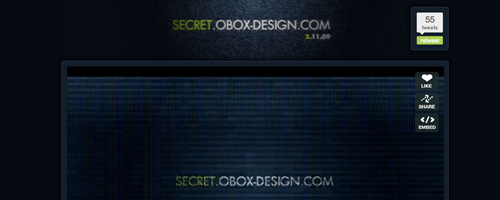 8. What advice would you give to someone starting out in the design industry?
Take every job you can get, forget about the price. Just get the deal, as Gary V says "Take 100 bucks even though your friends are getting a 1000 and doing worse work, get what you can get, make little squirrel like moves and before you know it you look around and notice that you have got something. Then use that something to move to the next step, leverage then leverage again."
Watch this video everyday for 100 days http://garyvaynerchuk.com/post/78961659/better-than-zero – even if you don't like Gary V, the message is as clear as day.
I live by those words. It's never easy at the beginning but if you can get whatever you can get then you will start moving forward. Oh, and be patient… it took us 5 years to get where we are now and for 4 of those 5 years we were going nowhere fast.
9. Name 5 people on twitter that have impacted your career as a designer and are Must Follows:
Adriaan Pienaar the co-founder of Woothemes, @Adii, his blog was the first blog I started to read. He also sat me down and asked me why I hadn't started a theme company yet. I went home that day, phoned Marc and said 'Bru, tomorrow we are going to start on our theme company', 40 days later we had Obox Themes which is now our core business.
Charl Norman, @zoopedup, co-founder of Blueworld which is South Africa's biggest social network. He has connections to the end of the world in this country and is often my go to guy when I have an idea. He says yes or no.
Gary Vaynerchuk, @garyvee, even though his tweets are a bit random these days I still follow him because he got Marc and I started in video blogging. We watched one of his vids and boom, From the Couch was born.
Jason Santa Maria, @jasonsantamaria, power house of a designer. His tweets are also funny. Need I say more?
Loren Feldman, @1938media, no one tells it like he does. Seriously straight forward and will put you back into reality very quickly with his tweet rants (and video rants btw)
10. Mac or PC?
PC everyday of the week.
You can also check out the Obox team in the following places!
http://www.obox-design.com/
http://www.from-the-couch.com/
http://www.wearenotfreelancers.co.za/
http://www.facebook.com/fromthecouch
http://twitter.com/obox
http://twitter.com/marcperel
http://twitter.com/natperel
Hope you enjoyed the interview! Leave them some comment love!!