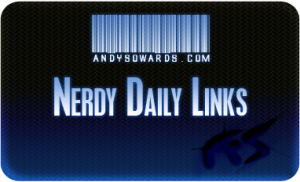 Busy weekend for me! Hope you are all having a great one! Today is another easy to digest episode of Daily Links! Maybe you can catch up on some of the huge posts that happened earlier in the week! Thanks everyone for all the love and support, I appreciate you all! Now Get your Daily Nerdy Web Development/Design Links!!
Web Development/Designer Resources, Inspirations and Entertainment!!
Awesome 3D Text Typography Designs! Inspirational collection!!

Another great roundup of sites from last week!

Awesome Freebies you gotta downlod

Lots of buzz about converting HTML websites into PDF's lately, Here is another option

Great read/watch if you need to use WordPress as a CMS – which is good choice

Great read – Tons of Stumble Upon resources!

Twitter can be fun too 🙂

Great read for beginners to twitter

Some ugly websites in the finals! 🙂 Congrats to the winner!

Great read for freelancers – handling confidentiality

These plugins for wordpress just plain Rock. Can't live without them.

Great read for anyone following a TON of people on twitter!! Be engaging!