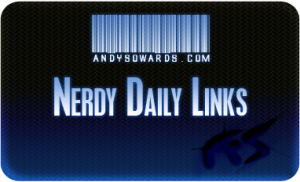 Week is over! Its Friday!! Thanks to all the new Subscribers, daily visitors, and twitter friends I have made this week! You guys have made this week a great one for me. But today is also a busy day for me, so go get your nerdy web techy web developer/designery Resources fix! Feel free to leave some comment love or lay down some nerdy techy link enlightenment!
Web Developer/Designer Inspiration
Awesome Examples of Package Design! Gorgeous!

Great Examples of Logo Re branding in 2008! Really good insight and inspiration!

Nice inspiration from Abuzeedo!

Best Business Cards of June 2008! Really Inspiring collection!

A list of great designers in our time, very nice!

this tutorial is the original Bokeh effect created by abuzeedo. Very nice!

Really awesome Photography masters! Inspirational indeed!

Web Development/Design Nerdy Daily Links For 11/13/2008 – I am glad to share my nerdy web techy web developer/designery Resources with you all! If you have any suggstions or comments then please leave some feedback! So enjoy today and come back tomorrow for more nerdy techy link enlightenment!
RSS
Good insight, Are RSS Subscribers worth it?
Freebies!
Nice Collection of Free WordPress Layouts! 15 Abstract Blog Themes! Awesome ones too!

Everyone loves Origami! Awesome web 2.0 Version of Origami! Nice Free Icon Set!
Web Tools
Quick and Easy way to download streaming content, I.E. from Youtube. Awesome!
Freelance/Business/Marketing
Make your email more productive!
Free Tools
Because sometimes you need something done NOW! and don't have access to your photoshop. Great list, and great insight into the options!

Awesome collection of Free apps for the Mac OS X!
SEO
SEO Starters guide from Google. Its gotta be good!
Google News
Video and Voice chat in your Gmail! I Love Gmail already.

Ancient Rome on Google Earth! NICE!
Web 2.0 News
New measures YouTube is taking to gain Revenue.
Web Developer/Designer Resources
This will help a ton of people write better, cleaner code. Thanks Smashing Magazine for educating the masses with this post.

Quick and Easy iFrame tutorial!
Cinema 4D Tutorials
Great Cinema 4D Tutorials! Makes you wonder if you even need 3DS Max!
Future Hardware
Can't wait for USB3.0. Yum. Fast.