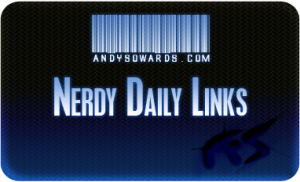 This week has gone by so fast! It has been a good one though, very productive! Thanks to all the new Subscribers, daily visitors, and twitter friends! I am glad to share my nerdy web techy web developer/designery Resources with you all! If you have any suggstions or comments then please leave some feedback! So enjoy today and come back tomorrow for more nerdy techy link enlightenment!
Web Developer/Designer Resources
Another Great place for Web Designer Feeds! Don't forget to add mine to your list as well 🙂

If you have not branded yet, you should, and here are some strategies to think about when doing it!

Don't let bad CSS Happen to you, or your friends.

Rules to live by if you are a Web Developer, and I know you are. LoL

Web Development/Design Nerdy Daily Links For 11/12/2008 – I enjoy delivering nerdy web techy web developer/designery Resources to the masses and it Makes me smile when you guys leave comments and feedback! So enjoy and rest assured that tomorrow is a new day of nerdy techy link enlightenment!
.htaccess
Its so simple, but most people don't even attempt this.
Web Developer/Designer Inspiration
Once upon a Time. There was a Graham…

Randomly cool inspirational images!

Nice Typographic Art! If you love typography, you will love these.

Nice Retro Vector Pack! Download now!

Best of the Best Logo Designs!

Interview with Abuzeedo himself!

Cool stuff in the Weekly Spotlight at Arbenting! Check it out for some inspiration!
Video Editing
Hats off to this post! I had to cut off some blank footage at the end of an .flv file for a client, last minute, since I didn't have the native video file, I simply did a search, and thankfully found this! The Adobe Air App RICHFLV AIR installs in SECONDS and Allowed me to edit the .flv file directly and quickly and crop off the end of the video! Brilliant! Quick Easy FLV editing Solution!
Freebies!
Super SLICK iPhone GUI PSD! Download this sucker!

Nice Swirls Vector set!
jQuery
FAIL Of the day
Freelance/Startup/Business/Marketing
Get these wrenches out of your startups gears!

Great insight to the work flow of established freelancers. Great for those getting into doing client work themselves, and how to collect payment.

Accountability is key.

Good Tips to start your freelancing gig. Expert insight for beginners!

Keep your files organized and throw out the stuff you don't need. so hard for some people.

Well? Should you?

Good chart for people bad at math when invoicing clients for time spent developing. If you say "how does 45 minutes = .75??" Then you need this. LoL 🙂
Contests!
Win a MacBook Air! How? Write a Killer Haiku for the Win!

Win a Copy of Adobe CS4 Web Premium! Your mission is to create a homepage and one product page for a company that sells applications for a fictitious mobile device (smartphone, handheld gaming system, etc). The homepage should have an illustration of the mobile device along with a few featured apps. The product page should be devoted to one of the feature apps from the homepage.
WordPress
Great tips for keeping your wordpress blog running fast and smooth!

Useful PHP Functions in WordPress, and their meanings, great info for people not familiar with the native language of wordpress, which is PHP.
Google Stuff
As if you weren't paranoid enough, What Google Does With Your Information.
Blogging
Avoid Social/Blogging Overload!
Twitter Stuff
Stuff to keep the Twitter Addicts(ME) Busy!

More mistakes, not to make on twitter!
Open Source Web Script
Open Source PHP Web Stats Scripts, In case Google analytics isn't cutting it.
Blogger Templates
So wordpress is usually the winner in the Blog Platform War, but people do still use blogger, so here is a guide to building blogger templates!