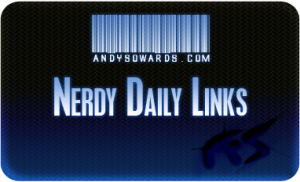 Yesterday was a big day! Now today is a busy day! Hope you guys are enjoying your Thursday, well Step up the enjoyment levels a notch and grab this HUGE DAILY LINKS post!! Todays post has a ton of INSPIRATION so I hope you enjoy it and spread the word! Thanks everyone for all the love and support, I appreciate you all! Now Get your Daily Nerdy Web Development/Design Links!!
Web Development/Designer Resources, Inspirations and Entertainment!!
Awesome case study of generous linking

AT&T trying to get the techies?

Featured on welovewp.com Vote it up 5 stars is you love daily nerdy links! Also a cool site for wordpress inspiration!

Awesome wordpress themes

Twitter stats meet Google Analytics!!

GREAT Tips for the iPhone 3G

Incase you missed the inspirational songs to develop/design to post from this week! Check it out and leave a comment with your fav song to dev/design to! Thanks!!

AWESOME CSS Techniques!

See, design influences everything.

Pretty much

Twitter makes you a better writer? NICEEEE

Great read for people who need RegEx help

Awesome Mac app for laying out grids!

OH MY GOD. movie looks awesome…

Really cool, worth a look!

Freaking awesome light swirl brushes – best collection ever

Dev trends that will impact SEO – good read

Wow, celeb images made with cassette tape. Amazing

need some pagination inspiration?

Great interview with a Great developer

Awesome web design business kit review!

Good read for selective posts to have social media buttons

Great tips for building a twitter community for your blog

Great non- design blows you should read!

Freelancers to follow!

Awesome failwhale wallaers!!

Awesome Guitar Hacks!

Great read about business and freelance

AWESOME drop down menu designs and best practices

Cool app that cutes your tweet down to size

Great showcase of design inspiration

Web Development Nerdy Daily Links For 3/25/2009 – HUGE POST – Hump day! Its Wednesday already! Where did the week go? Its been a busy week for me, but today I have a HUGE DAILY LINKS for you! So I hope you enjoy

Finally blockbuster steps up

Awesome coding solutions for Devs and Designers

Awesome website introductions – Inspirational

Great read – Guy Kawasaki and the Art of Influence

Competition!!!

Amazing deal! 12 days left! $588 worth of software for $39

Bit.ly rocks for shortening URLS

Great inspirations to integrate your twitter w/ your site!

Simple quiz building tutorial

Great tools that you can't live without!

Awesome Analytics resources!

Wolfenstein 3D in app stores! YAY!

20+ Best songs to Listen to for Inspiration while Developing/Designing Projects (From the Design Community) – I took a poll on the design community to see what they listen to when they are being creative, and why. Here is what they had to say! I hope you enjoy…

Twitter taught in schools? AWESOME

Awesome HDR Image tutorial

This is just a huge resource for inspiration

Awesome Templates and WP Themes!!