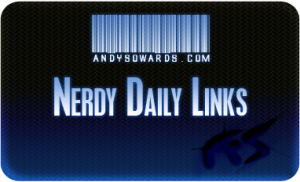 TGIF! Today is the best day of the week! Its #followfriday! Todays post has a ton of TUTORIALS so I hope you enjoy it and spread the word! Also to commemorate #followfriday a List of some of my fav Tweeters are below as well! Thanks everyone for all the love and support, I appreciate you all! Now Get your Daily Nerdy Web Development/Design Links!!
My Fav #followfriday Picks (in no particular order) – This is going to be updated weekly now, so its gonna get pretty huge 🙂
Web Development/Designer Resources, Inspirations and Entertainment!!
Andysowards.com featured again! Thanks for the support everyone!

Site with some inspirational web design

Awesome login and form designs!

Awesome business cards!!!

Awesome fonts you need

Awesome CSS Inspiraction for iPhone

SWEET moo tools techniques!

Excellent resource for creating perfect web design!

Skype and iPhone tag teaming?

Good read about getting approval on designs

Great read for a better login system

Awesome storage devices that are media friendly

Awesome design trend resources and inspiration!

Awesome resources for Everything Javascript, AJAX and DHTML

Great blogs for design lovers!!

Awesome vid explaining hashtags

Awesome tips for mocking up designs in photoshop

Awesome cheat sheets we all need!

Awesome pen tool resource – be a pen master!

Great read – making a photoshop brush

Art of the tutorial – from Guy Kawasaki

NICE inspiration!

Awesome flash folios!

Awesome wordpress mockup layout!

Awesome twitter icons!

AWESOME people to interact with and follow on twitter!

Great CS4 videos!!!

Awesome iPhone Vectors!

awesome jQuery tips and tricks!

Great mac apps for freelancers

Awesome CS4 shortcuts!

Great tips for being RT'ed

Best plugins of march

GREAT fonts, give them a try in your designs!

Great tips for CMYK in photoshop

Hashtags are your friends.

Quick tips! Love those – Photoshop

Awesome twitter clients — most popular

Awesome fonts!!!

LOL great read – funny

SPECTACULAR Photoshop movie effects!

Great flash tutes!

Awesome logo design tutorials!!

Great time management techniques

Great ways to use twitter for business

Congrats to Jacob Cass for being featured in Layers AGAIN

Great tips to speed up wordpress

Great networks for freelancers!

Awesome look at letterpressing

Great tips for staying creative!

fav photoshop tips!

optimize your js load!

Cool trick for mac on sleep

Nice photo retouching tutorial!

Best jQuery plugins for March!

Draw on those docs!

Nice Album cover tutorials!

Crazyness. jQuery plugin for adding favicons next to links

GREAT Compilation – Logo tutorials

SWEET Comic-book style Effects – Photoshop

GREAT Read about CSS font replacement as well as equal spacing

Cool slideshow with buttons!

TONS of grunge textures

SWEET Hand picked Icon sets

Some awesome trends in design this year

Awesome AIR apps for creatives