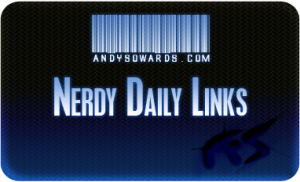 Today there is no nerd links 🙁 Sorry. … April Fools!!! Bahaha! Hope you guys enjoy your April fools day, if you need some inspiration for pranking there is a link a couple posts back that should prepare you very well. Todays links are inspirational to the DESIGNERS out there, So Give them a look and pass them on! Enjoy!!! Thanks everyone for all the love and support, I appreciate you all! Now Get your Daily Nerdy Web Development/Design Links!!
Web Development/Design Inspiration, Resources, References, and All around Nerdy Delight
Nice IE CSS Hacks

Great read – Photoshop world is the bomb

Build your PR Skills

Awesome and funny illustrations lol

Great backgrounds in web design – Nice article for inspiration

AMAZING photoshopped eyes. Inspirational

Great read for crowdsourcing and design

Awesome jquery form example

Great web design layout tutorials!!

Great look at Live Trace in Illustrator

AWESOME RSS Icons!!

Wow, Ex Google designer hired by Twitter

Type nerdyness at its best

Submit your business cards!

Great look at IE 8.1

Awesome photoshop tip – Typography portrait

Great roundup of twitter backgrounds

Wired local mags for Italy and the UK are back

Great Image galleries – use them today!

Awesome premium wp themes!

Stunning Lego Creations – Inspiration

Great read if you need a Datagrid table with jQuery

GREAT List of Web 2.0 RESOURCES

Great read for freelancers – starting out and setting rates

AWESOME LED Graffiti!

Tips for writing your bio

Twitter upgrades replies – NICE

Nice list of things that can dynamically replace your text!