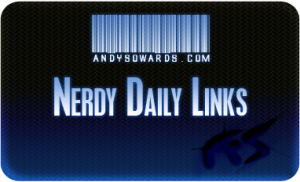 Its Tuesday! Still busy, and still tired, but making the most of it! Today's Daily links have some GREAT Inspirational posts, there are also tons of great Design Tutorials so go learn some new things :)! Enjoy the nerdy links today! Thanks everyone for all the love and support, I appreciate you all! Now Get your Daily Nerdy Web Development/Design Links!!
Web Development/Designer Resources, Inspirations and Entertainment!!
Great roundup of editors

Great principles of ui design

Cool marketing advertisement ideas!

New twitter background site, My profile is featured! Vote it up 5 stars if you enjoy 🙂

Great sites for new tweeters

LOL this is great. Laugh of the day!!

Amazing One Color Logos – Very Inspirational resource!

Great usability resource!

Awesome! Get a copy of the periodic table of typefaces!

STUNNING Beverage packaging designs!

So who is the best?

Great read – behind the scenes at a new and kickass web agency

wow. a movie search engine. I have no idea when, or how this will be useful to me

Great tutorial for building a web design studio layout

Awesome roundup of apple products being used in web designs

Awesome pop design element – seamless!

Interesting read about creating your own wordpress info widget (Oldie but goodie)

Wow, Designer charged $18k for using his own work??

Simply amazing wordpress plugins

Great Way to save broken image links

Awesome slide presentation about REST

Awesome paper textures!!!

Great opportunity – submit your designs to be featured in a book!

Amazing Illustrator roundup – Best of March 09

Awesome feature in Photoshop CS4

Quick and useful Illustrator tip!

AMAZING illustrated websites, love these

Great advice on Design contracts

Great eCommerce/Design usability tips

Sweet line backgrounds

Love these type of cards – unusual material

Great insight to an AWESOME re-design

Awesome coming soon page designs!!!

Awesome egg vectors

Very freaking sweet. New way to do backgrounds eh?

Awesome typography guide to the galaxy

Interesting read – could happen

Great interview with Collis Ta'eed !!

Great interview with a GREAT designer, The one, The Only, @mayhemstudios

Great review of WebJams usability review

Quick and easy illustration tutorial

Some fantastic wordpress themes!

Awesome blogs for Web Design and Development

This is so true. Gotta have downtime.

Cool roundup of WordPress sites that rock

Awesome interior designs!

Now this is a cool office
Cool silver charms and leather bracelets design! Totally awesome sterling silver bracelets.