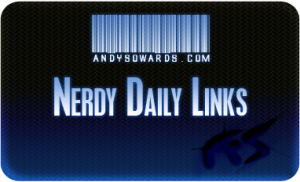 Its the middle of the week already! Sweet! Todays Links contain some great 3D Modeling Tutorials and Some great Inspiration from architecture, vending machines, and advertisements, so check those out! Hope you enjoy todays post and pass it to a friend! Thanks everyone for all the love and support, I appreciate you all! Now Get your Daily Nerdy Web Development/Design Links!!
Web Development/Designer Resources, Inspirations and Entertainment!!
all I can say is. FREAKING FINALLY

Apps that are casualties as result of the new upgrades to iPhone 3GS

Awesome Poster Design Tutorials – Photoshop

freaking awesome tips for getting that 'magazine' look in WordPress

very quick and easy to integrate pagination class

Great article on getting more done

A lot of people are obviously displeased with this years WWDC outcomes 🙂

Sites with sweet typography!

kickass tutorial on using image sprites in CSS while creating a menu

Awesome roundup of S3 related services

great list of file type definitions

awesome work from an Illustrator/designer

Freaking USEFUL tools to make our Development lives easier. love these!

Stunning Superhero Wallpapers!!

Kick ass ready to use design Freebies!

Awesome SKULL tutorial – Blender

Always wanted to build a video game dumpster – every FPS has one 🙂

Stunning Futurism Art Designs and Tutorials

Very inspirational pieces – packaging/business cards

Stunning Dark and Sleek Web Site Designs!!

Freaking AWESOME elevator Ads!!

Great CS4 Tutorials!

Amazing Icon Designers and UI Ninjas! Inspirational post!

Its true!

Hilarious celebrity tweeters roast!

SWEET Grunge Fonts!! – FREE!

Awesome Premium WordPress Themes for FREE!

Awesome Fonts for Designers!! – Handwritten

Awesome Snow Leopard changes!

Inspirational Buildings – amazing architecture!

Awesome PSD Templates!

Love inspirational workplaces

Cool Photoshop web designs

Cool look at the 3D Elements trend in web design

Must. Vend.