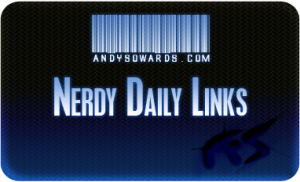 TGIF!!!! Today we have great links here to inspire you for just about anything, I highly recommend if you only check out one link to check out the Web Designer Starter Kit link, tons of useful PSD's and Freebies in that post! Hope you enjoy today's post and pass it to a friend! Thanks everyone for all the love and support, I appreciate you all! Now Get your Daily Nerdy Web Development/Design Links!!
Web Development/Designer Resources, Inspirations and Entertainment!!
Awesome Techies on Twitter – Follow!!

Great Video – Dealing with Criticism

Awesome Photography Portfolios!

Google Voice Debuts!

yay shared notes!

Cool interview with my Bud @briancray

very in depth tutorial – Great! Creating dynamic design portfolio with wordpress

Blogger Templates

Awesome Design Inspirations – Organic Designs

Awesome Advertising Campaigns!!!

Freaking FANTASTIC STARTER KITS for web designers

This is pretty awesome – jQuery Confirm

Awesome Interview on sketching and wireframing

Excellent Free WP Themes that don't suck!!

Great tools to improve site usability!

AWESOME Furry Monster Icons!!

Fantastic And Artsy Band posters!

Awesome Photography Tutorials

Nice Birdies!!

Mistakes in Logo Design – Good Read

Excellent drupal site designs

Freaking sweet examples of using textures in web design

Great PHP Frameworks to shorten your dev time

Awesome Giveaway! 5 Copies of Illustrator CS4!

Fantastic Typography Art

EXCELLENT Freelance Resources – Blogs

AWESOME LEGO CENTER!

Great read on trying to fix stuck pixels

Great read if you plan on starting your own business

Porn on iTunes?

Interesting Tutorial – Geolocation tracking with JS

This is a fantastic and useful calculator!

Awesome Icon Sets!!

Awesome Ajax file upload form – Multiple files! with jQuery

Sonic used to be my favorite video game when I was a wee lad

Cool typography Poster!

Awesome Cheat Sheets for Designers!

Awesome Design Inspirations!!

Great look at Twitter API with PHP+CSS

Awesome Ordered Lists!! Sexy!

Great Cliff notes to CSS!