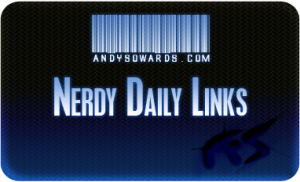 Its Wednesday! My Father is improving everyday and it is such a blessing, Thank you everyone for your thoughts and prayers!! Todays post is full of awesome Inspirations and some sweet tutorials – One being the Ajax login and there are some other html 5 and CSS 3 techniques in there as well! Hope you enjoy today's post and pass it to a friend! Thanks everyone for all the love and support, I appreciate you all! Now Get your Daily Nerdy Web Development/Design Links!!
Web Development/Designer Resources, Inspirations and Entertainment!!
Good code to have, could use some work, but gets the job done 🙂

Amazing Stop Motion Video – Must have taken forever to make.

Slick!!!

Great tips for wallowing in client work

Inspirational collection of Login Forms!

Awesome Twitter themes!

Excellent Plugins for Power Blogging – WordPress

Ok, this is just HILARIOUS

Freaking awesome Minimal and Lightweight IconKit!

Awesome Illustrator tutorial – Drawing a Pencial Icon!!

Awesome Templates for Print Design! SWEET!

Cool tutorial on installing BuddyPress Locally on a Mac

Freaking awesome Minimal Typographic Package Designs!

Awesome Paper Brushes!!!

Great plugin to cache gravatars and save load time on blog

Fantastic Design Inspiration – Select Your Language Pages

Nice Examples of using CSS For Logos

Freaking awesome Table Designs!!! – Interior Design Inspiration

Awesome Random Vector Art – Download Free!

Awesome Tutorial – Horror Movie DVD Cover

Fantastic Marketplaces for Designers and Freelancers

Awesome Character Vector Tutorials

wow – these are amazing home theatres

LOL AMAZING – Geek Tattoo Image Collection

Fantastic 3D Inspirations – Stunning

Cool Giveaway!

Interesting Stats about Twitter!

Awesome Inspiration from Abduzeedo

Very Interesting Tool Bar for your blog

Awesome Design Resources here

Hey the Google Stuff isn't Beta Anymore!

Great read to catch up on SEO Trends

Amazing FF Wallpapers!

Awesome places for Vectors!

Stunning Logo Collection – Inspirational

Great Workflow explained – City Illustration

Wow! What next? my parents getting one!?

Great read – CSS Fundamentals: Containing Children

awesome look at HTML 5 and CSS 3 Techniques coming into use

Poor China, Twitter and Facebook Blocked

Awesome Social News Sites for Devs/Designers

Day 16 of a great WordPress for Designers Series

These are some Awesome Light Effects in Web Design – Inspirational

Fantastic!!!

Awesome Premium-like Free WP Themes!

Awesome Grunge Wallpaper Patterns!

More Great Icon Tutorials!! – Illustrator

Awesome Contact Page Designs!

Great read – peeves Designers have with Developers

Amazing Smoke Themed Designs and Tutorials

Fantastic Collection of FREE and Great Web Design/Development Books!