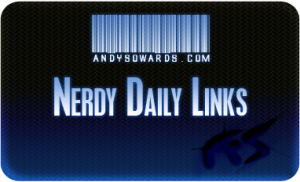 TGIF! Its Friday! My Father is improving everyday and it is such a blessing, Thank you everyone for your thoughts and prayers! I Will probably be spending a good part of the weekend in the hospital again visiting and helping him. Todays post is full of awesome Inspirations and some sweet tutorials! There are a lot of Good PHP Links in here today as well, so Hope you enjoy today's post and pass it to a friend! Thanks everyone for all the love and support, I appreciate you all! Now Get your Daily Nerdy Web Development/Design Links!!
Web Development/Designer Resources, Inspirations and Entertainment!!
CRAZY Tattoo inspirations

Cool Fisheye Shots! – Photography Inspiration

Poor Tropicana – Fun read

This is a pretty fantastic Sitemap 😀 CSS-ified!

some awesome stuff here – Inspirations – Random

Freaking awesome Photo Manipulation tutorials!

Nice and simple Social Network/Bookmarking Icon pack

Everyone is using WP!

Very interesting! – CSS Timeline tutorial

This is a pretty random but cool WordPress Tutorial

Awesome FREE Premium quality WP Themes!

Interesting Concept

Thats a pretty cool little Icon tutorial!

Awesome Self Trained website – interesting!

Matchbox is getting creative! I remember playing with those as a kid

Ultimate web design resource – Fantastic!

Another great list – Thanks Companies!!

fantastic companies that keep our blogs moving in the design community

fantastic read – All clients should read this

Good checklist for launching a site

Awesome Auto Complete scripts that are ready to go!

Good read on Navigation

good read on optimizing your PHP Code

This is an awesome effect tutorial – image manipulation

Awesome Illustrator Effect Mastering – Good Read

Nice Grugy Splatter tutorial!

Fantastic Technique for cutting out hair in PS

Freaking awesome Fonts! They are FREE!

Awesome Inspiration from all over

These are fantastic costumes – I want!!!

Awesome Cheat Sheets for Devs!

Fantastic Brushes!! Photoshop

Awesome WordPress Themes from May 2009

Freaking awesome FREE Typography Layouts

Lots of Great Design Blogs here!

Fantastic Designers – Interesting Answers!

Freaking Awesome Designer's Download Resources

Freaking awesome Web Agency Video – funny and creative

Great read on Wireframing

Win some sweet WP Themes from Obox Design!

Awesome HDR Portraits!

Awesome Hash Tags for Designers and Devs!