Well it's that time again! Where we announce the winners of a contest!
Special Thanks to everyone who participated!
The winner was randomly chosen.

And The Winner is:

Storm

Congratulations! Hope you enjoy the pens, Storm!! Now you can have fancy personalized pens just like they do at your local bank!

If you didn't win this one don't be sad, There is always another contest around the corner at AndySowards.com!

Don't forget to Subscribe to the feed for future Prizes!! and follow/like us on twitter @andysowards and facebook @andysowardsfan
Good news readers! AndySowards.com is sponsoring a Personalized Pens Giveaway.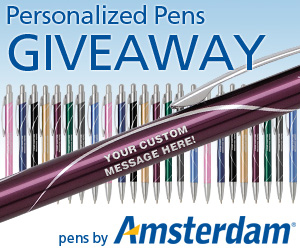 We're teaming up with Amsterdam Printing, the popular Promo Pens website, and we're giving away 50 Inpire pens, worth $149.95, absolutely free to 1 lucky winner.
These gorgeous and personalized pens will no doubt help your business stand out from the crowd! Even if you don't have a business, they are just plain fun to have.
What Do I Win?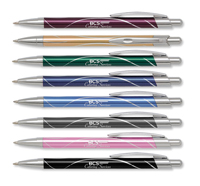 1 lucky winner will receive 50 Inpire pens, worth $149.95, personalized with your custom message engraving and shipped to you – absolutely free.
How Do I Enter?
Here's how to enter our Personalized Pens Giveaway:
In the comments form below, tell us how you will use your personalized pens for your business, organization, or personal use. We will choose the Giveaway winner based on the best idea for the pens.

Be sure to post a real email address that we can contact you at if you're the winner.
Comments must be posted by October 5th, 2011 at 5pm EST. If you're the winner, we'll notify you via email (U.S. residents only are eligible for the Giveaway, due to legal restrictions). Good luck to all!
You like this? Don't forget to follow us on twitter @andysowards and like us on facebook @andysowardsfan! We are also on that new fangled G+ doohikey.