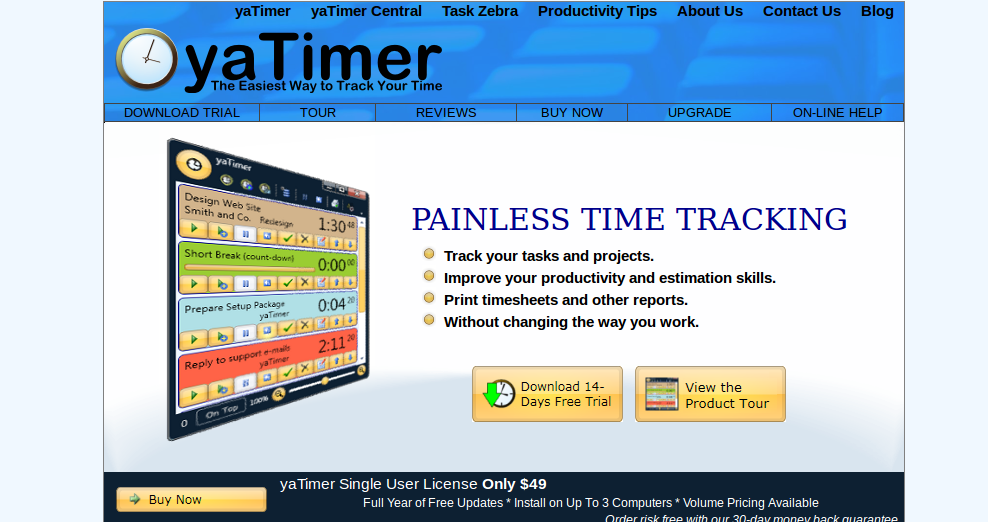 For any business house, time is money and the rapid and sturdy technological advancements have provided the users with ample number of options to creatively and effectively manage their time online. The present day has witnessed the rise in the availability of a number of time tracking software, however to ease out your search for the best solution, we provide you with a comprehensive list of top twenty most amazing online time tracking software.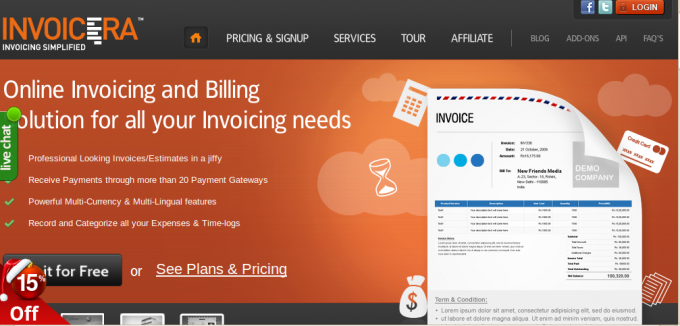 It is amongst the most popular online time tracking solution available globally to different clients. Its sturdy support for multiple language and multiple currencies, is an extra added advantage to the users. The time tracking facilities are very easy and comforting to use and lets the users generate instant and customized reports and multiple invoices. The information provided by Invoicera regarding the progress of the project and related time tracking services is simply impeccable and highly relevant in the present day cut throat competitive world.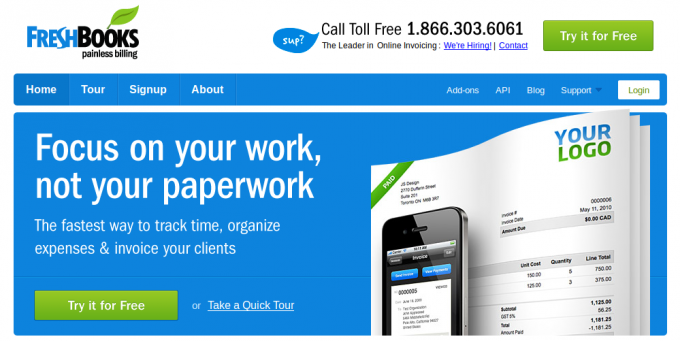 Do not judge the Freshbooks with its looks. Though it may not provide the users with a beautiful user interface but it gives you strong and reliable options for comprehensively keeping a record of time spent on various activities and actually helps in saving a lot of time of the managers and employees working upon the project.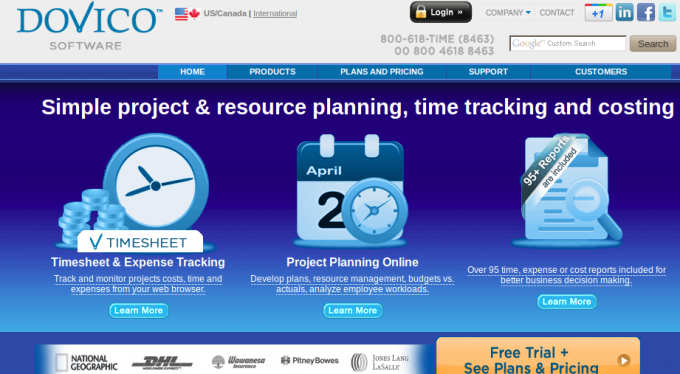 Dovico is a Canada based company which provides highly modernized and up to date time tracking services online at very competitive prices. The online time tracking services offered by Dovico Timesheet Tracking Software adequately handles multiple projects, gives you an option to conceptualize many reports simultaneously and generate automatic and correct invoices in a jiffy.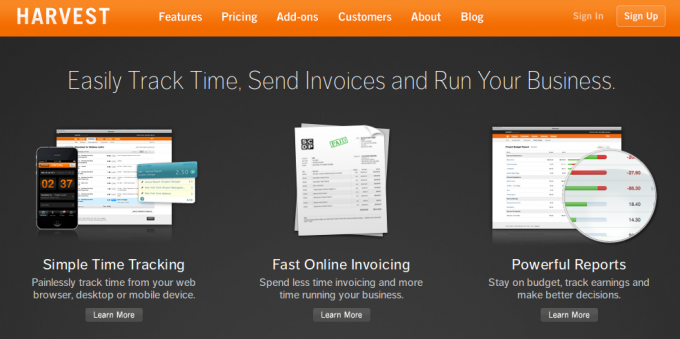 If you get intimidated and bugged by unfriendly user interfaces, Harvest is the tailor made solutions for you. Harvest is robust online time tracking software which provides the users with amazing user interface and is the best available solution if there is a team working on the project. It provides the users with features like project estimates, report generation and etc and is both freely available and at premium rates.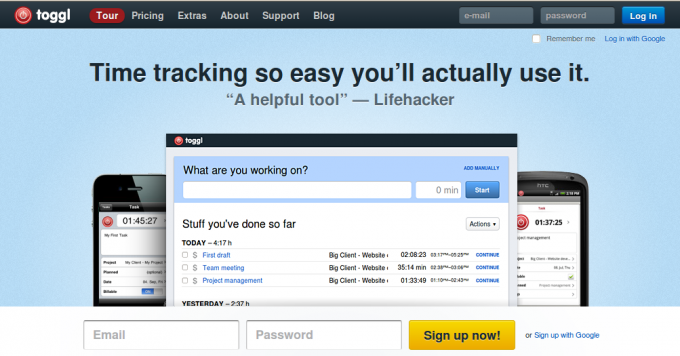 Toggl is an amazing online time tracking and invoicing software and the fact that makes it really unique is that you need not worry about the Internet connection while working with Toggl. Toggl effortlessly is operational in both online and offline modes.
6. TraxTime Time Tracking Software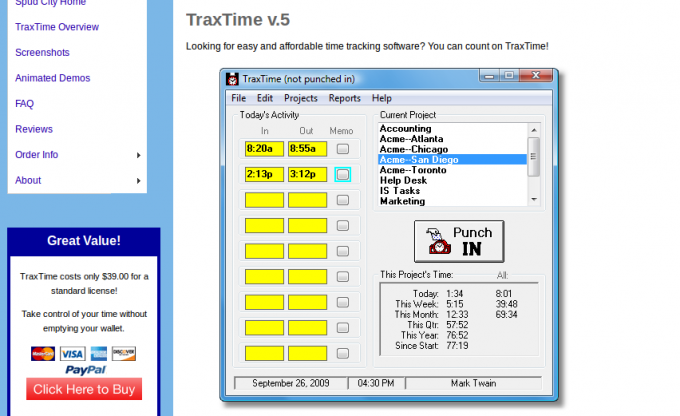 TraxTime Tracking Software gives you abundant options to work on indefinite number of projects. In accordance to your requirements, you can append the memos to the time entries and generate customized project reports which can be sent to disks or printers or can be viewed on the screen itself. A little expensive version available for the managers lets them to share the project list, save time considerably and come up with instant reports for various users.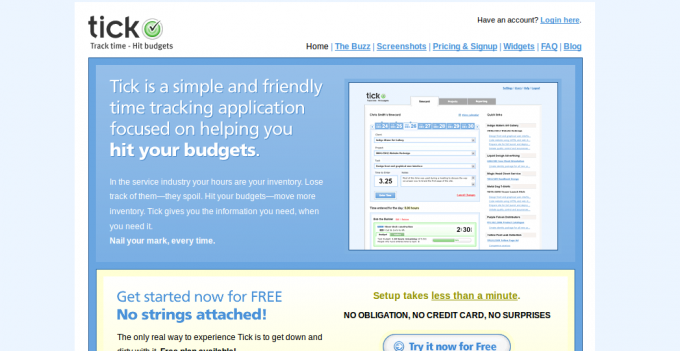 The advantage of using Tick is just like its name it represents correctness, timeliness and is concise. Tick is the preferred choice of those entrepreneurs and businessman who cannot waste time understanding the functionalities and details and just want to start conserving the time and performing the tasks with the very first click.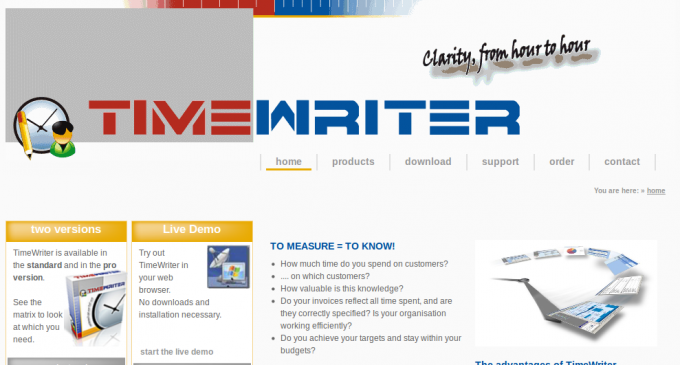 TimeWriter Time Tracking Software in its most basic form is a weekly grid and enables the users to have a look at the hourly entries of the week in a single glance. It allows the users to enter their working hours easily and create thorough reports in no time. In addition to that, it supports various formats while exporting the data.
9. Paymo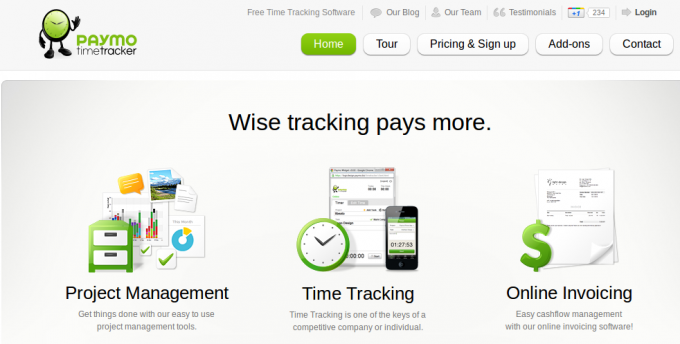 If you are looking out for swift and easy ways to keep a track of the time being spent and produce thorough reports of the same, Paymo is the best available solution for you.
10. BillQuick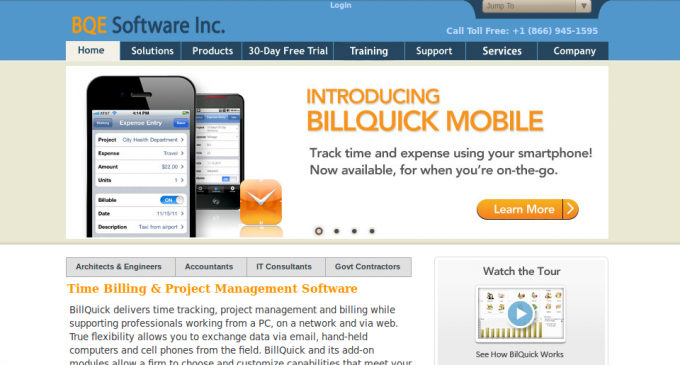 BillQuick was formed in the year 1995 and since then have provided health time tracking and invoicing software to more than 240,000 users. It has been a favorite of various sectors like accounting, lawyers, IT consultants, engineers and other business forms round the globe. It can be integrated well with the Microsoft Outlook and QuickBook Pro.
11. Invotrak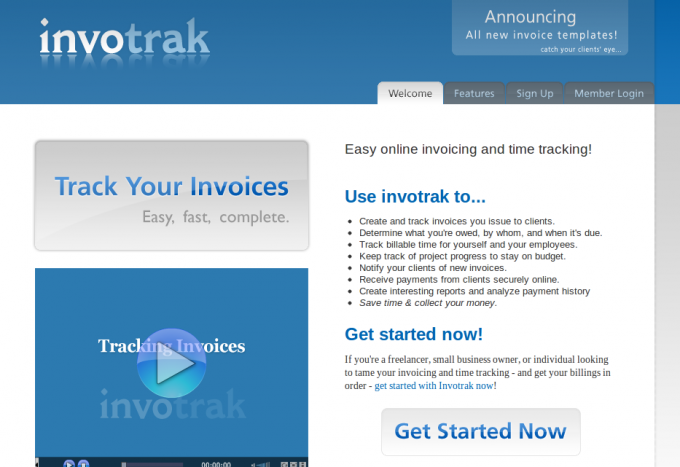 Invotrak is an intuitive online time tracking and invoicing software which aimed at considerably reducing your time spent on various work related to the projects. If you are looking for a solution to speed up the working processes of time tracking, report generation and invoicing, the solution you are looking for lies with Invotrak.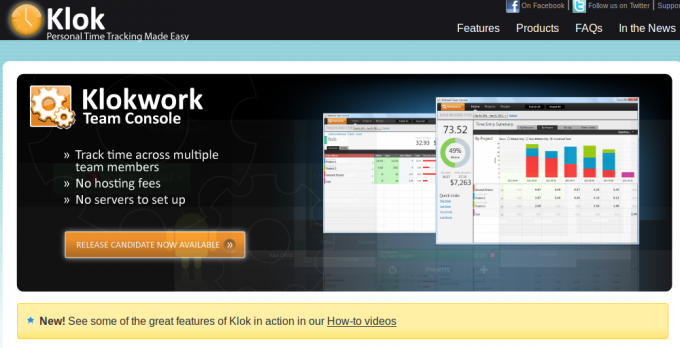 Klok is operational through the Adobe Air Programming Language and provides with great features to monitor the time being spent on various projects and provides you with simple and agile solutions to record the time being spent on various business endeavors.
13. Freckle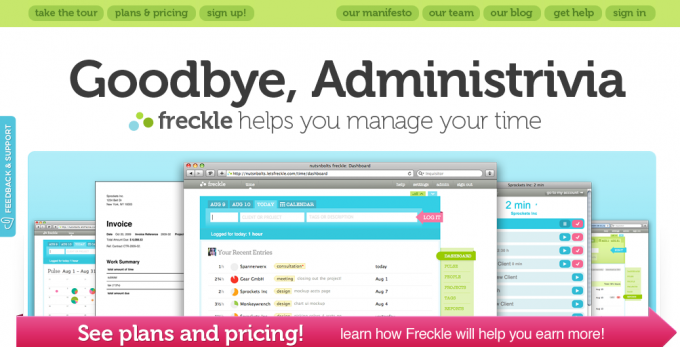 The unique selling preposition of Freckle is the various features it comes packed in with. Freckle software comes with vivid colors, smart icons, and a clean and bright layout. Such features, in addition to providing you with great support and functionality, cheer you up on a dull and boring day.
14. Bill4time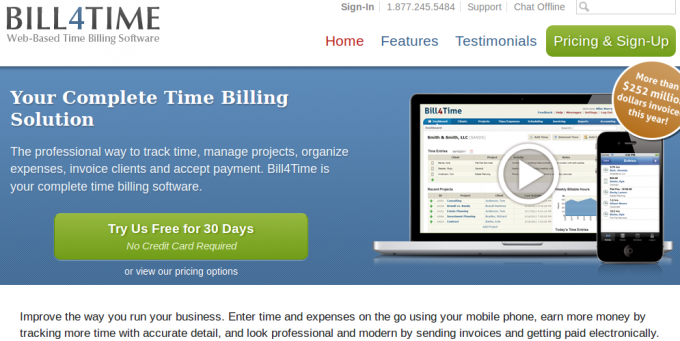 Bill4time is capable enough to work for companies ranging from one to one thousand users. It provides 128 bit data encryption and backups in the offline mode and thus the users need not be concerned about loading updates and other hardware related technical issues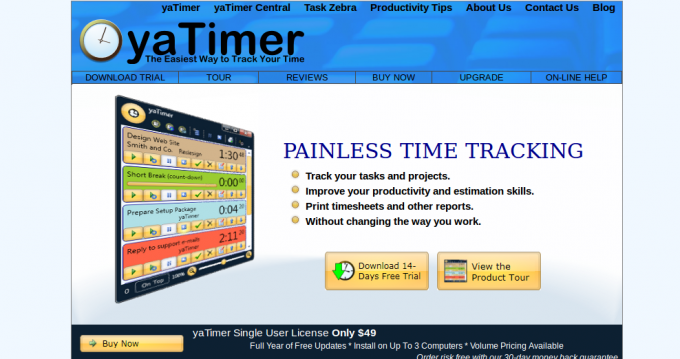 Just like its name, yaTimer provides the users with the very fundamental options of tracking time and generating invoices. It is a basic time tracking model and does not work through online. Instead it has to be downloaded.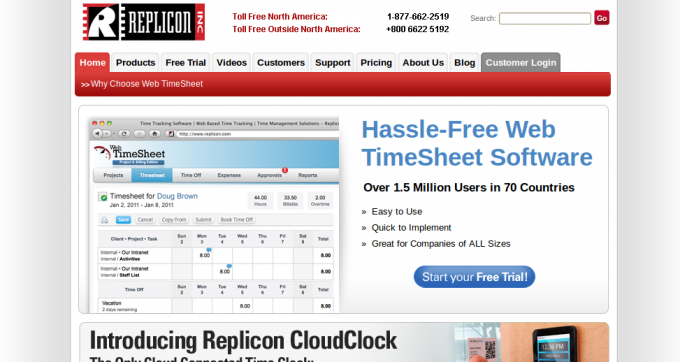 Replicon is the world leader when it comes to online time tracking and invoicing software. Its global clientele boasts of the likes of World Vision, Barnes and Noble and Ferrari. It user interface provided by Replicon is highly intuitive and thus optimizes the results of the efforts of the managers and executives working upon the project.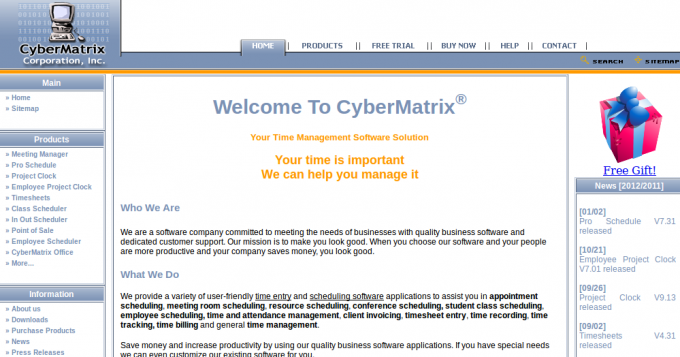 Cyber matrix provides you with an easy way to administer the time being spent on a particular work or project. On the official website of the cyber matrix, you will be able to find a varying list of products which are aimed at letting you keep the business activities under control you may choose the best available option for your specific enterprise.
18. SpudCity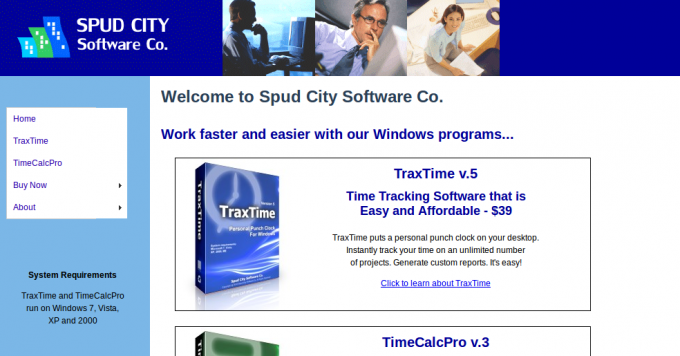 If you value time as money, you must consider SpudCity. It is a swift online time tracking software and enables you to start savings from the very first introduction session itself.
19. Responsive time logger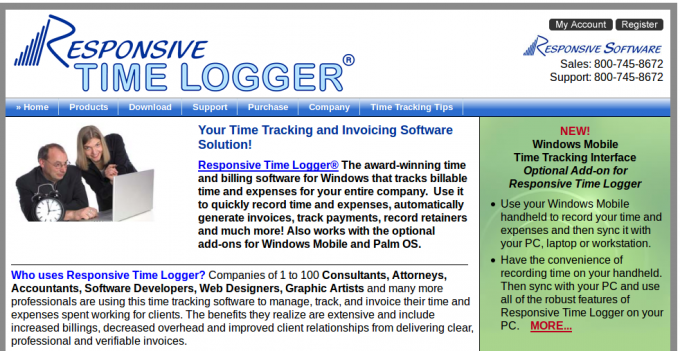 Responsive time logger lets you perform very many business functions, comfortable under the one roof and thus is a preferred solution for the multi tasking enterprises.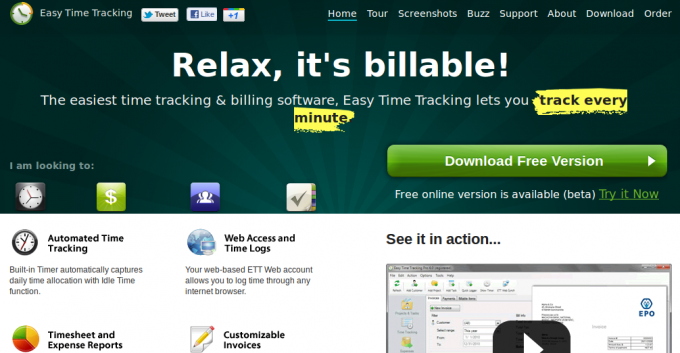 This is the solution for those who are looking alternate their time tracking software you start using a new one. It is feature rich, flexible and simple to use.

Clockspot's online time clock makes timesheets and payroll painless. This software eliminates the need to deal with paper, messy spreadsheets, or manual calculations. Finally you can track employee time, manage timesheets in real-time, and Finish payroll in minutes.