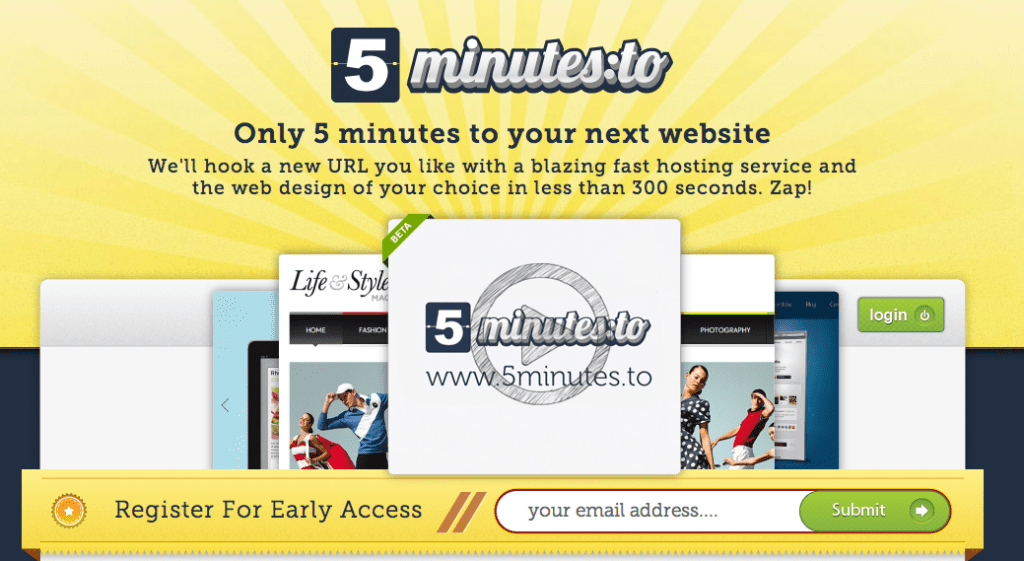 Apps List That Could Make Your Life Easier
New Apps seem to be born every day, some good, some not (and some awesome). My job is to bring them to you in bite size chunks so you can decide what you like. Don't be afraid to click on a few and check them out!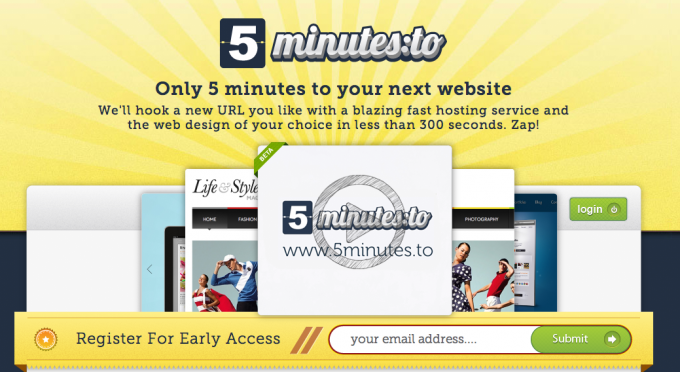 Functioning Websites in 5 Minutes or less.
Setting up multiple websites can become very tedious very quickly. On the 5 Minutes site you can register the domain of your choice, pick a template from their list, set up email, register on your fave social networks, get secured backups and be up and running in 5 minutes. It's a good service, to be sure, and takes the monotony out of setting them up on your own but be aware that the site is pretty basic and will need extras once it's up.
Best Feature – It's intuitive and extremely fast.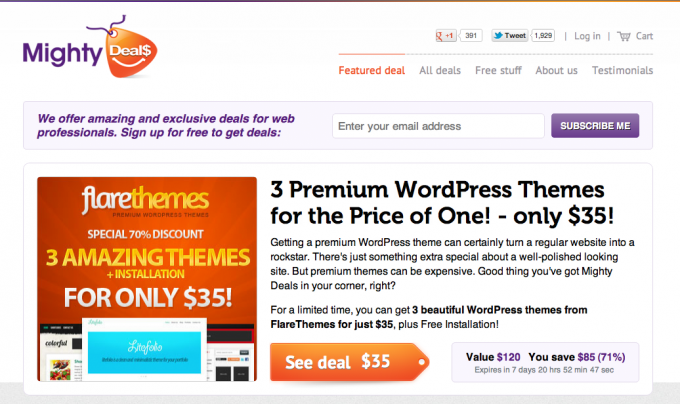 Web services that you actually need at great prices.
A lot of 'deal sites' have great deals but on stuff you really don't need or use. Mighty Deals has very good prices on services that you actually use, like stock images, fonts, web page themes and more. Their deals and their products change often too, so if you don't see something you need 1 day check back the next. What I really like about the site is that they have the things that I use every day to build websites and work on-line. There's some deals that don't float my boat, but on average they have great offers.
Best Feature – There are no set-up and no registration fees like many 'deal' sites have.

A new tool for using all of your web tools in twos.
OK, this concept has me thinking. We all use web tools, social sites and apps all day. ifttt (if this then that) conjectured that, using 1 tool to trigger another could save a LOT of time and energy. For example, every time you take an Instagram photo (trigger / if this) it gets sent directly to Dropbox (action / then that). I haven't used it yet but it's been out for just over 16 months and millions of others have. It's simple enough to set up, and you can use almost anything as a trigger and an action. I think this one is going to be big.
Best Feature – Tasks can be turned on and off. When turned back on, they pick up as if you had just created them.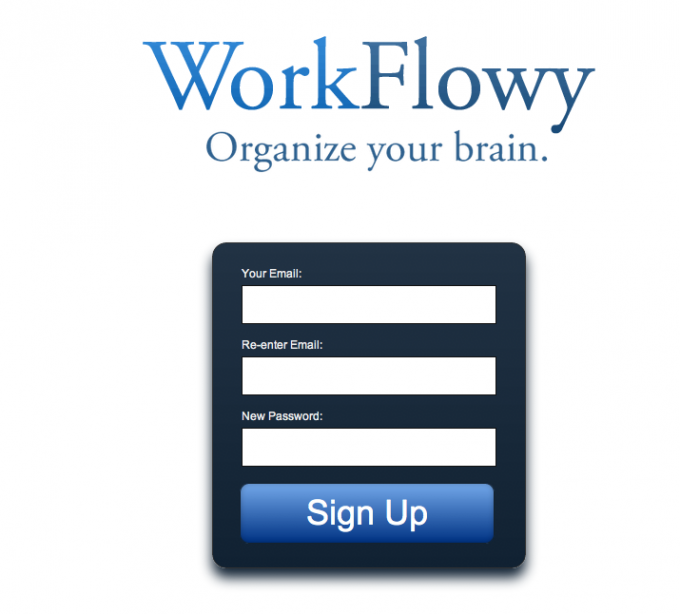 An organizational tool that mimics how your brain works.
If you're an organization freak (and you know who you are) WorkFlowy may be something to look at. It's an organizational wunderkind, allowing you to put down every thought in a way that makes it simple to keep track of, go back to, and get it done. If losing track of projects or info is a problem it might be your solution. It's got a lot of fans, but unless you're an extreme multi-tasker you might be fine with just a regular calendar and organizer.
Best Feature – It's an awesome tool for planning a big event or a team project.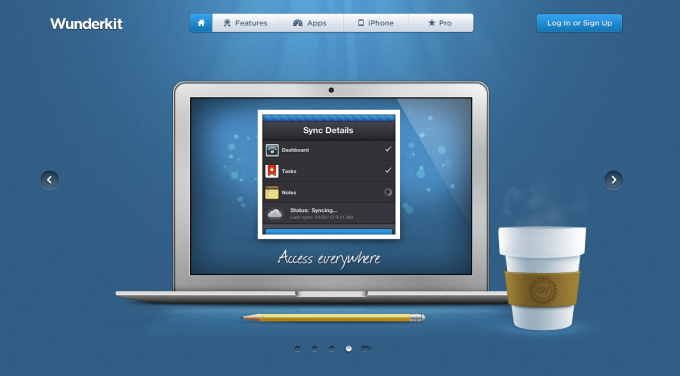 An organizer that lets your team, family and friends help out.
A 'social organizational tool' (exclusive to Apple products) Wunderkit has some powerful features. When you set up a project you can invite people to be in on it, organize tasks for yourself and others, share news about the project with contacts and get feedback too. It all looks quite well thought out. My opinion is high, although it might be a little too involved for those who aren't super savvy with the iPad. Plus it looks a bit complicated to get started.
Best Feature – Being able to keep your project 'private' when needed. Highly underrated these days.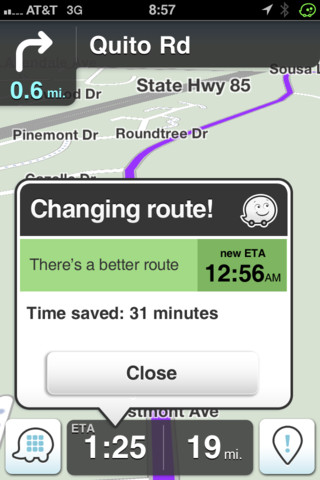 Interact with other drivers locally to save time, money and outsmart the cops.
This App I like. With Waze you actually can get real-time traffic info and directions around the blockage, alert friends about it, and get notes from other drivers about traffic, speed-traps and other hazards. It's hands-free also, a great safety feature. You can share your location on the go through text or email too. My only problem is that, if you're late and the boss wants to know your eta you can't tell him 30 minutes because of 'traffic' if you're down the block in front of Dunkin Donuts.
Best Feature – When the Waze app is open it gives passive feedback to other drivers.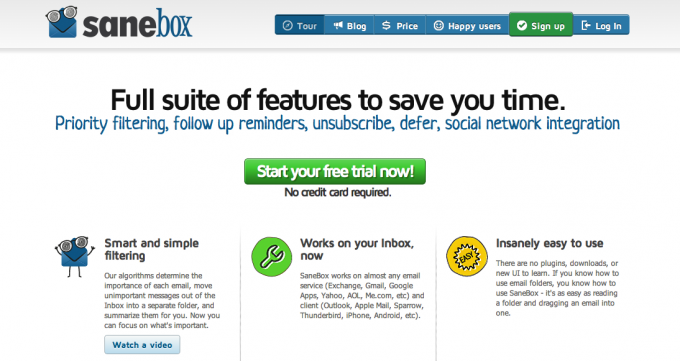 A newer, simpler way to filter email.
We all have had 'inbox overload' from time to time, and filtering those emails is a real chore sometimes, especially if you've been away from the computer for a few days. SaneBox lets you set up filter systems easily and simply so that you get the email you want to read, store some for later and chuck the spam. It's a simple set-up and but can be modified to your liking. I like this one and I plan to use it, although the 'Summary' option I will probably opt out of because I don't need an email about my email any more than I need an alarm to tell me about my alarm.
Best feature – Follow Up Reminders will tell you if an email YOU sent wasn't replied to.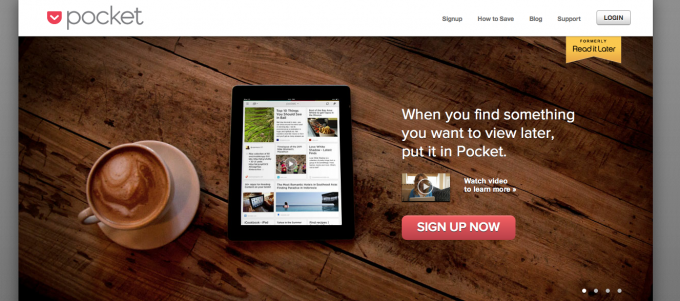 An app that lets you save that great stuff for later.
If you're like me you see a lot of great info, videos and other stuff all day long on the net. Problem; sometimes there not enough time to read it right away, or you like it so much but it gets 'lost' and you can't find it again. That's where Pocket comes in handy. Simply use the App to store that video, cake recipe, sports article or whatever, and then access it later from any device. The organization seems intuitive but I'll hold out a 'thumbs up' until I can use it long term and see if it really makes things more convenient or is just another time-sucker.
Best Feature – Anything you put in Pocket is visible anytime, whether you're on-line or not. Love it!