We are proud to be sponsors of the Annual Design Awards this year! We are honored to be helping out the design community by being a part of this awesome design competition – Hopefully many deserving designers get the recognition and honors they deserve here!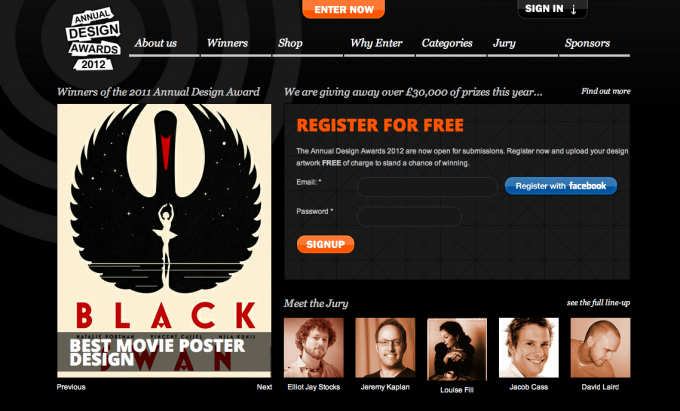 CALLING ALL CREATIVES FROM AROUND THE WORLD. THE WORLDS LARGEST FREE DESIGN CELEBRATION IS NOW OPEN FOR SUBMISSIONS FOR 2012.
What is Annual Design Awards?

The Annual Design Awards is a global recognition of cutting edge visual communications, set up to reward outstanding contributions within the Design industry. This years jury panel boasts some of the most amazing talents and respected figures from around the world to judge this global online event including Fabio Sasso, Louise Fili, Jacob Cass, Jeremy Kaplan, Alberto Russo and Ivan Chermayeff amongst many others.
Who are the Judges?
If anyone has an all-star design jury – it is the annual design awards. Sitting on their panel are Elliot Jay Stocks, Fabio Sasso, Ivan Chermayeff, Jacob Cass just to name a few – to see everyone on the judges panel – see them all here.
Why Should I Enter?
There are many reasons why you should enter, of course! The Annual Design Awards are unlike any other design awards as they don't offer hundreds of categories to enter, nor do they charge ridiculous entry fees so that only the large corporates can enter. The awards exist to discover and celebrate outstanding talents in the design world and to reward creativity with a meaningful honour.
The Annual Design Awards is open to creatives from all over the world, from large corporate professionals to work-from-home freelancers, and entry is FREE so that we don't restrict creativity.
What Do I Win?
All finalists will feature in numerous promotions and media coverage and will gain global respect within the industry as well as receiving promotional tools from us, with all winners receiving the glamourous trophy and additional promotions around the world, not to mention the huge range of design related prizes on offer from our sponsors.
The amazing 12 inch trophy was custom made for the 2011 awards and was designed and manufactured by the worlds leading trophy suppliers 'Mode Design' and 'Society Awards' who are famous for designing trophies such as The Golden Globes and The MTV Awards to name a few.
Last years winners included some amazing artwork for brands and events such as Black Swan (Movie Poster Winner), Mark Ronson (Album Cover Winner), Paramore (People's Choice Winner) and Versace (Website Winner) amongst others.
How Do I Enter?
Simply head on over to Annual Design Awards and register! Then Upload your Design!
Categories include:
Logo/Brand Design
Website Design
Design for Print
Designer/Agency of the Year
and a lot more!
To find out more about last years winners or the upcoming 2012 Awards please visit www.annualdesignawards.com.
For all sponsorship queries, partnership proposals, interviews or media requests please contact David Laird on the details below. High res images and winners interviews can be supplied upon request.
CONTACT
David Laird, Chairman
Annual Design Awards
1a Sussex Ring • Woodside Park • North Finchley
N12 7HY • London • United Kingdom
Tel: 020 3131 0066
E: [email protected]
www.annualdesignawards.com
You like this? Don't forget to follow us on twitter @andysowards and like us on facebook @andysowardsfan! We are also on that Google Plus & Pinterest thing.