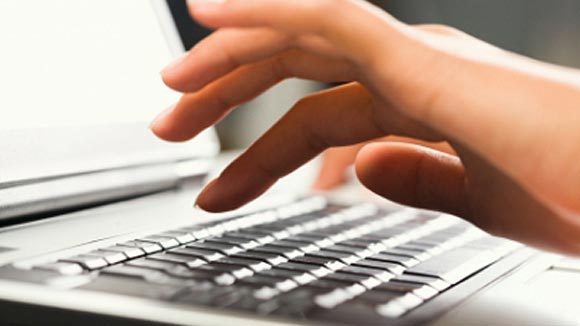 So you want to be a Web Designer, Developer, or IT Guy. Awesome! Now for the hard part, finding a job! In this economy it is hard enough to keep a job, let alone get a new one, or advance your career into a better position. To be clear, you don't have to have any Certifications to be a Web Designer, but these days we can use all the help we can get in making our resumes gleam and shine to catch the eye of a prospective employer so that you can beat out a competitor for the new and necessary position or job, or even snag that dream job at the dream company you've been dreaming about. While not always necessary, it does not hurt to get certified in things – it shows your dedication to your craft and makes you appear as a hard worker and life long learner right out of the gate – which is always a plus in the job hunting world!
Luckily there are a few pretty good certification programs that can help you stand taller above the overcrowded job hunting masses (most of them are even online, so you can take your classes online!). Once you achieve a certification in something related to your field, it is typically a little easier to snag a job in your field, or if you are a freelancer competing with the ever increasing freelancer population (on a site like Odesk or similar sites) having a certification (or multiple) in your list of accomplishments on your profile can really help increase the volume of gigs you get in any given year. It will also help you to establish yourself as an expert in your field.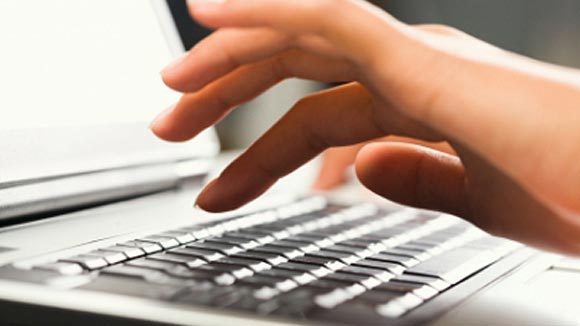 So lets take a look at a few of the Web Design & IT Certification Programs worth checking out if you feel the need to have a certification to add to your resume!
Become an Adobe Certified Expert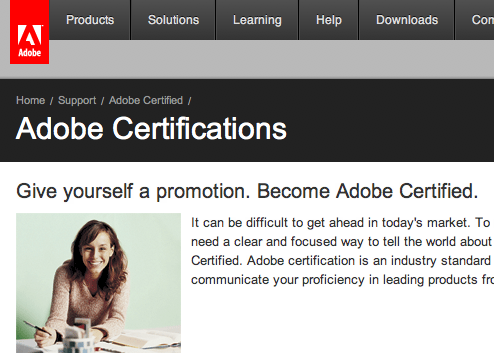 Give yourself a promotion. Become Adobe Certified.
Everyone knows who Adobe is – whether they are a designer or not. The companies legendary software applications, such as Photoshop, have launched the company into the mainstream. As you can imagine, being an Adobe Certified Expert would definitely help out your credibility. You can get a few different kinds of Adobe Certificates – including the coveted title of "Adobe Certified Instructor" – colleagues would definitely listen to what you had to say then!
Certification CIW
CIW (Certified Internet Web Professional) has been around a while – and is commonly associated as the standard of "Web Design Certifications". They offer a Web Design Series as well as a Web Development Series where you can learn things as specific as the programming languages Javascript and Perl.
W3Schools' Online Certification Program


W3Schools' Online Certification Program
You have probably heard of W3Schools, they have also been around for a while, another common standard for web professional certification. This was one of the first online sources to learn web development and now they have grown to offer certification programs for lots of different things that are web development related, such as HTML, CSS, Javascript, jQuery, PHP, and more.
PHP and Zend Framework Certifications


PHP and Zend Framework Certifications
As you probably know when it comes to programming languages PHP is one of the most widely used languages on the web. You may have also heard of Zend because they have several industry standard products such as their Zend Framework (a powerful PHP Framework). Zend certifications have become an industry-wide standard and a measure of distinction that employers use to evaluate prospective employees. If you are strictly a PHP Programmer and that is all you do – it would be wise to get Zend Certified.
Professional IT Certification


The 10 best IT certifications: 2012
Some people consider Web Design to be a Tech job, others not so much, but it is pretty similar when it comes to Web Development & Programming. IT has a wide range of positions that make it up – and thus you can get certified in a lot of different things, from Database Administration certifications all the way to Red Hat Linux Certifications RHCSA/RHCSE (a lot of it has to do with Computer Repair, Servers, Networking, Programming, etc.). If Web Design isn't your cup of tea, maybe check out that list of the best IT Certifications and you might find your passion if you haven't already 🙂 (or if you already know your passion, you can get certified in it and get that raise!).
I hope that this resource helps you advance your career – or answer any questions you may have in regards to getting certified on the web. Also I might add that there is nothing wrong with getting a degree in a traditional college institution, but these certification options are quick and easy compared to that route. You can choose to go through the traditional college path if you wish however, or if you don't have the money for a certification, you can always just teach yourself and see how that goes! The World is your oyster! Go Get it! Thanks for reading!