UPDATE 2016:

It's been many years since we posted this review – and for a few years web hosting buzz was great – but something happened to them in 2016 and if you will do a simple google search you can piece together just how badly things have gotten – due to this we can no longer recommend WHB as a web hosting platform.

Hey Guys, Just wanted to write a quick review of Web Hosting Buzz since we have been happily using them for the past month or so, and you know we love sharing great resources with you 🙂 so couldn't hold out on you!
First I want to explain to you why hosting is easily the most important aspect of you online business.
Why is hosting important?
Why ISN'T hosting important? your site would not even exist without hosting. When your customers or potential clients want to get in touch with you, if your site is crawling, or hardly loading, you are losing customers, sales, and money. This is especially detrimental if you run any type of web design shop, e-commerce store or website reseller.
I have had my fair share of terrible hosting experiences, I've been around when it comes to domains and hosting and all that stuff. I remember the first host I ever had, several years ago, my site would crash almost anytime a handful of people went to it – which needless to say, made it very difficult to get any traffic. I can tell you that gets old, you get frustrated, and then you realize how important hosting is to your website and company (and you will say "Why Didn't I listen to Andyyyyyyy" *cries* lol). The best thing to do is get knowledgeable on the subject, learn about hosting, learn about what you want to achieve and how other people are achieving it (this is the best approach with anything of course). Below I am sharing my experience with Web Hosting Buzz – and why I think they are a great choice for hosting.
First I am going to tell you a little about the company so you have a frame of reference as to who these people are and what they do.
Who Is Web Hosting Buzz?

WebHostingBuzz was founded back in 2002. The hosting market was very different then with lots of over-priced, larger web hosting companies who 'owned' the market. Pricing was high and levels of service were low. The lack of good competition allowed the larger hosting companies to continue to get away with over-priced and underperforming web hosting services.

WebHostingBuzz was born with the idea of doing things a little different.

We wanted web hosting to be a commodity that everyone could afford. We wanted to offer service levels that we could be proud of and have a customer service team who had a genuine interest in helping customers. And of course speak Plain English, because many of the web hosts back in 2002 would simply throw complicated user manuals at customers who asked for help.
We started small but with a big idea. Starting with just a reseller of a larger web hosting company, we set about completing our objectives and shaking the industry up. Granted, we were not the only company out there who had similar ideas but we worked hard and experienced significant growth.

By the end of our first year, we had grown from the simple reseller hosting account to running 3 of our own dedicated servers. We had almost 1000 clients and had started to develop a reputation for affordable quality.

The rest of the story, as they say, is history and today in 2011 we have over 250 of our own servers in 3 different data centers. We've grown from 2 employees to over 45. We now have well over 250,000 websites hosted on our network and we're continuing to grow.

One thing that remains clear and always in focus is our original objective. Good, fast web hosting backed up by great customer service at an affordable price.
Gotta respect any company that has a story like that – starting small and growing, not easy stuff! They aren't a HUGE company – but they are a respectable size, and it is hard not to root for the underdog that does things right with a quality product :).
Why Web Hosting Buzz?
My Experience
Because they are awesome, duh. So far in my experience with them I have experienced 0 downtime. None. nada. zip. zilch. You get the idea. That is a mighty hard feat to accomplish, but they are doing it well. I have a dedicated server, but still, no downtime, that is what you want – and in the modern hosting world, that is not really what a lot of hosts are selling (or at least it doesn't feel like it).
I came from Media Temple (I was using a dedicated virtual (dv) setup) and while that was nice, I didn't really have any problems with them (few minor hiccups, like plesk 500 errors and misc moments of downtime for a few minutes – nothing too bad) but the reason I went with Web Hosting Buzz is because its just a better deal – all around. I get more, for less, with better service and reliability, I am very pleased with my choice to switch to WHB. I have a dedicated server with Web Hosting Buzz and it has been blazing fast, and awesome, super happy with it.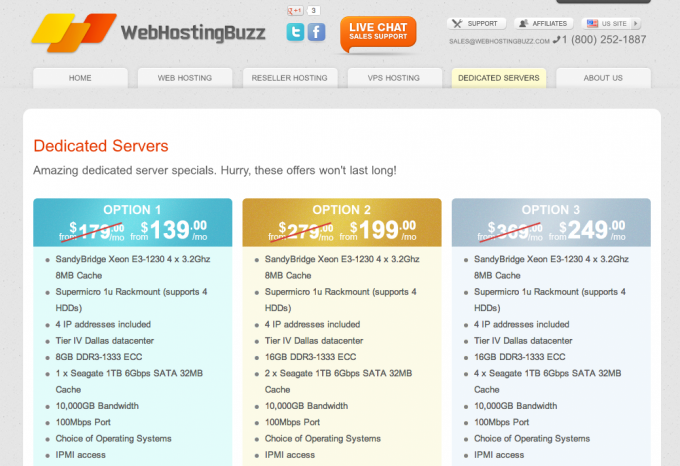 Bottom Line, Great Service – Better Value
As I mentioned above the selling point for me was the great value, I get more and pay less, that is a win right? definition of win? something like that? haha. The service is great too.
When I got signed up with WHB my account was setup for me, they even offered to move everything over for me – but I have a little bit of a server administration background, so I'm a bit of a control freak over my server so I did it myself :D. I am perfectly capable of managing the server myself, but its good to know that they are there if I need them, and they are very willing to help! I know that support is important to a lot of designers out there, so they don't have to worry about that type of thing, so WHB has you covered. You can choose self-managed or fully managed by them.
I've had no downtime, like I mentioned before. I can manage everything in my nice little WHM console and cPanel, which is so easy to use. I also use SSH to speed up a few things and manage the innards.
The price, is amazing, this stuff starts at $4.95 per month for shared hosting! Perfect place for anyone to start in my opinion, if you have a brand new site, with no hosting, start with shared and work your way up – no need to pay extra for a few months of starting up. If you have a more established brand, then yeah you will need a more expensive package, maybe even dedicated depending on your traffic.
But just for fun, and to illustrate the value of Web Hosting Buzz, lets take WHB cheapest Dedicated hosting package.
Web Hosting Buzz Dedicated Server
$139.00 per month

Includes:
SandyBridge Xeon E3-1230 4 x 3.2Ghz 8MB Cache
Supermicro 1u Rackmount (supports 4 HDDs)
4 IP addresses included
Tier IV Dallas datacenter
8GB DDR3-1333 ECC
1 x Seagate 1TB 6Gbps SATA 32MB Cache
10,000GB Bandwidth
100Mbps Port
Choice of Operating Systems
IPMI access
Now lets look at Media Temples Dedicated-Virtual (dv) – which isn't even a dedicated server really, its a 'virtual' dedicated server – here is what you get that is closest to the above specs
Media Temple Dedicated-Virtual (dv) 8GB
$750.00 per month

Includes:
350GB Storage
8GB Dedicated RAM
3TB Network Transfer
Ok now look at that for a second. The Web Hosting Buzz Specs are about the same, a little bit better – but the amazing thing is look at the price!!! If you chose Web Hosting Buzz Dedicated over Media Temple (dv) You would be saving a staggering $611 PER MONTH!! I dunno about you, but I don't have an extra $611 laying around. That comes out to be $7,333 per year saved!! ERMEHGHERRDD!!! I GOTS KIDS TO FEED, SON! lol. I would say that is some awesome savings, and VALUE!
So yeah, just something to think about when you are out there shopping for hosting and not sure who to go with, just sharing my pleasurable experience with Web Hosting Buzz 🙂
Anyone here have any hosting horror stories? or maybe some of your own hosting recommendations? Who are you guys using for hosting? good, bad, ugly? Let us know in the comments below!!!
You like this? Don't forget to follow us on twitter @andysowards and like us on facebook @andysowardsfan! We are also on that Google Plus & Pinterest thing.