Slideshows have been around long before computers (It may be hard to imagine that long ago lol), but these days that is easy to forget! Early slides were pieces of glass carrying photographic images that were then projected on a screen (or on the wall lol), this of course is where "slideshows" get their name after all. Back in the olden days the most common usage for these slideshows were to show off pictures someone took on a trip to a group of people, I remember many days as a kid sitting through these at school lol but these days people make slideshows for just about anything!
Over the years many things have changed, but Slideshows are still completely relevant (especially if you are a photographer!), and used CONSTANTLY in our modern daily lives. When computers were dominating the 90's the slideshow went through some awkward years, Thankfully we can probably agree that a powerpoint presentation is not the way to go (haha :D). Even though slideshows are still prevalent (probably more so now than ever) it still isn't glaringly obvious how to go about creating a nice picture slideshow easily, with all of the options today you may have a hard time putting one together at all! Sometimes you just want an easy way to put pictures of your family, or your recent trip, or just some of your favorite photography that you have taken into a slideshow that can be shared quickly and painlessly with your friends and family (I know my family is always asking for pictures of the kids – and the easiest way to get my pictures to them to where they can easily view them from home, is with a DVD, because they are not technical at all). This is the type of thing that you can quickly and easily achieve with a photo slideshow creation software, such as Photo Slideshow Creator!
I recently had the opportunity to test out the Photo Slideshow Creator by AMS Software and I have to say it is a worthy competitor in the slideshow arena. If you are a photographer (or anyone with photos to share!) looking for an easy slideshow creator that will give you a professional slideshow, it is definitely worth a try. I will share my thoughts on this product with you but first lets talk a little about what it is!
What Is Photo Slideshow Creator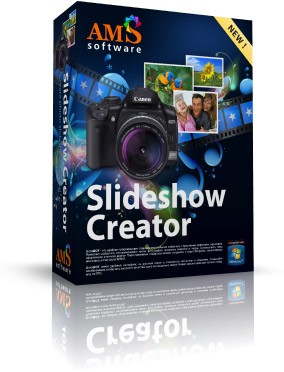 Photo Slideshow Creator blends together photos, music, and fancy designs to create a professional slideshow, complete with amazing transition effects. Prepare your slideshow for computer, smart phones, iPhone, iPad, iPod, PSP, DVD or the Web.

Photo Slideshow Creator offers different output formats. The slideshow can be saved as AVI video, HD video, video for mobile devices like smart phones, iPhone, iPad, iPod, PSP, as well as an executable slideshow, and auto-run DVD photo slideshow. The built-in DVD burner lets you burn to disk right from the program. You can also save the slideshow in a variety of Web-friendly video formats for YouTube, Facebook, and MySpace. Download photo slideshow software today and make a fantastic slideshow!

Features

Create amazing photo slideshows with music easily!
Plenty of beautiful transition effects and slideshow themes
Burn slideshow to DVD and export to videos. Support HD video output!
Create photo slideshow for YouTube, Vimeo and FaceBook
Save slideshow for mobile phones, iPhone, iPod and Sony PSP
You can check out some video demos of it in Action here. Also, don't just take my word for it, actually download yourself a free copy and try it out yourself!
First Impressions – How Does It Work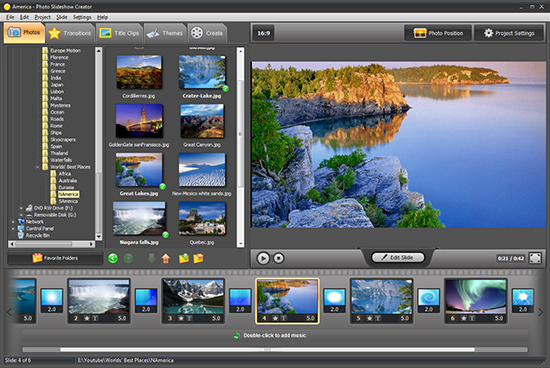 So first I downloaded The Photo Slideshow Creator Software installation file (its about 57MBs). From there I was greeted with the familiar and easy setup wizard that we all know and love. Went through the motions, got it installed and fired it up! One thing is that I do not believe Mac is a supported platform, so I had to fire up the ole PC (in this case I borrowed my sons netbook running windows 7 that he uses to play minecraft with lol) to test this thing out – so if you want to use this you will need to have a PC at your disposal – or if you are on a mac install a windows OS on your mac via Parallels or some other VM ware software (advanced lol) and install it on there. It runs quite well on my sons netbook, which isn't powerful at all (by todays standards) so pretty much any PC should be able to run it.
When you first startup the program, You can choose to either create a slideshow from scratch or you can select a pre-made template (or finish up one you already started previously). Pretty standard and simple – in the template section you will find a good collection of built-in templates in the Photo Slideshow Creator which help you to make a quick and easy personalized calendar – there are themes ranging from holiday, birthdays, travel, kids themes, weddings, you name it – there are even a few non standard and creative ones!
When you start a new project you can choose from one of the many slideshow templates. From there you simply pick the photos that you want to add to the slideshow from your computer, a sound file (if you want music in your slideshow, totally optional of course) photo slideshow creator goes to work for you and puts it all together in a fully functioning slideshow – once it is done then all you have to do is edit it as you see fit! You can customize it with different transitions between images, you can add text to the slideshow, you can even change the duration of the transitions, and add effects (a nice collection of effects are in these things – you can pan and zoom, rotate, change colors, all kinds of crazy things to add fun to your slideshow)! I have to admit it is a lot more customizable than I was expecting – but if you don't want to bother with that stuff, you don't have to, you can just let the software generate the slideshow for you and take what it gives you, as that works too!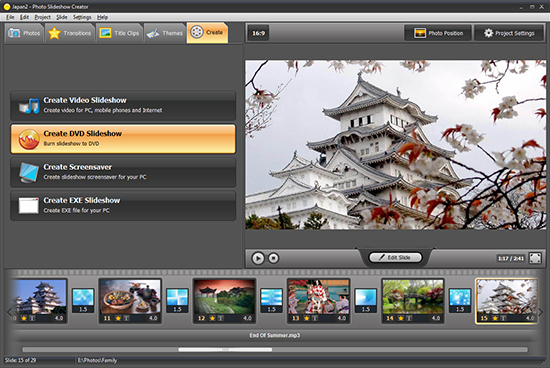 Then when you are done you can create your project by saving it in all sorts of ways – you can export it as a video to share it on the web, a screensaver, burn it as a dvd, or even export it as a .exe so people can open it like a program on windows! Lots of ways to show off your work, travel photos, or family pictures!
Conclusion
If you find yourself needing (or wanting) to create some slideshows to share (or hand out) your photography and show it off to either clients, customers, or friends and family (I always get the request from family) and want an easy and quick way to create these things with your pictures – then you definitely should check out this software – it will definitely save you some time (and frustration)! I would suggest giving it a try, It is free to try so Download free trial. The trial period doesn't last long, however it does give you an idea of whether or not you can get what you need out of the software.
I hope you found this review helpful! If you have tried the product definitely let us know what you think below – if you know of other products we should review definitely get in touch with us so that we can share more great time saving and useful products with our readers!
Thanks for reading!
You like this? Don't forget to follow us on twitter @andysowards and like us on facebook @andysowardsfan! We are also on that Google Plus & Pinterest thing.