Now that Christmas is just around the corner, you're probably thinking about the gifts that would bring your loved ones joy. But we all love to receive gifts, too. For designers, bloggers, advertisers and content managers who know how expensive it can be to use tons of images taken from stock photo agencies, this is the perfect gift: a more practical way of finding the right files, and being paid whenever a purchase is made.

Lootback takes charge of your quarry, and launches an extended search that brings together pertinent results from the topmost microstock agencies. It's an awesome service, because it gives you money for taking stock photos as you normally would. The commission comes from those same stock photo agencies, who thereby give a token of gratitude to Lootback for sending in customers – and everything gained thusly is shared with you. Therefore, your winnings increase according to the amount of creative assets that is acquired.
Watch how easy it is to make this work. Let's assume you're looking for videos, themes, photos or illustrations related to Christmas. Type in this keyword, and hit "Search". Lootback aggregates the items that fit your topic from iStock, Thinkstock, Shutterstock, Deposit Photos, and Envato's Graphicriver, Videohive, and Themeforest. You may choose to see only themes, or any other specific type of file, and also exclude some of the sources from your list.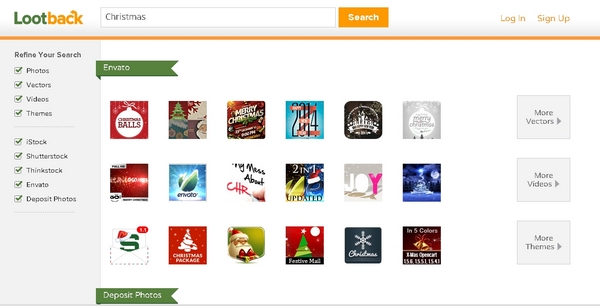 Scroll through all the exquisite findings, and click on the item that you covet most. A popped-up window will ask you to create a Lootback account by swiftly providing your email address and a password, and my advice is to do this from the very beginning – it won't cost you a dime. Besides, that's where your earnings are going to add up. After signing up, you're automatically redirected to your much desired royalty-free file. Now, you're on familiar territory – just acquire the item with that agency's prepaid credits, and use it in your project.
If you check back with the dashboard in 12 hours tops, you'll notice that your transaction has been recorded in "Purchase History" – and so has its associated Cash Back. And you will be able to cash everything out with Paypal as soon as the stock merchants have dealt with your records – which may take 7 to 90 days. But when the time comes, you are free to commute your earnings.

Bear in mind that more cash flows in your coffers every time you buy your creative files through Lootback. As I've illustrated, it's an effortless process, and the service doesn't have any secret catch for its users: all creative professionals can now receive presents not just for Christmas, but all year long.