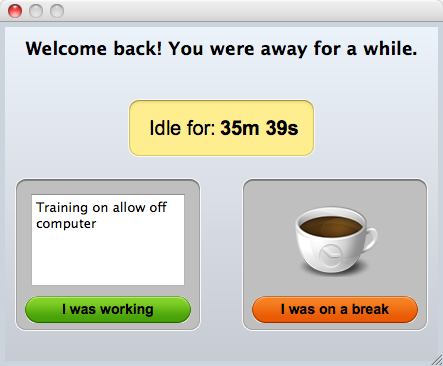 So here we are with another review, I've got a good one for you today – Time Doctor. TL;DR version of this article is that holy crap, is it easy to waste time these days – and not only does time doctor fix this by making you feel like crap about all those cat videos you are watching, it helps you correct this bad behavior and start making better choices with your time – for this feature alone it really is worth checking out. So let's talk a bit about what Time Doctor is and dive straight into the review (I had a lot of fun reviewing this software, as you'll see).
What Is Time Doctor?
On the surface it looks like your regular every day time tracking software but oh, oh my friend, it is much more than that as I've learned. So here is what the official website describes Time Doctor as
Our goal: To help individuals and organizations to be more productive, to help stop people wasting their life on distractions and instead finish what is important to them.

Our software aims to help businesses and individuals

Dramatically improve the productivity of teams
Reduce time spent on distractions
Help improve business processes by analyzing exactly where time is spent
Dramatically reduce wasted time and improve the time spent on productive activities
Help companies to be able to manage remote workers just as if they were in the same office, maintaining a high level of productivity when working remotely
Achieve a better work life balance by facilitating work from home, and remote working arrangements
Make the most of their time spent working while on the computer
To be more effective and avoid distractions

See full feature list

Sign Up For Time Doctor's Free Trial
First Impressions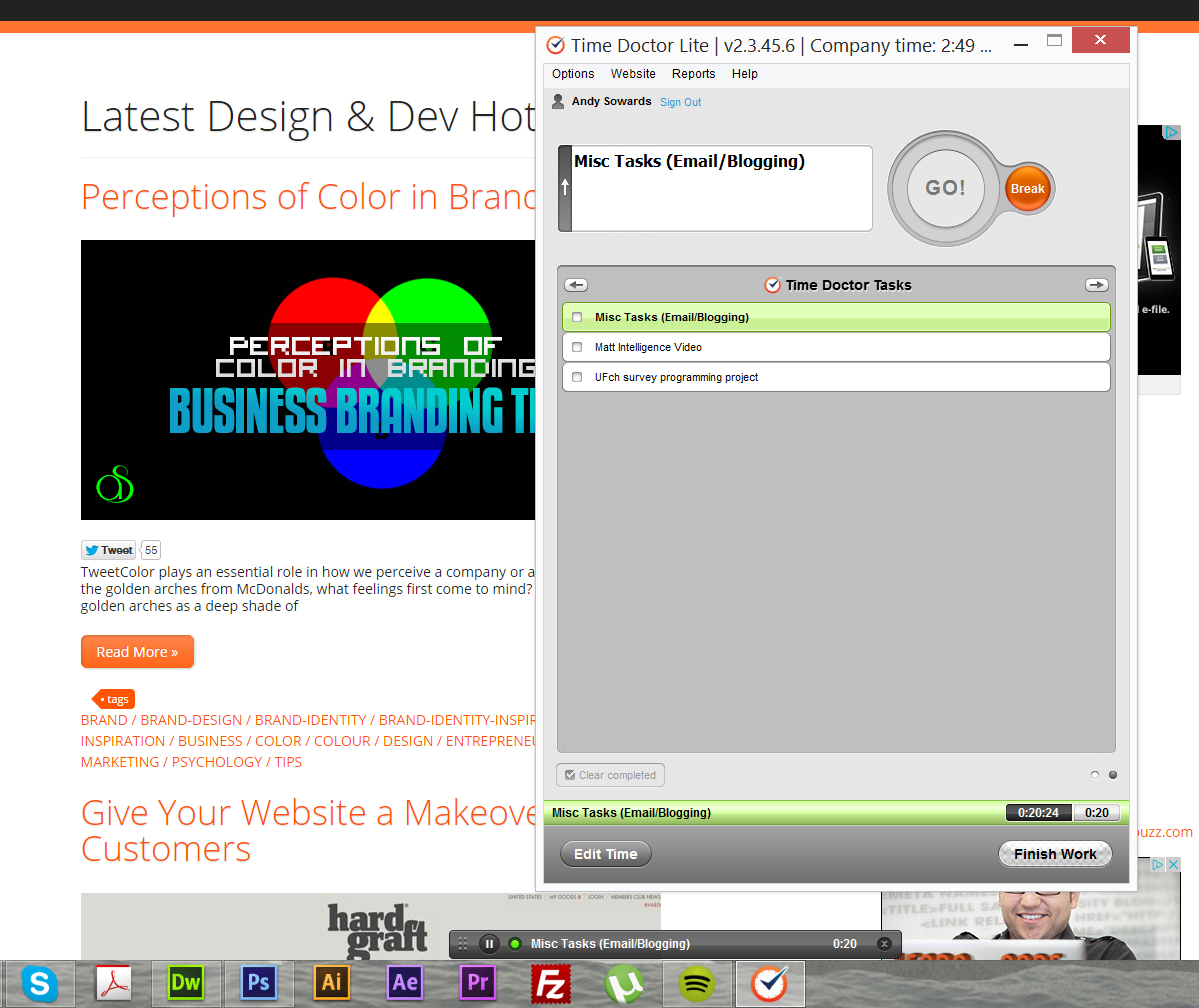 So coming into Time Doctor I wasn't sure what to expect – I was just looking for something to easily keep track of my time and maybe help me track my hours on projects through the week, what I found was that and so much more. Until using Time Doctor I didn't even realize I needed some of the features built into this software. After using Time Doctor for a while I quickly realized that this software is great for business owners, or people leading teams, because not only can you keep track of your own time you can keep track of OTHERS time. Let's dig into some of the features.
Getting Started


Don't forget, you can try it yourself – It's free! So don't just take my word for it!
So at first I downloaded the Lite version – which is smaller and has less features in it but in my opinion its just as capable as the Pro version (which is a little bigger and has more features) thanks to the seamless integration they have with their website – the app and the web app work perfectly together and I was very pleased to not find any snags in the integration, if I updated something in the app it showed up immediately in the software! So far so good.
Using the software was so easy, I got started right away tracking my time for the day – when you open the software you are greeted with an intuitive interface that simply asks you for a task, and once you enter it in you can click "Go!" and off you go – get to work! You can make it as simple or complex as you'd like – for example you can add tasks individually, or you can create "Projects" and keep tasks in them – but anytime you want to click on a different task Time Doctor will automatically start tracking your time for that task, when you are done with a task you can simply "check" it as done and it will clear itself from your to-do list and you don't have to think about that task anymore until you want to delve in and see how long you spent on it in reporting (which we'll get to). You can really use Time Doctor as a glorified to-do list application as well, plotting out your to-do's for the day not only gives you a useful list to keep you on target, but it tracks the time you spent on that list! Productivity++!
Don't worry about getting stuck, there is a plethora of tutorials and even videos that help guide you into using the software – you can skip the tutorial if you like but it only takes a second to prime yourself to use the software correctly. Once you get your head wrapped around what you are doing you probably won't need those anymore but its nice that they are so easy to get to. Some software just throws you in the deep end and says "You're on your own!", Time Doctor is the attractive lifeguard that gives you mouth to mouth (lol).
Mindless Productivity Improvements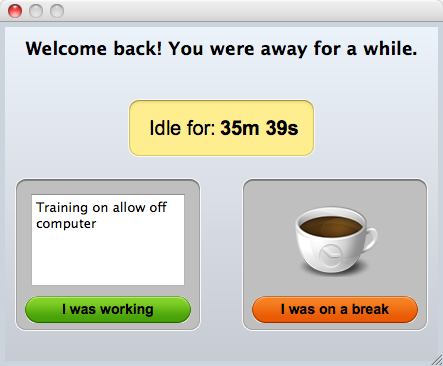 Easily my favorite thing about Time Doctor, and the thing that will keep me using it, is the productivity enhancing nature of it. It does things that you don't think about, and you can continue not thinking about them, such as – when you get up to go to the bathroom or take a break or go do literally anything (as it happens to us everyday) and you end up losing about 30 minutes or something and you forgot to write down when you stopped working – not a problem with time doctor, it detects that you were away, and asks if you were on break or not, and does all the time calculations for you – brilliant!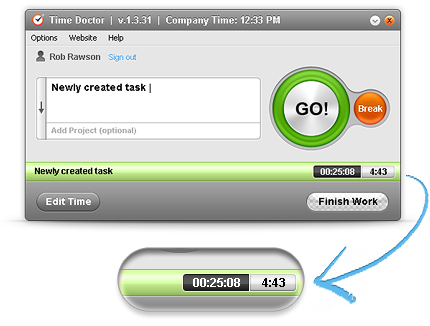 So not only does it keep track of when you are working, it keeps track of when you aren't, this full tracking can really help you optimize your workflow and increase your own productivity to make sure you get the most out of your time during the week, and also bill your clients for your time the way you deserve to. Don't forget, if you have employees or manage a team of people, you can take advantage of all of these things for them as well – so not only will your employees benefit but you can keep track of how productive they are and see what schedules or environments increase or decrease productivity.
Eliminate Distractions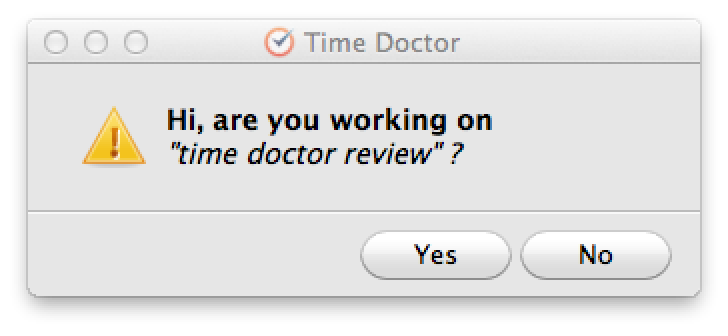 Another productivity enhancement that happens when using Time Doctor – it is one of the first things I noticed and LOVED when working with Time Doctor was that if you go to popular time sucking websites like Facebook, Youtube, or really any site that it isn't used to – it will say "Hey, are you still working?" which normally you wouldn't think twice about doing – but when someone else (even a machine, apparently) brings it up it actually guilt trips you back into working haha – Time Doctor used Guilt, it was super effective!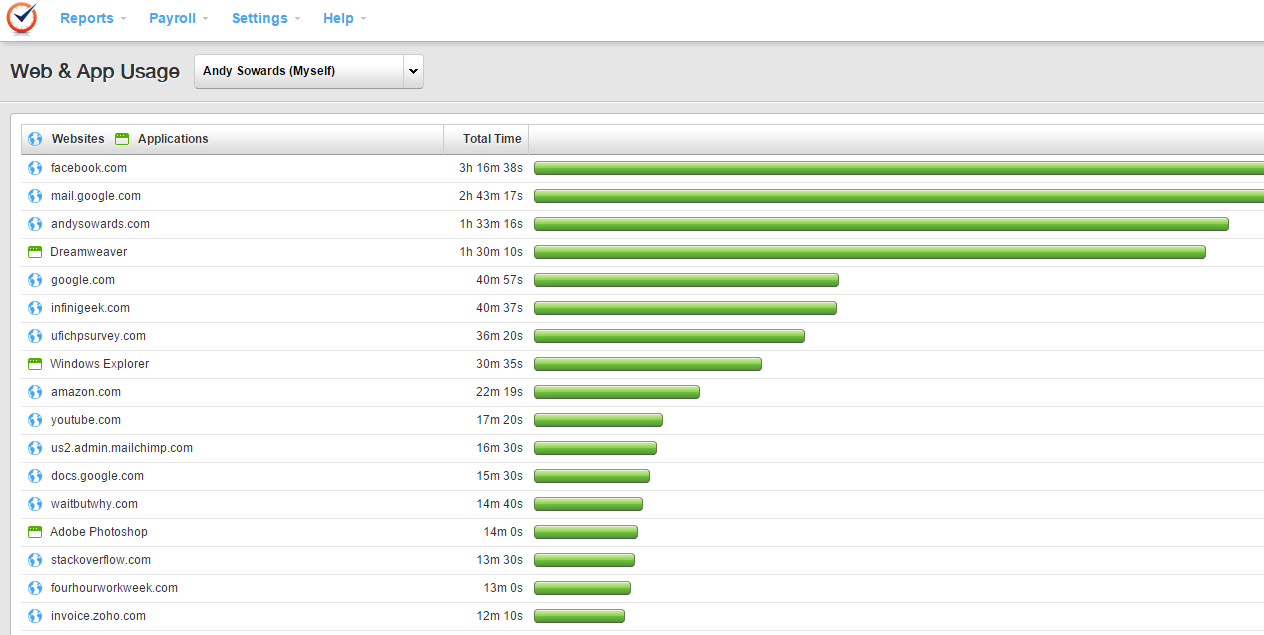 As if that wasn't enough to keep you on target, it also keeps track of your app and web usage – keeping track of where you spend your time be it a web application or a website. Depending on how useful or useless these websites are, it will make you feel good or bad at the end of the week when you view it haha (or whatever interval you decide to view it in) but regardless of how you feel, it is surely a useful feature that will help you break or make healthy and productive time habits! Spent a lot of time on facebook this week? Maybe cut back next week, unless most of your business is coming from facebook – then maybe invest more time there! You are finally in charge of your time!
Healthy Habits
Time Doctor isn't a slave driver, time doctor actually cares about you, which is pretty awesome. Sometimes I'll work and hours will pass and I'll not even know it (those days are few and far between but they happen lol). Usually in that situation you'll forget lunch or forget to take a break, but really you can only concentrate on a task for about 90 minutes (1.5 hours) before you stop being productive, or you need to get up and stretch or get your mind on something else to get refreshed again, well I was pleasantly surprised with this notification.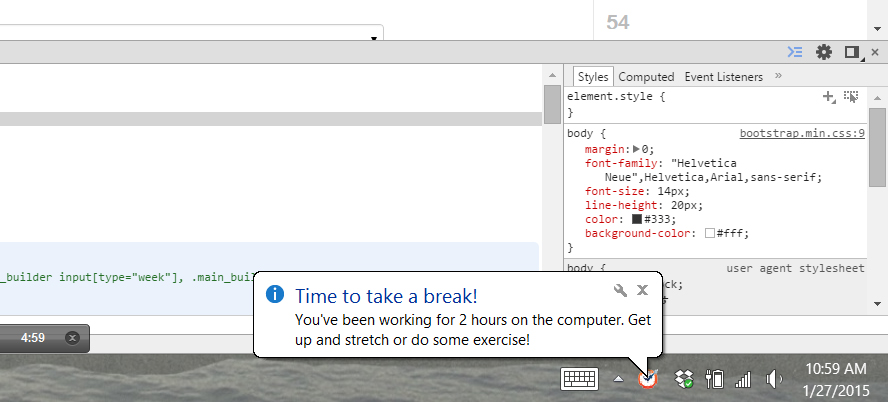 How cool is that? You really can focus on work and let Time Doctor handle the rest, really nice features, and i'm sure they are working on more innovative ways to keep you productive and happy and most importantly HEALTHY – if you neglect your health no productivity tricks are going to help you in the long run. So stay healthy! Doctor's Orders.
Reporting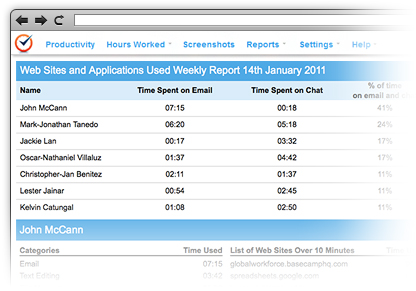 Time Doctor does a great job of tracking your time which is useful when it comes to reporting and analyzing your own time or employees time to make purposeful good choices in making yourself or your company more efficient. With built in reporting options like Poor Time Use Report, Absent & Late Report, Web & App Usage Report, All Tasks Report and more – you can quickly get a snapshot of what is going on in your company so you can optimize as needed to keep your company and employees in line with your vision and keep your company moving in the direction you want to (not wherever it takes you). Which brings me to that important part of the software that is most beneficial to the entrepreneurs among us.
Running A Business

So this brings me to where the features really shine, and I didn't really think of using Time Doctor this way when I first got started using it, but I can see the possibilities now – managing a team and running your business with hired employees (especially if they are all remote workers, if you wanna pull a Tim Ferris like the 4-hour work week) – Time Doctor is perfect for this, let me explain. At $9.99 per user per month this is one of those things that will quickly pay for itself in exchange for reliable time tracking, billing, and just overall time saving and ease of use.
So the user management feature is pretty robust – first of all providing your employee with a free copy of Time Doctor is a nice stress relieving incentive since lots of people have trouble keeping track of their time, because everyone is different, this saves everyone's time when it is all in the same format – but as the employer it gives you added functionality as you can control their account.
Some of the features Time Doctor has includes screenshot recording (which I don't necessarily agree with) but if an employer needs to SEE what his or her employees are doing, Time Doctor documents this with random screenshots (this may actually be beneficial for managing remote virtual teams) – this can be turned ON or OFF for any user in your account – you can also tweak things like whether they can input manual time, or how often they get the "Are you working?" popup reminder
Other features that make Time Doctor great for business owners is the way it integrates Paypal (and more payment platforms soon) to pay your employees for their time worked directly through Time Doctors interface – really awesome!
There are also some higher level configurations that you can make to tailor Time Doctor to your business, including the option of using their API to integrate Time Doctor into your own custom made application or software in any way that you want.
Bottom Line
The bottom line is that I really enjoyed my Time with Time Doctor (no pun intended). This software really is easy to use, and it really does SAVE you time – IF you use it, just like anything, it only works if YOU do. So try it out, and actually USE IT, and you WILL see a difference in focus, and organization of your time – it is a really helpful tool that gets you (and your employees) used to making healthy habits when it comes to work and time management. Not to mention it helps you bill your hourly billable time to your clients much more accurately. So if you have been having trouble being productive, staying focused, or keeping track of your time, you really have nothing to lose, Literally, as it is free for 30 days – so go try it for free! Right now!