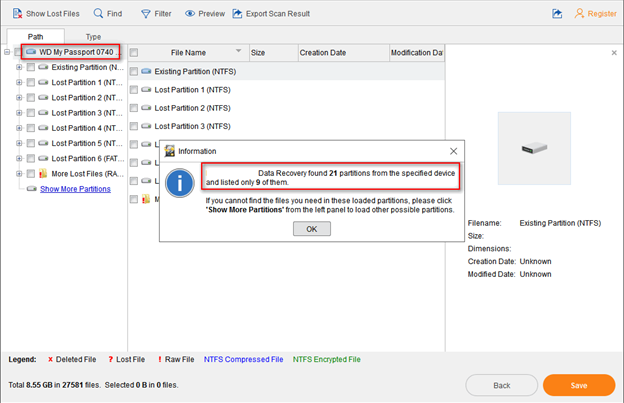 The western digital external hard drive is frequently used to store confidential and private business data. It is an ideal choice for data backup. Keep it in mind that these devices can create a problem by losing your important data. If you are using an external hard drive and want to learn how to recover data from western digital external hard drive, read these simple instructions.
Unallocated WD Hard Drive
Sometimes, you may face a weird problem. The WD external hard drive gets unallocated. You can view it in disk management, but can't access in your operating system. The drive becomes unallocated, but you can recover your data. Remember two things:
Don't create a new partition and avoid saving data on that unallocated hard drive.
Don't select an unreliable data recovery tool because the internet has numerous options. A wrong tool can be the reason for secondary damage to your data.
If you have a Toshiba laptop and running Windows 7, you will need a Toshiba Windows 7 recovery. This tool is suitable for the following situations:
Accidentally deleted essential files from your external hard drive
Connected WD hard drive to a computer and computer shows it unknown
Useful files are missing from an external hard drive
Your desktop or laptop is attacked by ransomware or virus
Prevent Ransomware and Virus
Ransomware refers to a malware type that prevents or limits users from accessing data of encrypting files or locking screen of computers using RC4, custom encryption or RSA. Ransomware forces victims to pay ransoms in the form of virtual currency, such as Bitcoins. These threats are common in academic institutions, businesses, government agencies, and individuals.
If you want to avoid ransom attacks, make sure to avoid a suspicious attachment. Carefully check an email for their legitimacy before responding. Stay away from opening suspicious websites or sites with illegal activities. You have to install the latest protection app and software. Install or update fireplace on your desktop or laptops.
Data Recovery from External Hard Drive
Here are some options to complete data recover of WD external hard drive.
In the first step, select "This PC" to recover important folders and files after deleting them accidentally. If you lost files from local partitions of external disk, you have to choose this from the main window:

Choose a target partition on WD external hard drive and hit on "Scan" button to detect lost/deleted folders/files.
Carefully check deleted files while scanning and hit on save button to adjust a new place to store them.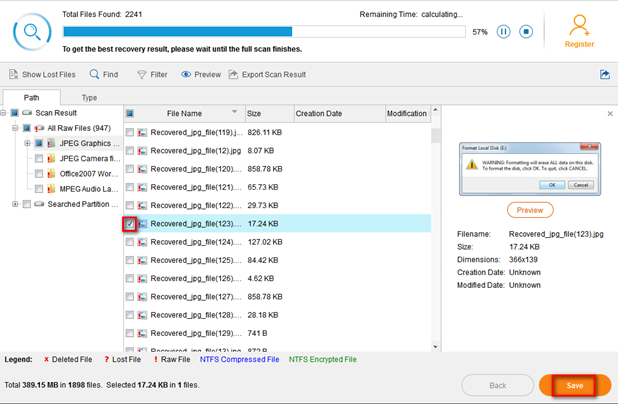 Removable Disk Drive
You can recover data from a removable external disk drive. People face different problems, such as uninitialized, RAW or unallocated. In this situation, Windows will not show this external drive. For an unknown detachable WD disk drive, you have to start a recovery procedure. During the recovery procedure, you will select "removable disk drive" to recover data. Follow these steps to start a recovery procedure:
Click on affected "WD disk drive" from the main interface.
Choose the hard drive and hit on "Scan" button to detect folders, files, and partition in the drive.
Check all files that you want to recover from scan results and press "Save" button to recover these files. You have to set a storage path to complete this procedure.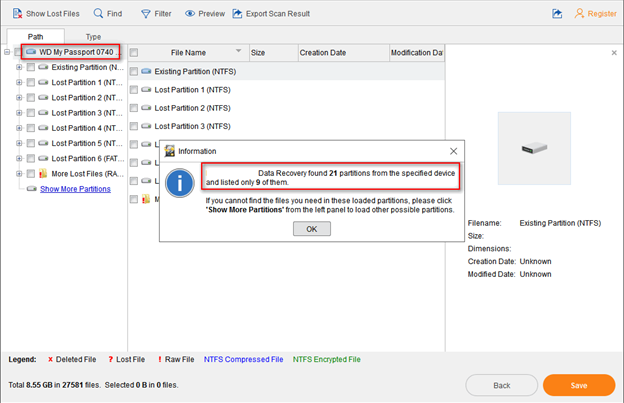 Conclusion
Data loss is a common problem even in the western external hard drive. You will need reliable recovery software to recover your essential files. After losing data or detecting a problem with your external hard drive, immediately stop using this drive. You have to start the recovery process to avoid the risk of overwriting.