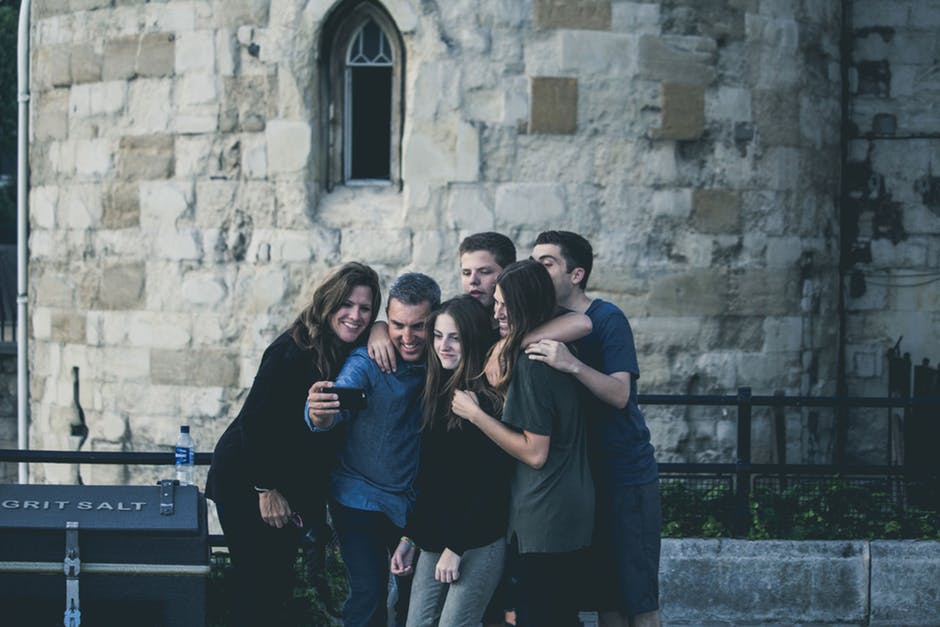 Picture Source
It can be hard to think of fun things to do with your family at the weekend. Whether your kids are around the age of 5 or 15, there will always be differing interests in the family. You might want to go to a local museum, but your teenager might want to play video games with their friends. Obviously, it's important for everyone to do what they want, but you should strive to do things as a family from time to time, too. So, if you're struggling to bond, here are some great weekend ideas for the whole family.

Go on a road trip.
This is a great idea for any family that wants something fun to do at the weekend. You don't necessarily need to book time off work and wait for the school break for your vacation. You can take a mini break with your loved ones on any weekend. Hop in the car, pack some snacks, prepare a great playlist, and hit the open road. This is a great opportunity for everyone to do something that makes them happy. You could take suggestions from every family member and visit several destinations. That way, it's a trip which appeals to the whole family. Just make sure you plan the trip extensively in advance so you don't face disappointment. You don't want to have insufficient time to see and do everything that you have in mind.

You might even want to go camping, too. This is the perfect way to top off a great road trip. You can keep the spirit of the road trip alive with delicious food around the campfire, music (either on Bluetooth speakers or an acoustic guitar if anyone's talented), and games. Camping has a little bit of something for everyone if you plan it properly. Everybody can get in touch with the environment when they're met with true natural beauty. If not, then the tasty snacks and fun games should be enough to keep every family member happy to some extent. Camping is the ideal family adventure if you're looking to get away from the chaos of everyday life and enjoy simpler pleasures. Obviously, the road trip itself will be the main experience. It's not all about the destination; it's about the journey. Eating great snacks, jamming out to a fantastic playlist, and laughing as a family are all parts of the experience.

Start a new TV show.
Here's a great idea for a quiet weekend with your loved ones: start a new TV show together. In the digital age, we have more entertainment at the tips of our fingers than ever before. So, why not make the most of that? Instead of scrolling past all of the fantastic series on Netflix, you could choose one to watch. Make the decision as a family, of course. It should be a show in which the entire family can become invested. That way, you won't just have something fun to watch this weekend; you'll have something fun to watch on many weekends to come. If you're not looking for an adventure and you want to chill as a family, then this could be the perfect solution for a relaxing weekend. Obviously, Netflix isn't your only option. There are plenty of great streaming options available. You can even watch Hulu in the UK and Canada. So, wherever you are, there's always an easy way to watch movies. There's no excuse to avoid a family cinema night this weekend.

Eat out at a nice restaurant.
Everybody likes food, right? Well, if you're struggling to think of something to do as a family, then a meal at a nice restaurant might be the perfect answer. It beats staying in and eating the same food as usual in the same dining room as usual. Switch up your routine. Do a bit of research, ask for opinions from every member of the family, and choose a dining establishment which has tasty options for everybody. That way, nobody will be disappointed with the choice of restaurant. There'll be something delicious for all of you to eat. That being said, going out to a nice restaurant can be an opportunity to try something new, too. You could step out of your comfort zone as a family and try a type of cuisine that you've never tried before. Maybe you could try out a restaurant that serves Thai or Mexican dishes, for example. A weekend trip shouldn't always be safe and ordinary. You don't want the outing to feel bland, after all.

Have a beach day.
Make the most of the summer heat before it fades away; have a beach day as a family. There's no better way to enjoy each other's company in this sweltering weather. You don't need to jet off to some distant destination to appreciate summer. Head down to your local beach and have a mini vacation there. Just make sure you bring a good book, plenty of sunscreen, pick up some beach footwear and some towels. Perfect. The beach appeals to us at any age. As a child, it's all about building sandcastles. As an adult, it's all about soaking up those rays. Whatever your age, ice cream is the main draw. There's nothing quite like eating a succulent ice cream as you stare out at the ocean on a warm summer's day. Okay, you should be sold now. You're definitely ready for the perfect beach day with the family.

Relax in the garden.
Or perhaps you and the family could make the most of these latter summer days by simply relaxing in the garden. You don't necessarily have to go on a road trip or a long drive to the beach to appreciate the sun and get a nice tan. Simply stepping out into your back garden and relaxing as a family is the perfect way to appreciate this wonderful weather. This will definitely appeal to every family member because it's a great way to give people individual freedom, too. The adults can relax on their sun loungers, and the kids can have water fights or relax in the pool. You could even spend this weekend prepping your garden so that it's ready for the family next weekend. You should create a cozy and inviting zone that you and your loved ones will want to use for years to come. Who says a garden is just for summer? Make a comfortable patio area, for starters. You just need an awning to provide shelter, cushioned seating, and a dining table. That way, you can have a warm and welcoming area to use for family meals at any time of the year.

Of course, you can do things as a family, as well. You could play some games in the garden. Assuming that it's not too hot, some sporty activities in the sun can keep the whole family happy. You could play some traditional sports such as football or tennis. Or you could try something a little more interesting. Maybe you could play a game of 'Capture the Flag' – that's a fun team game which will certainly get everyone in the competitive mindset. It's a pretty straightforward game; capture the enemy's flag and bring it back to your own base before they do the same with your flag. Still, a simple game such as that can quickly become something much more intense and demanding. Be prepared for a serious team game.

Try cooking or baking together.
As mentioned earlier, food can be a great tool to use for bonding with your loved ones. People have different preferences in life, and this certainly extends to the food we eat, but it's often easy to find at least one dish or baked treat that will appeal to every family member. Plus, cooking or baking together is a fun activity in itself. Just spending time together is a great weekend activity in itself. That should be clear after the other things we've suggested in this article. If you're struggling for ideas, then you should search for something new for the family to bake together. You could really push yourself by trying something new.

Maybe you and your family could also make things fun by personalizing the cooking or baking experience. If you were to make a cake, for instance, then you could shape it in the form of something that appeals to you and your loved ones. Maybe you could shape it like an animal that you love, or maybe you could shape it like a monument or a location that you all loved visiting. Cooking and baking can be great ways to really bond as a family. It's a creative activity that gives you numerous opportunities in terms of the direction you could take. So, don't shy away from the challenge. Make the cooking or baking experience as fun and exciting as possible.

The key to having a fun weekend together is ensuring that you choose activities which appeal to every family member. That way, nobody feels left out.