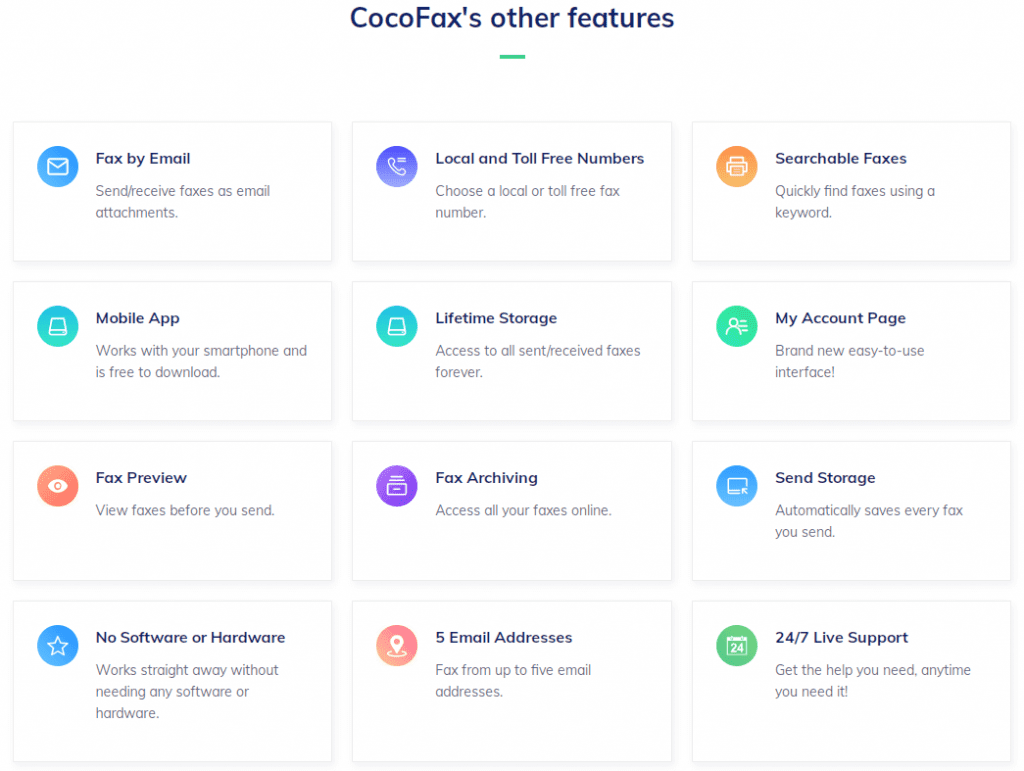 Fax machines are nowhere to be seen in 2020 but faxing is still prevalent in this digital world. You may be having this perception that faxing is antique now but that is not the case. Many business organizations and people still find faxing more comfortable.
The Internet is becoming an integral part of moderners and they want everything to be done with a few clicks. To meet the needs of present day, faxing has been incorporated with modern technology. Despite the fact that many new modes of communications are rampant, faxing is still preferable in the business arena because of many advantages like security.
With online faxing services you don't need a fax machine, toner costly paper and ink. Everything can be done on your smartphone with an internet connection. But you need an online faxing service to send and receive faxes on the internet. These services can convert analog signals into digital signals. In this article you will know about the different online services you can use to send and receive the fax over the internet.
CocoFax — best online faxing service:
Cocofax offers free fax to email service which has made it user-friendly, convenient and feasible. CocoFax has established itself as an online fax leader when it comes to using new technologies for making life easy and convenient for people. CocoFax is designed to be used for both business and personal purposes. It provides you a good combination of cheap pricing and an exceptional set of features.
CocoFax provides you a free fax number giving you the choice of local fax number, toll free number or vanity number without the hassle of maintaining a new telephone connection. Most convenient feature of CocoFax is that you can send and receive faxes from email. Along with that CocoFax allows you to send fax from Google drive too.
You can use CocoFax from any gadget connected with the internet. Instant delivery of fax is possible with CocoFax.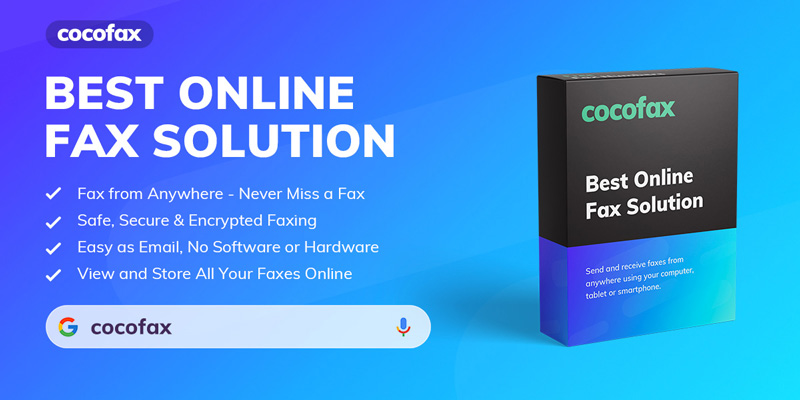 What makes CocoFax better than other online faxing services?
CocoFax is free to use for a trial of one month. To use it further it requires you to pay a minimum amount of money, much less than you used to spend on fax machine maintenance and costly paper. For android and iPhone there are special apps designed to be used from these platforms.
While using CocoFax you can fax on the go from Gmail account, CocoFax dashboard. It has long term memory and you can read your faxes till the life of your account. Before choosing any service make sure it fits your requirements. CocoFax provides you military level encryption so there is no way of breaching your documents. You don't have to keep your PC on all the time to receive the fax. CocoFax is like your virtual fax machine doing all the hard work for you without missing a single fax within a few clicks. If you want to know more about the features of CocoFax, just click it here .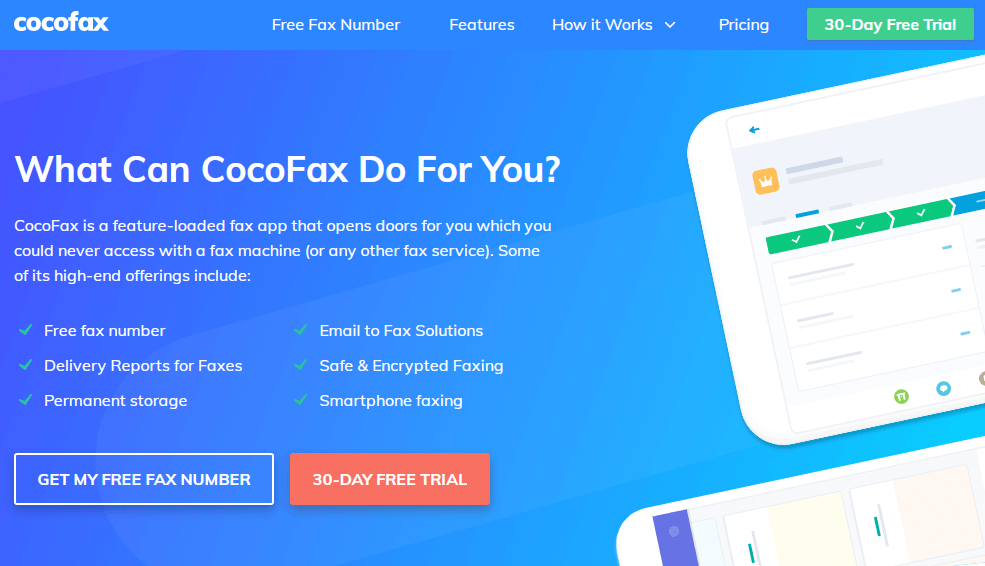 Detailed guidelines to send fax with CocoFax:
You can send fax via email and via CocoFax dashboard. Procedure is almost the same for both. Here you can see the steps of sending fax via CocoFax web browser.
Step 1
: go to CocoFax official web site and sign up for the free trial and later you can choose the plan of your convenience. Choose the free fax number. After that a new window will open.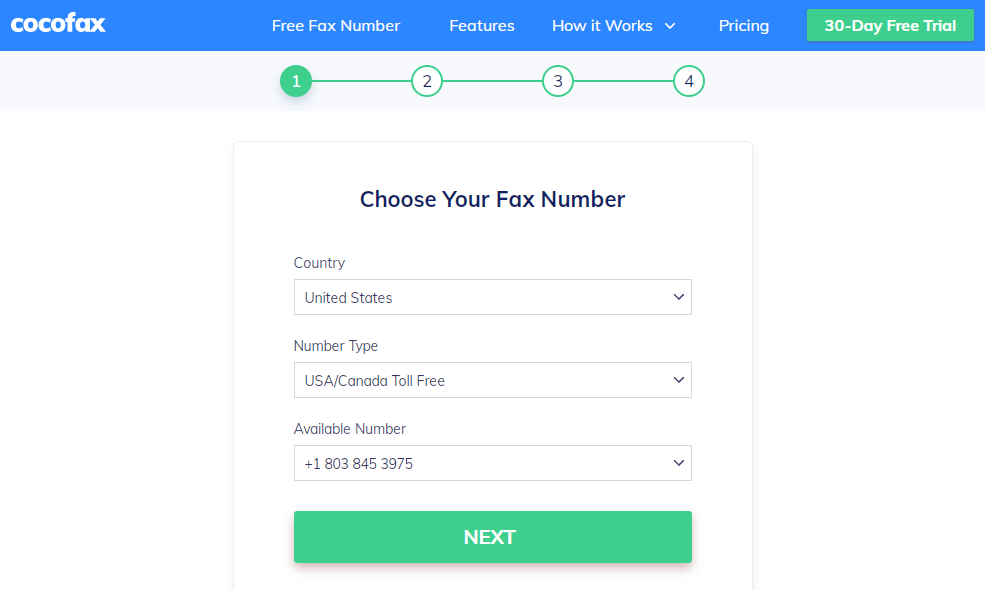 Here you have to enter some personal information and your email id on which you will get faxes from the people all around the world.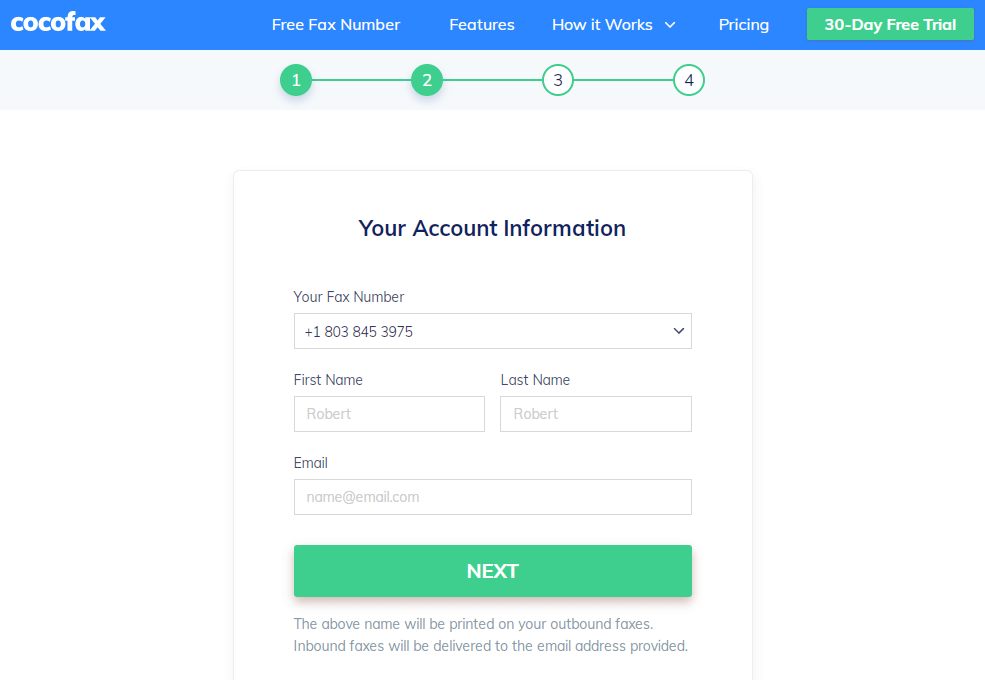 Step 2:
after signing up you will be directed to the CocoFax dashboard. Here you can see the option of 'new fax'. If you want to send a fax you can click on that option.
Step 3:
after clicking a new window will open. Here you have to draft your fax. First you have to fill in the mandatory fields.
In case of sending fax via CocoFax dashboard:
To: in this field you have to enter the fax number of the recipient.
In case of faxing via email while using CocoFax:
To:
in this field you normally enter Gmail id of the recipient. Now you have to enter the fax number of the recipient followed by '@cocofax.com'. Like if the fax number is 123456 you will enter [email protected].
Subject
: it's optional. This text will appear at the top of fax.
Body:
this is also optional. It will become the first page of fax.
Attachment:
Now the final step is to attach the documents after scanning.
Step 4:
now click on the 'send' button .CocoFax will receive your fax and send it to the other end.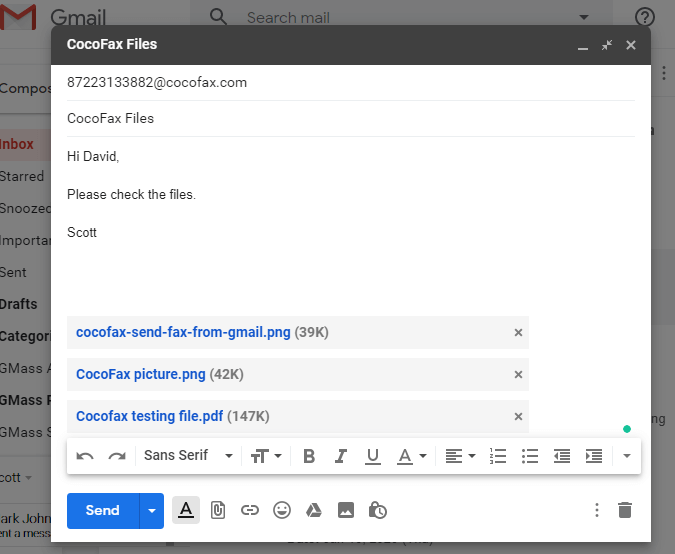 You will be notified of successful delivery of fax to the recipient.
You can receive fax automatically in your inbox and can read them round the clock.
Efax.com:
EFax is the online faxing service which has features similar to CocoFax. You can use eFax from different platforms. It is available on PC, smartphone and laptop. If you need to fax efficiently, instantly and securely you can choose eFax. EFax provides you a free fax number service as well. It is supported by thousands of users and millions of faxes have been sent with eFax. You can first use the free trial for 30 days before making it permanent.
Fax. Plus:
Whether you are running a huge business organization or just working on a small scale, Fax Plus is suitable for you. You can send and receive multiple faxes from a number of platforms. It assures you of totally encrypted messages, instant delivery and fax to email and email to fax service.
It is very economical and provides you a free trial first. It is available on both iPhone and android and is able to send faxes both nationally and internationally. You can enhance your love for faxing by using fax. Plus.
Fax authority:
Fax authority provides you the faxing service with touch of modern technology. Features of sending multiple files at the same time, high end to end encryption and easy to send faxes worldwide makes the fax authority an authority over online faxing services. You can use it anytime almost anywhere without worrying about missing a fax because your PC was off. If you already have a fax number you can still use that number and fax via fax authority by using that number.
Myfax:
Myfax provides you freedom from the worry of heavy fax machines and costly papers. You can fax via email by entering the fax number in 'to' field where you normally type the email id of the recipient. It provides you a free trial and a free fax number you can use for one month. If you want to use it on iPhone and android, special apps are also present. With Myfax you can stop using paper altogether and can read your faxes anytime you want. It saves your faxes in the inbox and your time by sending multiple files of different formats at the same time.
Conclusion:
Now you know about the different online faxing services. You can use anyone of them to save your money and time. CocoFax is the most advanced one of them. With its modern and convenient feature set you can send and receive faxes with lightning speed.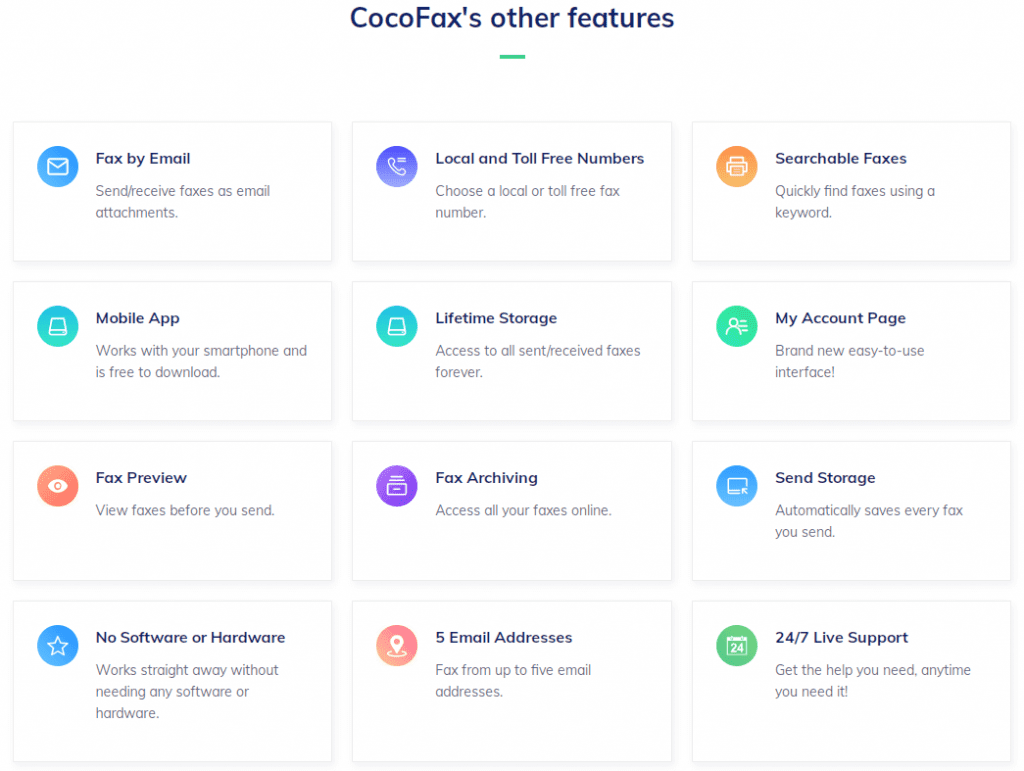 After using these online faxing services you won't like to turn back to your old fashioned fax machines.