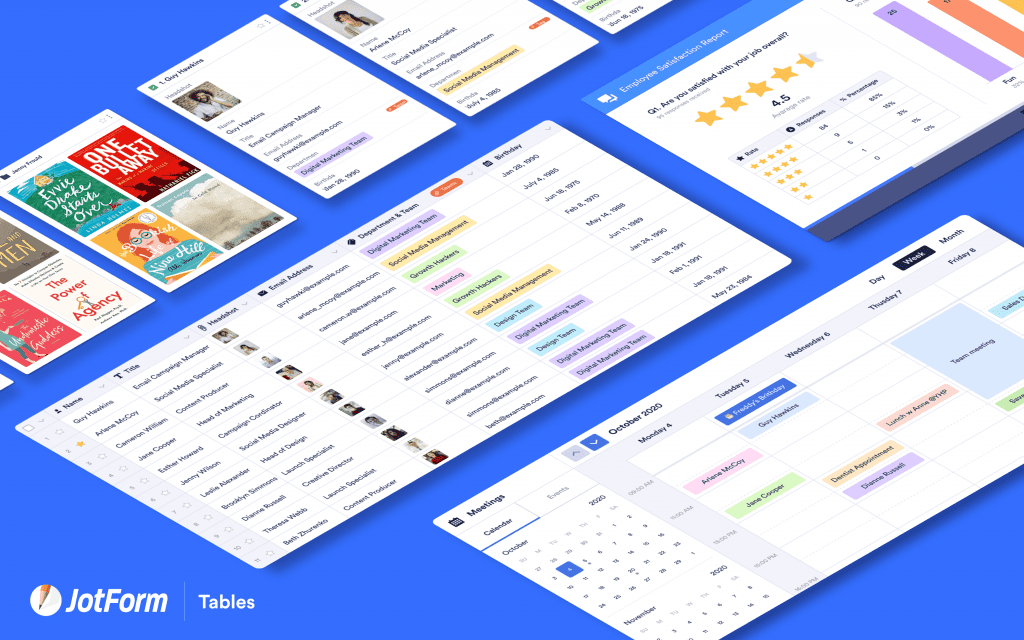 Working from home sure is fun huh? Now that everyone has settled into their home office, what is a little harder to settle into – are the tools we have to use to collaborate with each other! Sick of trying to sync your spreadsheet files with the exact version of a co-workers software? So are we! Thankfully an answer has arrived in the form of JotForm Tables! As we have mentioned before, we love companies that listen to their users – and one such company that has been consistently innovating on their users requests is JotForm. We've covered them many times in the past and today we have a new web tool that is exciting for one reason – it makes using Spreadsheets easier, in every way, from creation, editing, to collaboration and sharing online!
Even if you didn't know you needed this, you need this.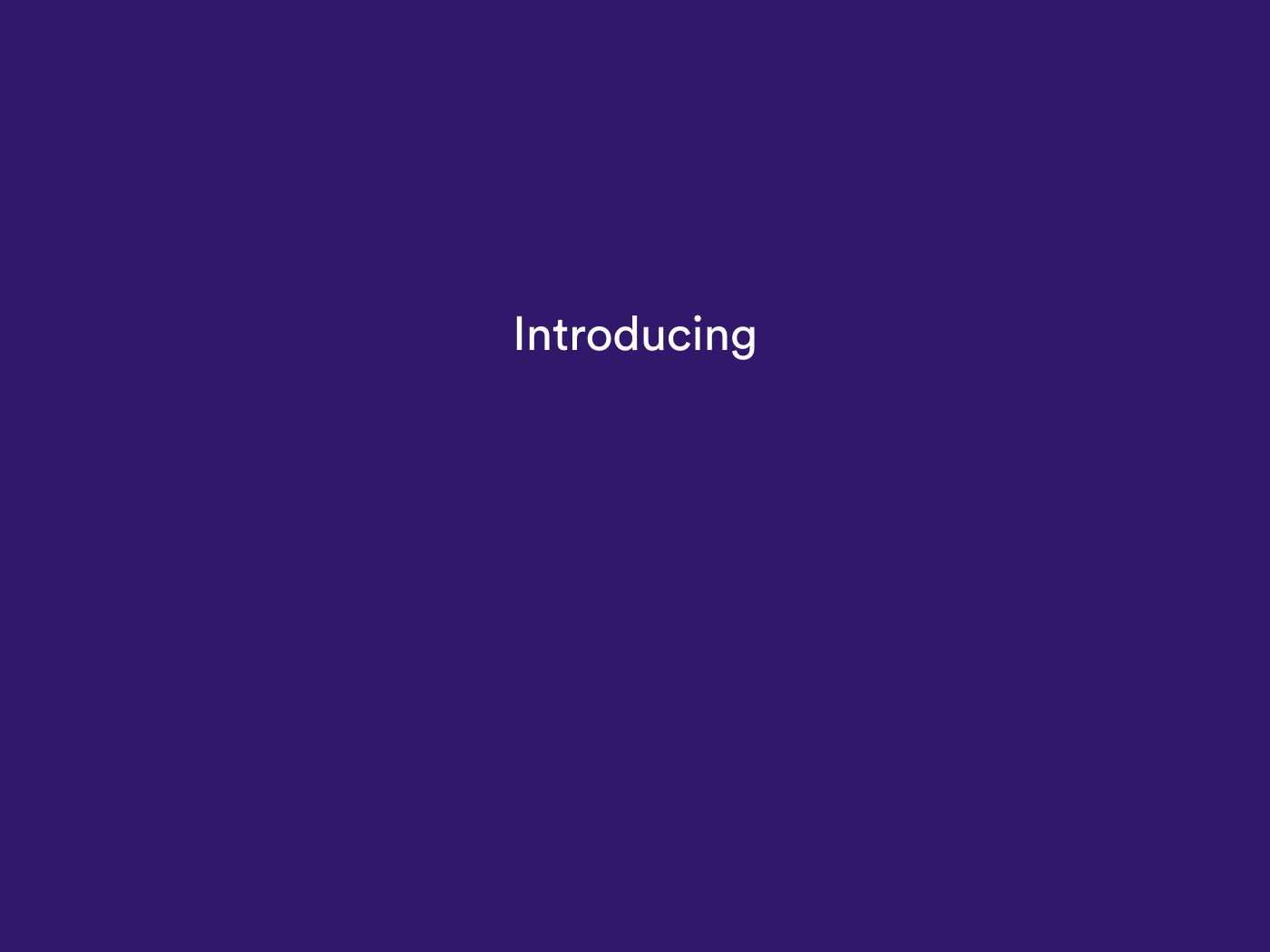 This product has been in the works for a few years now and the result shows how much dedication went into it. From first glance it looks like a very slick way to work with your data (and we can never have too many tools to help us in organizing and wrangling together all of our various data sources!). This data tool looks especially helpful to remote teams that not only collect a lot of data but have to collaborate on the curation and presentation of that data.
Let's dive into this new app, JotForm Tables as we cover exactly what it does, and how it does it, and why you would use it to increase productivity and improve collaboration in your business.
JotForm – What is it?

JotForm is an online form builder that's on a mission to make organizations more productive and improve the life of everyone that uses it. This all-in-one data collection solution is perfect for gathering, organizing, and analyzing important business information. With over 7 million users worldwide, it is no wonder that JotForm is a trusted global brand that grows every day.
How Is JotForm Changing Spreadsheets?
Capturing form data has become one of the most common activities online, and JotForm has been there for years innovating in the data capturing space. This time they have stepped it up yet another notch by introducing an easy way to organize that data directly into a spreadsheet format of their own creation that can be collaborated on and shared anywhere you choose! No more downloading and uploading .csv files just to get it in to a spreadsheet format to then do more work formatting it.
You can import existing data from existing spreadsheets (again .csv format), sync form data between different sources, or create new spreadsheets from scratch. Don't forget that JotForm has many other integration products, you could collect your form data into a spreadsheet, collaborate on that data with your team, and export it into a PDF! This tool just extends the already great functionality JotForm has been creating with their apps – you now have even more control over your data.
Hands On With The New Features
Now for the first time it is easier than ever to create an automated workflow of creating and editing spreadsheets from user data – all of your spreadsheets can have a uniform, professional design – while being super easy to create (No technical skills required or coding).
Here are just a few of the highlights of the Tables tool:
Advanced search, filtering, editing
Formulas and calculations
Easy sharing and exporting of data
Full customization of columns, tags, and more
250+ templates to choose from
Different data viewing options (Spreadsheet, Report, Calendar, Card)
Access to revision history
And much more!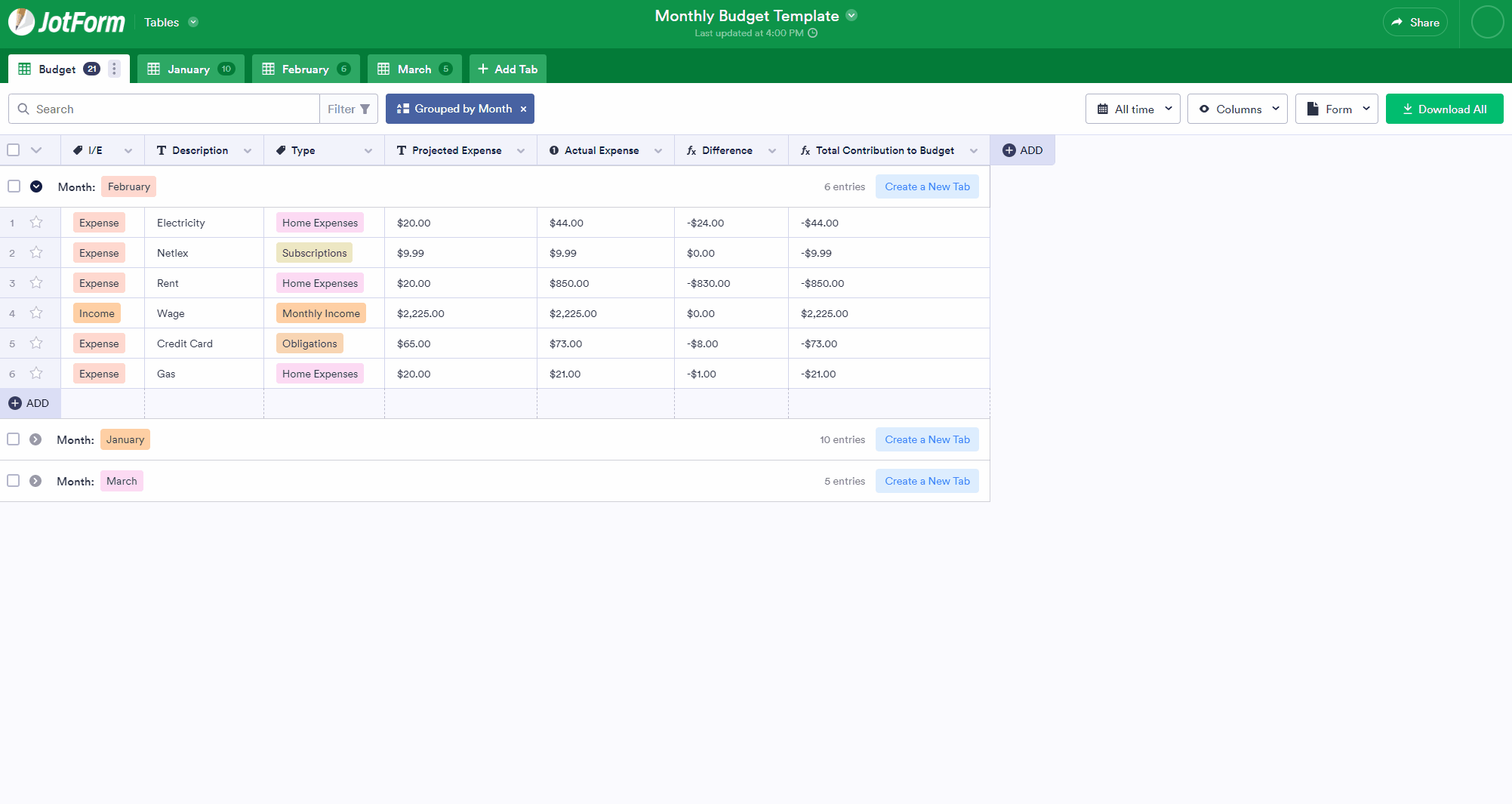 As you can see from the above example we've setup a monthly budget and we've got all the fields we need for our custom spreadsheet – mapped directly to the user data that we are collecting (you could do a personal one for your family, or a business one for your office and who is in charge of managing the budget in different branches) – we can even let the users upload their data through a form – how you input the data, and organize it is very flexible. Each cell can be edited manually, or you can use the data from the document (for example a user from the list of available users data set will appear if you are editing a name). If you are used to interacting with spreadsheets you will be happy to see all of your calculations and functions you have grown to love are there, as well as the ability to sort and range data however you need!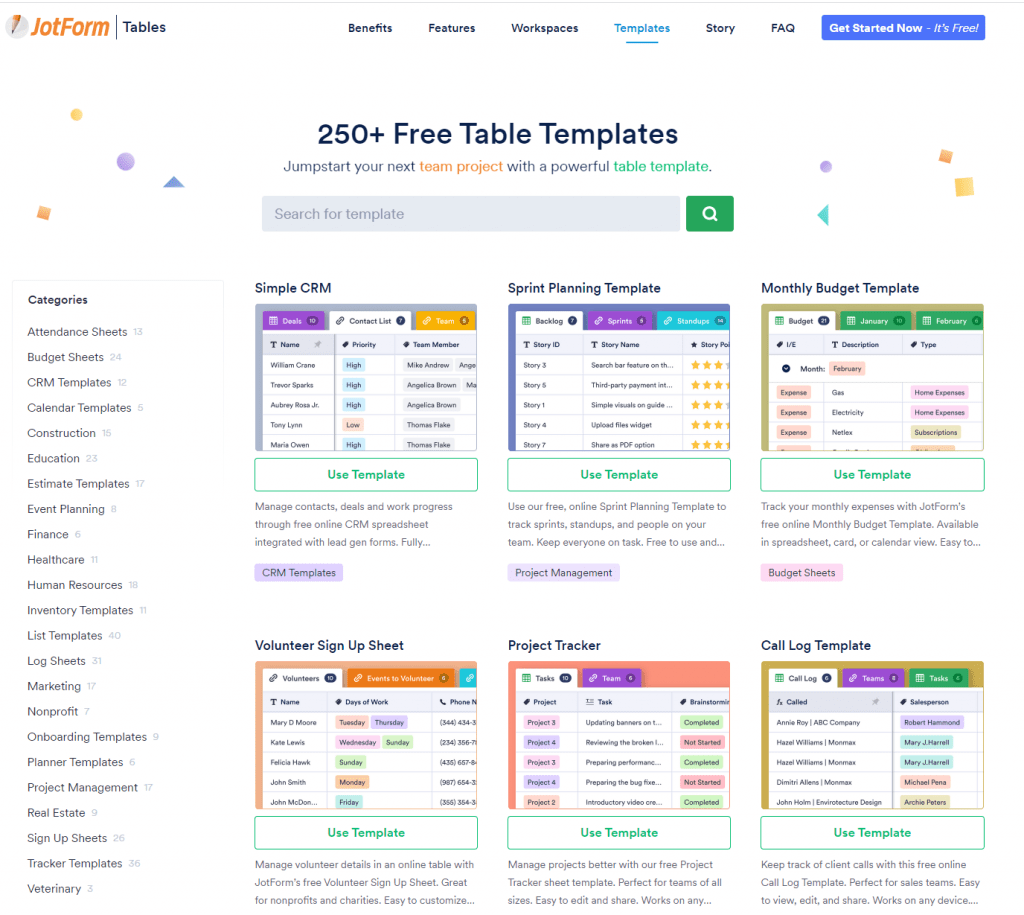 Now if you aren't a designer, don't worry – they have your code and your design covered with their many tables templates ready for your spreadsheet data – all you have to do is make sure it has all of the data you need to collect, and you are ready to go!
Conclusion
Many have tried to tackle the spreadsheet, and many have failed in implementation – we are happy to report that JotForm has succeeded and it is not a chore to integrate this new spreadsheet process into the form submission workflow we already know and love, in fact, it's pretty fun! The possibilities here are endless in how you can use it – we really enjoyed the different data viewing options (Spreadsheet, Report, Calendar, Card) as it really ads some life to how we are looking at our data, clients will certainly be impressed!
JotForm has found yet another way to add value to their already valuable service – we are giving this new Tables (spreadsheet) addition a solid 8.5 out of 10.
Do yourself a favor and give this feature a try today if your company is already importing their form data into spreadsheets on the fly. You may find this simpler and cleaner approach to spreadsheets a refreshing alternative to the confusing and often cumbersome spreadsheet software out there that we have been forced into using from home the last few months!
We hope you have enjoyed this review, please let us know what you think of JotForm Tables in the comments below! Thanks for reading!
JotForm Tables Review
Features -

8.5/10

Usability -

8/10

Design -

9/10
Summary
JotForm's new Tables feature is a welcome addition to the already popular form building software – now you can display the results of your form submission data as a spreadsheet for your own use or for collaborating with your team to curate the data as needed.
We had no trouble in our tests getting the data to look just about how we wanted – we also were pleased to find a few layout options we wouldn't have otherwise thought up if it wasn't suggested to us.