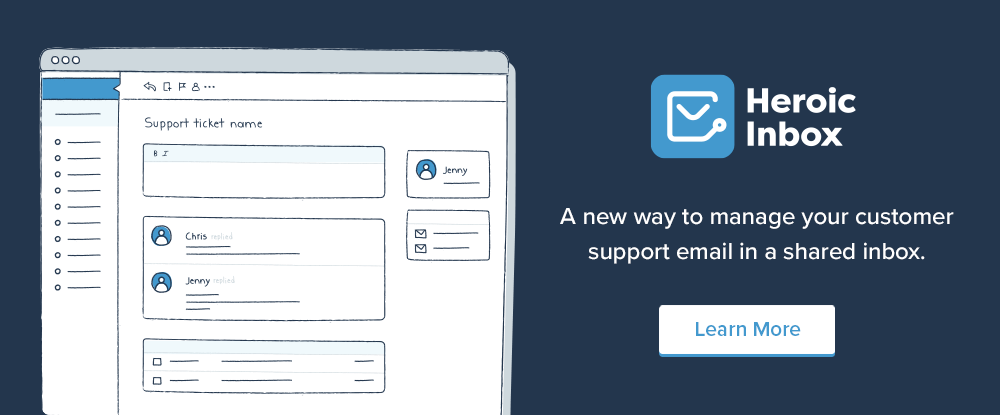 Trying to incorporate a certain feature into the website you're building can at times be a real problem. You don't really have the right tool at hand to do the job. You don't want to have to write a lot of code (or learn to write code for that matter) or turn your project over to a developer.
Fortunately, WordPress is open source, which means an awful lot can be added to it, including themes and must have WordPress plugins.
The latter is where you'll want to look for help. Since there are more than 58,000 plugins currently on the market, there's a good chance that there is at least one out there that will resolve your problem. We know that you can find the coolest WordPress plugins.
Which brings up another problem for you to work. It's going to be a long, hard search, with no guarantee that what you end up with will resolve your problem efficiently and effectively.
This listing of 10 Top WordPress plugins for 2021 should be a good start in helping you resolve your problem. At the very least, you could come across a "must-have" plugin that enables you to take your website design or business to the next level.
1. Amelia WordPress Booking Plugin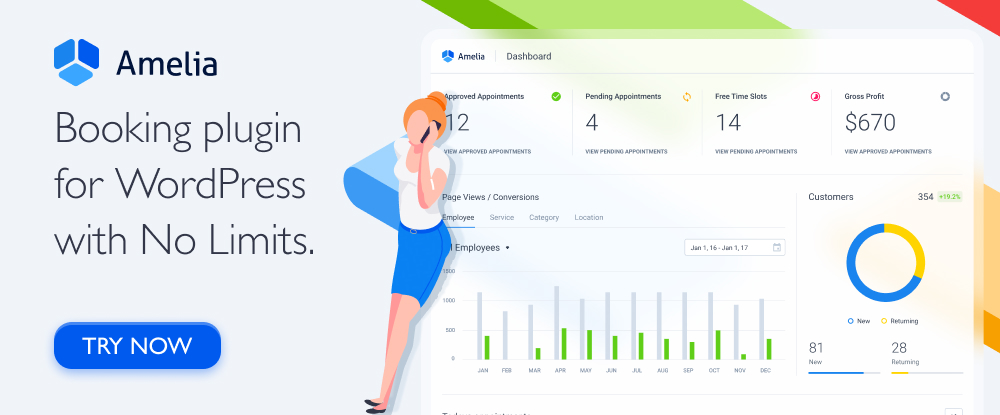 The Amelia WordPress plugin can save a business a significant amount of time and money by automating its appointment booking interactions with existing and potential customers. Amelia also helps a customer select the service to be rendered, the appointment time, and the employee who will be performing the service.
Amelia eliminates the workflow disruptions a manual system can cause and also eliminates or greatly reduces the probability of errors
Amelia can manage an unlimited number of customer bookings and can do so at multiple locations from a single source. Customers can make, change, or cancel appointments online 24/7.
Employees can charge different rates for different booking types, plus Amelia tracks employee assignments and work schedules
Customers can receive automatic reminders of appointment times or payments due, and deposits and payments can be made online.
Amelia also accepts bookings for both one-time and current events
Installing and configuring Amelia takes but a few clicks. Amelia is well documented and customer support is always ready to help.
Click on the banner to learn more.
2. wpDataTables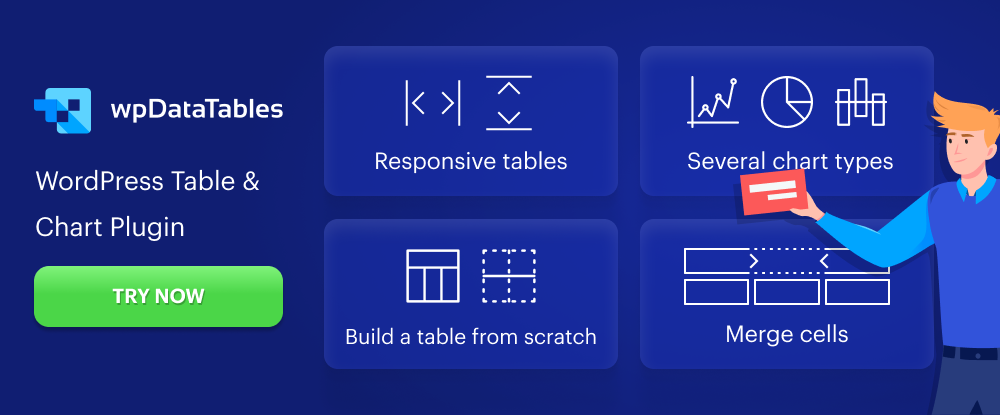 The wpDataTables WordPress plugin enables you to easily create responsive, interactive tables and charts and insert them into any WordPress post or page. You will find wpDataTables flexible and user-friendly whether you are a first-time, casual, or advanced user.
Data tables can be created manually or by using data imported from other sources
Data tables and charts can be edited from the front end
wpDataTables can be used to create product comparison and pricing tables
MySQL, MS SQL, and PostgreSQL database engine connections are supported, plus wpDataTables accepts data in all the popular formats
wpDataTables can sync with Google Sheets, users can access Google Charts, Chart.js, and HighCharts libraries and Formidable Forms tables
The Conditional Formatting feature enables key data to be color coded or highlighted.
Click on the banner for more details.
3. Visual Composer Website Builder
Visual Composer is an intuitive ReactJS-based drag and drop website builder that allows you to create a website quickly and design its pages exactly as you want them, all within a hassle-free environment.
Business owners like Visual Composer because it gives them an opportunity to easily create or expand an online presence
Marketers like the high-converting landing pages this plugin can help them create, in addition to catchy popups, lead capture forms, and social media integrations
Web designers like it because it presents them with pixel-perfect, code-free design solutions
Features include downloadable templates, content elements, and responsive design controls. Virtual Composer-built sites will be fast and SEO-friendly. Virtual Composer's visual editor also comes with WooCommerce and other business integrations.
Click to learn more about this useful plugin's free and premium versions.
4. Logic Hop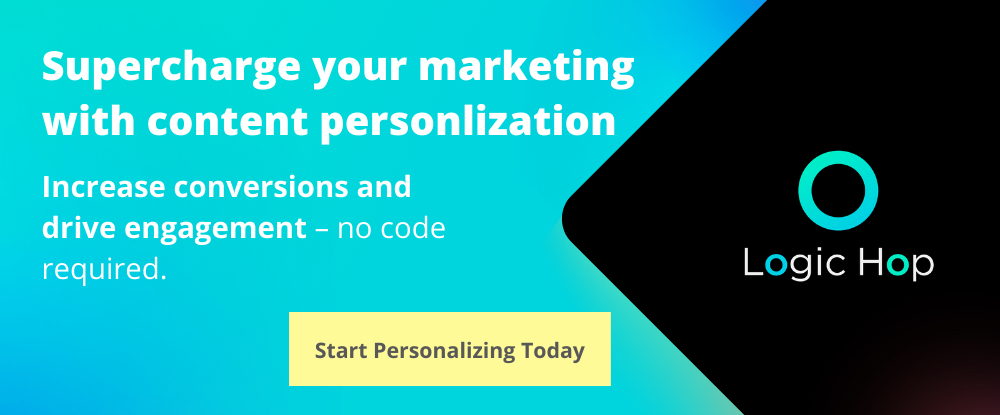 When you personalize your site's content you are almost certain to see up to 300% improvements in engagement and conversion.
Logic Hop supports content personalization across dozens of criteria, enabling you to tailor your content to unique audiences
Any content element that can be customized in WordPress can be customized in Logic Hop
Logic Hop works with Divi, Elementor, Gutenberg, and for that matter any WordPress page builder.
5. Stacks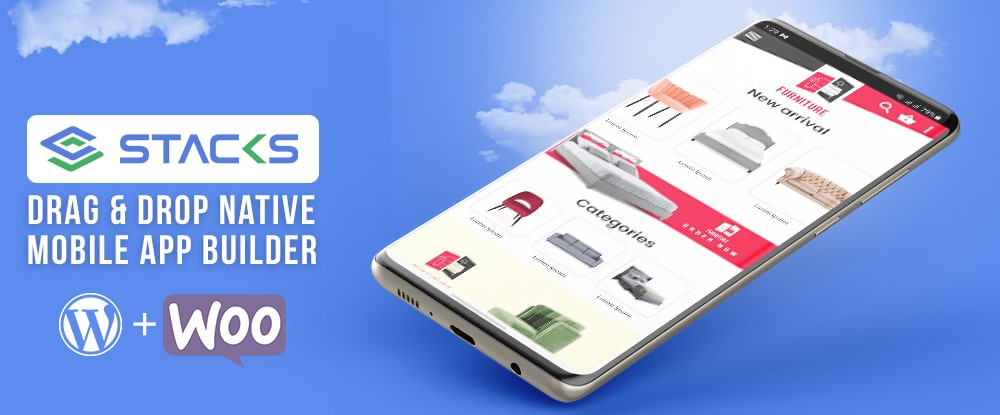 Stacks is a drag and drop website and mobile app-building WordPress plugin that works perfectly with WooCommerce and lets you host your site or app on Amazon.
Stacks automatically generates certificates required for Google Play Store and Apple App Store
The Android Application (APK) and IOS Application (IPA) can be uploaded with a single click
Stacks can create unlimited Push Notifications to send product information to your customers
Payments are made through the usual WooCommerce gateways.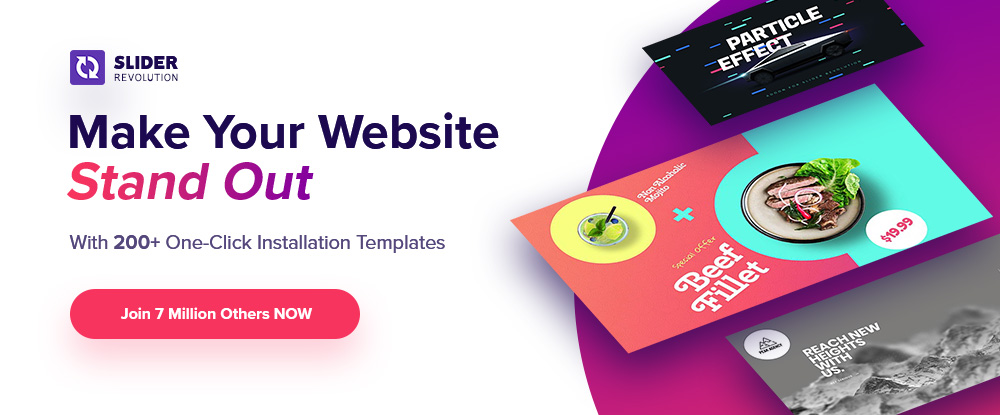 Slider Revolution works seamlessly with other popular WordPress page building tools to enable its users to create special effects and jaw-dropping responsive designs.
Slider Revolution-created designs will look great on any device
This plugins new and improved UI comes with a wide variety of innovative options categories
Slider Revolution places a royalty-free media library at your fingertips, along with an add-on library for adding dynamic content to your site.
7. Static Pages
With the Static Pages plugin, you will have no problem at all publishing static pages on a WordPress site with any URL.
Static Pages is quick and easy to use
A static page can make an engaging landing page or contain a form or other special feature
Static pages can be useful for testing new concepts or ideas or testing the impact of new content on sales and marketing performance.
8. Heroic Inbox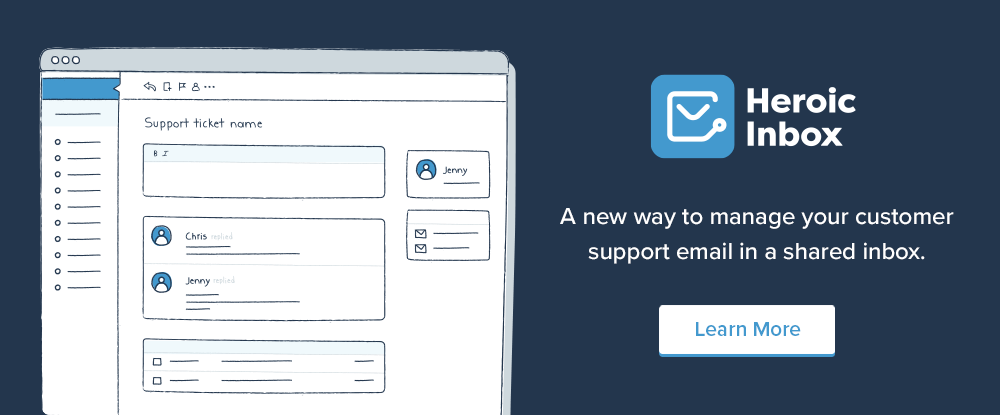 Heroic Inbox makes it possible to manage all of your business's emails from shared inboxes on a single platform. Everything is done inside WordPress so there is no need for a 3rd party platform.
A customer's previous data is placed on a sidebar next to the conversation you are presently having
Interdepartmental collaboration is supported, and team performance metrics are tracked
Inbox Zero status is easy to achieve and maintain.
9. Tablesome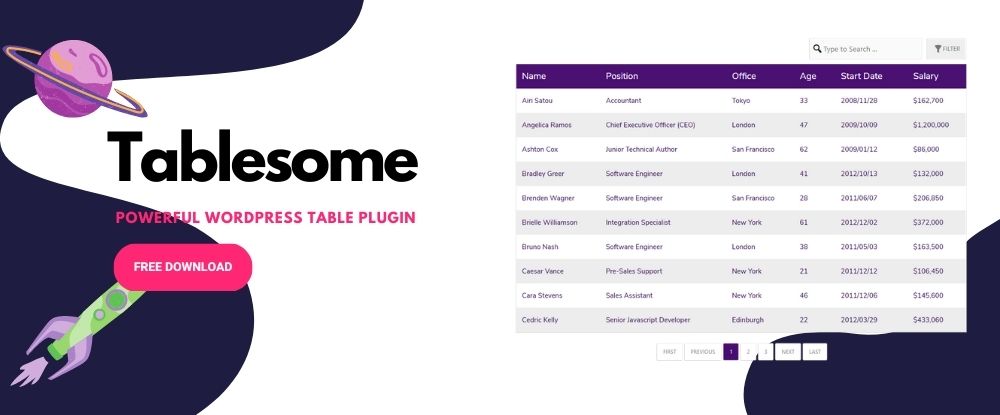 The Tablesome WordPress table plugin enables you to quickly create editable tables and embed them into WordPress posts and pages.
Tablesome can create both small and large tables as well as statistical tables, product catalogs, and comparison tables
Tables can also be imported from Google Sheets and MS Excel generated files
Tablesome works seamlessly with most WordPress themes
This user-friendly, responsive table builder comes with its own shortcode builder.
10. Ads Pro Plugin – Multi-Purpose WordPress Advertising Manager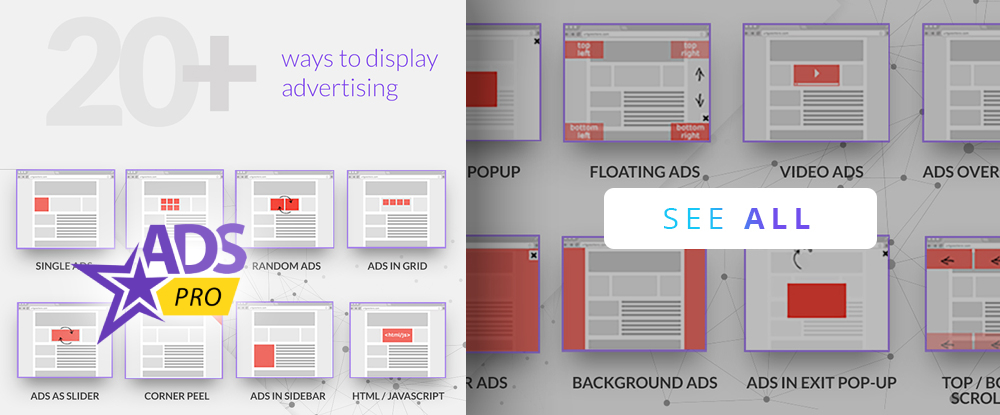 If attempting to manage a large number of ads and ad spaces is giving you fits, you should consider switching over to Ads Pro
The Ads Pro plugin can manage an unlimited number of ad spaces and sold ads
Clients can be granted access to manage their own ads
The package includes 25+ responsive templates in 8 categories and 20 ad display options
Several billing and payment options are available.
*****
This listing of 10 Top WordPress plugins for 2021 should be a good start. It can help you resolve a problem you are having due to substandard functionality or the complete lack of same.
If you don't find exactly what you need, you should at least come away with a good idea as to what a premium or essential WordPress plugins could do for you. You might even come across a "must-have" recommended plugin that will allow you to take your business to the next level.