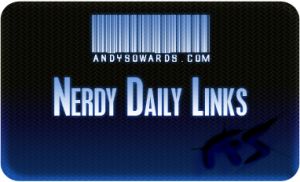 The week is OVER! Friday is here! prepare for some great tips and tricks with some inspiration in the post below! The Nerdy Web Development and Design Links are still coming daily! So check them out and pass them on! Bless you all!
Web Developer/Designer Resources, Inspiration, and Hilariousness
Tips, tricks and Ideas for your Web Design Toolkit! Some nice ones!

If this is true. Im so getting one.

AMAZINGLY Inspirational Typography! I love typography too!

Awesome Snowboard Designs!

Great Principles to keep in mind when Designing Icons!

Awesome Crisp and Clean Logos!

Funny Collection of Photoshop Mistakes in large circulation publications!

Huge Collection of High Resolution Textures and Backgrounds!

Really slick and quick HTML/CSS/Javascript Framework Generator!

Ive been looking for a cool case for MacBook Pro's!

Web Development/Design Nerdy Daily Links For 12/04/2008 – he week is still going strong! Thursday is here, prepare for some laughs in the post below! The Nerdy Web Development and Design Links are still coming daily though! So check them out and pass them on! Bless you all!

Build your brand with Twitter! C'mon, everyones doing it.

More like the word of Tweet 😉

NICE Collection of 404 Error pages, Love those things.

Cool Threads for designers!

Great ideas for improving your blog without redesign!

Web Development/Design Nerdy Daily Links For 12/04/2008 – he week is still going strong! Thursday is here, prepare for some laughs in the post below! The Nerdy Web Development and Design Links are still coming daily though! So check them out and pass them on! Bless you all!

The week is still going strong! Thursday is here, prepare for some laughs in the post below! The Nerdy Web Development and Design Links are still coming

Funny but True signs that you don't want that web design project!

Good goals to meet when doing a Re-Design!

Blogs to watch out for, They expand your Design Repertoire!

More Daily inspiration for your viewing pleasure!

Nice Photoshop Quick Mask Tip!

Awesome book giveaway!

Comments and Conversations on Blogs/Websites. Good read!

Ads and their impact on Web Design.

The week is still going strong! Thursday is here, prepare for some laughs in the post below! The Nerdy Web Development and Design Links are still coming

Deliver a killer blog contest!

Host your own Linux Webserver!
If you like this, You'll love These.