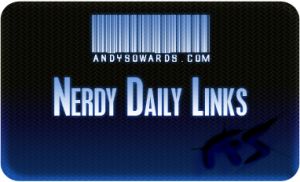 Its Thursday! One day to go till FRIDAY! Todays post will keep you laughing as there were SEVERAL hilarious posts I found yesterday, some for programmers and others for Social media addicts

Also there are lots of good CSS and WordPress links in here too, so check those out! Hope you enjoy todays post and pass it to a friend! Thanks everyone for all the love and support, I appreciate you all! Now Get your Daily Nerdy Web Development/Design Links!!
Web Development/Designer Resources, Inspirations and Entertainment!!
WordPress wednesday on twitter!

Interesting read for using twitter favorites

Awesome futuristic designs!

Excellent Tilt-Shift Photography!!

Great must haves for your SocMed Policy!

Excellent ways to customize that mac desktop!

Excellent Logo Design Tips!

Awesome Phone Advert Tutorial!!

Awesome read on Google Wave

Awesome FF add ons for living in your browser

Awesome Photosohp tutorials for creating Web User Interfaces!

Amazing mix tape covers!!!

Wow, the internet has a map.

LOL awesome social media jokes!!

Interesting read from twitter founders

Excellent fonts!!

Awesome Icon Sets!

Cool WordPress plugin devs to follow on Twitter

Awesome agency portfolio video on YouTube

Speed up that WP blog!

Great intro to wordpress theme building

Awesome apps for Getting it done on Mac!!

Awesome functions and features of CSS3!!

EXCELLENT tutorial – Sexy drop down menu w/ jQuery and CSS my favs!

Excelllent and Stunning examples of Single-Page Portfolio sites – Inspiration!!

Cellphone Data all over da place!

What is the future of our precious MySQL?

STUNNING Phone concepts!!

don't do this while approaching a blogger

If you are a freelancer and you do not use twitter. READ THIS NOW

Great read about styling information

Great facebook apps for designers!

If you are a programmer. this is HILARIOUS – Programmer Laugh of the Day

Color Do's and Don'ts!

Awesome stuff coming to freelance folder!

Interesting browser based ajax dev tool!

great social media sites to follow!

Good read for branding

Another great read for freelancers – marketing your services

Sweet furniture designs!

Bing having porn issues lol – Microsoft

Cool low budget tool – Pixelmator

Nicely designed site!

Huge collection of Javascript/jQuery resources!!

Awesome sites just for Icons!

Great MooTools Plug Ins!

Awesome ways to make your site Search & socMed friendly

Very motivational video from the couch!

Excellent Ajax tutorials!! Huge jQuery Collection of tutorials and resources!

Awesome CSS Compressor!

Excellent resource for jQuery – UI Library

Awesome layout solutions to improve designs

Crazy Fruit images lol

GREAT READ – Free and Cheap Stock Photos!

Awesome stuff to pimp Safari

Awesome CSS Tools and tutorials

Awesome place for textures!

Awesome Orange site designs!!

Awesome 3D Stone effect!! – Photoshop tutorial

Great read for anyone – types of clients and how to work with them!

Awesome Vector – vintageangel

Good read – advanced google analytics – new interface

Wow. Star wars kites!

OFF TOPIC: Remember these GI Joe Videos? If you need a laugh you should watch them all. they are just hilarious. Laugh of the day

Excellent read – Practical Personal Projects are very valuable

SWEET! View pages in different browsers and even OS's

Stunning 1 page portfolios!! Very nice!!

Excellent list of people who changed the internet – Inspirational!

EXCELLENT list of Web Designers on Twitter – Follow them all!!
If you like this, You'll love These.