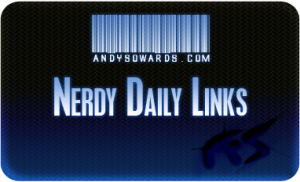 Cool Web 2.0 Services
This service updates your social networks from ANYWHERE! Amazing.

Curious? Find your Google Pagerank!

Great for filling your content with dummy text when your building your next web app!
Tutorials/Scripts
Great tutorial that gives insight to the workflow of all those amazing 3d flash sites you see and you say to yourself "I want to build that"

More .htaccess goodness to help you understand it better.

Great Exit pop script/tutorial that is easy to implement and work with!    

Code is explained in detail, and source code download is available

check it out!

Simple, Quick, 404 error tutorial using .htaccess file    

Good for reference.
Nerd Funnyness
Techy Nerd News
Good Article about top tech trends.