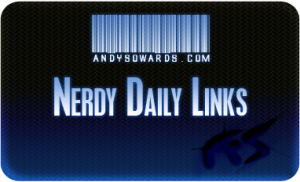 Dead Tired from Black Friday shopping. Put up a Christmas Tree! Now, for a day of rest..NOT! The Nerdy Links are back in full force! So check them out and pass them on! Bless you all!
Freelance/Business/Marketing
BAM! Like Emmeril. Kick it up!

A Look into Logo Design Workflow!

Don't Waste your efforts!

If your Proposals Fail, Here is why.
Web Developer/Designer Inspiration
Who says displaying info has to be boring?

More Daily Inspirations from Abduzeedo!

Awesome Inspiration for your "Back to top" Links!!

Really Great Website Headers!

A List of Some Great Web Design/Development Inspirations!

Great Christmas Wallpapers!

As the year closes, we should take a look at some of the Best, Most Creative Websites of 2008!
WordPress
In depth look at building Custom WordPress Themes!
Web 2.0 News
A Look into why Twitter cut Canadian SMS Updates.
Web Developer/Designer Resources
Top Typography Resources!

AndySowards.com has had a great week! Hope everyone had a very happy Thanksgiving Yesterday!! Remember to be thankful for everything that you have,

Use Google Reader, I do, and so does this guy! Check out his reasoning!
Cyber Monday!
Black Friday is over, but don't forget about cyber monday!
Freebies!
Free Textures on Tuesday?? Yuss!

Tons of PDF Mags with Art, Illustration, and Inspiration!

Free Software to be Thankful For!
Social Media
Kick Stumble Upons ass and Get More Stumble Traffic!
Photoshop Tutorial of the Day!
Nice Copper Effect in Photoshop!