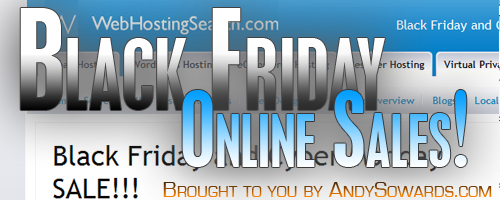 I Hope everyone had a great Thanksgiving! I am STILL Stuffed! If you are like me, then you are Dreading Today. It Just passed Midnight here where I am, So that means It has Already started! Black Friday! The stores are going to be slam packed and everyone will be fighting for discounts in every store! But don't forget, that you can get great deals ONLINE too!
For instance, I Ran across some GREAT web hosting deals, Basically if you need quality hosting at an even Cheaper price than before, Then check out Web Hosting Buzz and use the following coupons to get the discounts: blackfriday coupon code ($5.99 off all plans) cybermonday coupon code ($6.99 off all plans). Best part is, when shopping online, there are no lines!!
If you would like to see MORE Online deals that I have found around the Interwebs then perhaps you should check out 10 Best Bets for Black Friday – Yahoo! Shopping Best deals for black friday! Woo! In my Nerdy Links for 11/27/08!