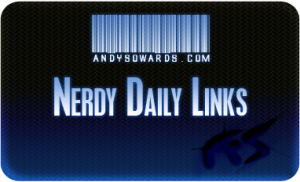 Hope everyone had a great Christmas Weekend! I know I did, a busy one! Totally not ready for it to end! But all good things don't have to end! Daily links are back! So keep the Nerdy Times Rolling! Thanks to all of my Friends and Supporters!!
Best of 2008
Awesome roundup of the BEST and MOST POPULAR Photoshop tutorials of the past year!! NICE!!

Collection of Great Design Articles from 2008!
Freebies!
Free Twitter eBooks for squeezing out all the Usefullness of the popular social site
RSS
I like RSS, but Im Lazy, so this is probably for me 🙂
Worst Captchas
LOL Nice list of the WORST Captchas
Twitter Stuff
Most ReTweeted by the Hour, Day, or Month!

Reasons not to follow someone on twitter, pretty reasonable 🙂

No time for anything!
Web Developer/Designer Resources
Our guide to Success! Heed these words!

Great WordPress Tutorial Videos!! Tons!

Wow great photoshop tutorial resource!
Web Developer/Designer Inspirations
Great collection of Designer Interviews!

Some of last weeks best stuff on the web!

Nice collection of interesting and inspirational sites!

Cool Retro future art!

Really great news from Last week!

More business cards to light your imagination for your own

Really Nice Logo Designs from 2008!

Tons more of those cool business cards
WordPress
If you use WordPress and are not familiar with SQL Then you need this.
Freelance/Business/Marketing
part 3 of a great series at Arbenting, Showing the true cost of Freelancing

Very nice insight to help those who freelance part time

Hmm, business really IS like poker.
jQuery
Very nice jQuery Slider Plugin!