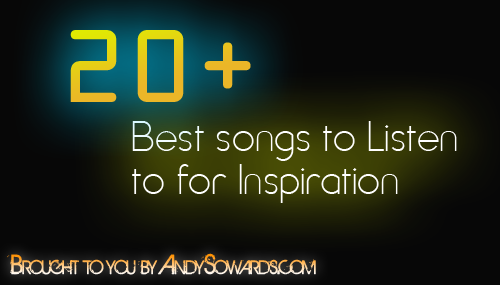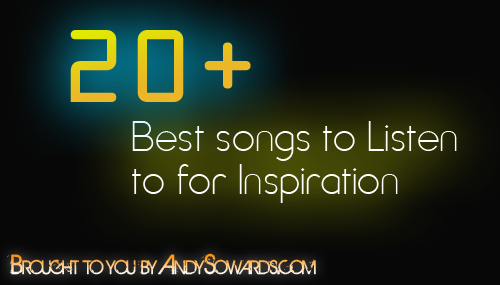 Often when I start a new project whether it be developing the code structure or designing the layout, I often need some sort of inspiration or source of motivation to pull from. Sometimes it will be another great web design, or a piece of art, an object in the room, All of these are good places to get inspiration. However one of my favorite ways to get inspired, pumped, excited, and motivated about a project, is MUSIC, hands down.
We will start the list with my fav to get the ball rolling.
@andysowards

My favorite song to start off a project is 'Gatsu – Earth' Its from the Anime 'Berserk' – great anime if you are into that sort of thing. I Like many different styles of music, from Rock (Rammstein, System of a Down, A Perfect Circle, Etc.) all the way to Celtic music. I find it all to be inspirational in one way or another, there are different songs for different moods of course.
Well, You have heard mine, I took a poll on the design community to see what they listen to when they are being creative, and why. Here is what they had to say! I hope you enjoy! Also Please feel free to leave your own song suggestion in a comment. Share your thoughts!
@jonbergan
I Think that this is going to sound really lame but I really love developing to the Matrix soundtrack or some good trance. It's fast and keeps me motivated especially when the hours start ticking by.

If i'm designing some amazingly awesome website, I'll usually listen to some easy rock, alternative rock or blues such as Louis Armstrong, SIlverchair or John Butler Trio. Something that'll keep me pumped, bright, positive and creative.
@alexlinebrink
Awesome question! I definitely need something that isn't one my normal sing-along tunes for design & coding. If it's a song I know and love too well (or that has catchy lyrics) I end up getting distracted. So unfortunately, my standard driving and listening tunes are out (Deathcab for Cutie, Nine Inch Nails, Queens of the Stone-age, Etc.) If I want it to sustain my creativity, though, I DEFINITELY need something good, powerful, and driving. Latest picks? Meat Beat Manifesto, Amon Tobin, Sigur Ros. 1 song? Sigur Ros : Glosoli . Brilliant, Beautiful, Epic, Inspiring — and the lyrics are in a made-up language (similar to Icelandic) so there's no singing along to distract me 🙂
@mustardamus
For me the best song to code is a Pendulum Remix of "Jem – Just A Ride" (Itunes says exactly 'Pendulum Remix – Jem – Just A Ride (Adam F vs. Pendulum Mix)') because it is smooth and fast at the same time. Kinda reflects the smoothness of thinking and ideas, and the rush of typing to aquire fast results of the ideas.
@smplejohn
I Think that… any of my Pink Flyod/ Led Zeppelin records will do. Something about listening to a vinyl spin around a record player with the occasional pop makes my creativity fly. Plus, getting up to flip the record every 10-20 minutes helps keep the blood moving.
@studiorhoad
I Think that "Raining Blood" by Slayer is by far my favorite. Its the pinnacle of thrash metal and no matter what mood Im in, it always gets me pumped up and motivated.
@tjputerboy
I Think that anything by Ozzy, Lamb of God, Slayer, Iron Maiden, Megadeth, or old Metallica is great to code to. Anything fast and furious keeps me focused.
@ShaneSponagle
Generally I listen to what is currently labeled Classic Rock (which is anything from the 60's,70,s and 80's) via some radio that is available in iTunes. I also like to listen to stuff like Morcheba, Deep Forest and Massive Attack, seems to go well with work (don't know what genre that is). Sometimes I play classical music or Jazz but it puts me to sleep after a while.

But when I am really into 'it' there is nothing like loud (I put the dial on 11) Rock'n'Roll to feed the soul. Deep Purple, Led Zepplin, AC/DC…even Ozzy..come on, who doesn't get a rush from Crazy Train? I was born in 69 so the 80's were my 'coming of age' and rock runs deep in my veins.

Now listening to: Bob Dylan – Everyone must get stoned 🙂
I Think that… This year's love by David Grey (Girl Next Door OST) and Pachelbel's Cannon are my favorite songs while coding. They are refreshing and you never get bored hearing them!!!
@thetylerhayes
Windowlicker by Aphex Twin. It's a longer song (but not TOO long), has no lyrics to follow along to/distract you, and is somehow still unique every time you listen to it. As a bonus, just when it's getting repetitive, it kicks into a really high gear, sending a surge of adrenaline through your veins to help you push through the last couple minutes of that design you were supposed to finish yesterday.
@cbedon
To me the best song(s) to design or work to with would be any of Kanye song's. This year he went out and did a different style, one that does have a somewhat deeper meaning, makes you think and want too express what he says.
@briancray
The best song to code to is Shpongle "And the day turned night"

Hear it at: http://www.last.fm/music/Shpongle/_/…And+the+Day+Turned+to+Night

why?
– nearly 20 minutes
– song morphs enough to stay dynamic, but consistent enough to keep steady focus
– good as background/no strong distractions like lyrics, but can also be enjoyed as forefront during short break
– can be repeated without quickly becoming bored
– spiritual aspect gives inspiration
– variation of beats/instruments/mood to
@alexfish
I put last.fm on a nice relaxing station, like some trip-hop, helps you relax since its easy to become stressed when coding!
@MrStrider
Hello,
i use mostly "A Perfect Lie Gabriel Dresden" or any of smooth "Lionel Richie" productions, i'm also a fan of "Chris de Burgh" specially [Carry on and Broken Wings ]

I use my headset once i start working as i need certain medium that will separate me from my work group -which mean Noise!
@jzlosman
I used to be all over the song, Angels on the Moon by Thriving Ivory (what a unique voice that guy has), but now I find myself coding to People in Plane's "Last Man Standing" (their music video is pretty original). Working out is a whole different story; anything by Hollywood Undead (parental advisory warning) does the trick (mainly, This City and Undead).
@gracesmith
I Think that…Walking on a Dream by Empire of the Sun is amazing to work to. There are days its been on repeat for hours in my office! A recent review called it: "softly comforting and sumptuously synthetic" – which sums it up much better than i could.
@hughcollier
Well, this is a tough one. There probably isn't one song – one song on repeat all night would leave me spiraling into some kind of repetitive cycle of non-productivity. Basically me and the project I was working on would be doomed! There are plenty of albums though. The Big Calm by Morcheeba would be one and since Over and Over is my favorite song on that record I'm nominating that as the the best song to design to. It's chilled out and dreamy with inspirational and introspective lyrics. It kind-of flows over you. It doesn't grab you by the balls and slam you against a wall like some of the music I listen to, which is important because you need to actually focus on tasks and problems when designing. Also Sky Edwards has a super silky sexy voice that I could happily listen to all night long.

An honourable mention should go here to Shine on you Crazy Diamond by Pink Floyd too.
@kamylynn
I like to design & program to the Beatles. Preferably "Yellow Submarine" or "Octopus's Garden" because it makes me feel calm and happy and puts a funny picture in my head that makes what I'm doing fun.
@iheartrendering
I would have to say "Ride the Lightning" by Metallica is my favorite song to rock to while designing/coding. Not sure if its good for all night, but it certainly gets me pumped up and in the mood to start cranking some awesome stuff out. \m/
@psdfan
The National – All the Wine because it rocks! This song just makes me motivated, and the subtle guitar harmonies tend to bring out my creativity.
@thethemeblog
Flickermood by Forss.. really any of their songs + remixes are awesome. They carry an atmospheric and a funky unpredictable vibe that make them a pleasure to create to. Download them for free from http://forss.to/.
@leemunroe
I Think that…Journey – Don't stop believing is aces!
@ahmednaguib
I Think that the best song to design out to would be Viva La Vida by Coldplay, I just concentrate much more than working with nothing playing in the background.
@nikibrown
I like designing (and running) to "Butter (ep version) by the Bloody Beetrots" it gives me a sense of urgency about a job 🙂 I also like running to this song as well.
Well there you have it! Hopefully you found some new songs to crank it to, or enjoyed some old favorites! Again, feel free to leave YOUR choice of songs in the comments below, Please pass this post on to someone if you liked it! Thanks everyone!