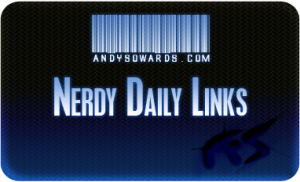 Its Thursday! Today I have ANOTHER HUGE DAILY LINKS LIST for you! The snow is all hard and melting now, so I can't play in it anymore! Its almost the end of the week, Get your projects inspired with these links! Now Get your Daily Nerdy Web Development/Design Links!!
Web Development/Designer Resources, Inspirations and Entertainment!!
Nice eBook Library – FREE

Nice Twitter Hacks and plug ins!!

new Ad manager for WP – Plugin

Cool File Hosting site – Easy

Rock textures!!

Simply amazing photoshop resource

Twitter pwns google

need stock images? Check this

AWESOME portfolios – inspirational

Alternate Gill sans fonts!

Karma? maybe?

Inspirational list of Error messages

Great tutorials for PSD 2 XHTML – Excellent

another awesome CSS Online Editor

List of the top domainers on twitter

Facebook response to twitter – LoL

More awesome PSD Resources!!

A cool online CSS Editor!

New quick and easy youtube wp plugin

Good read for using prototype in JS

Great roundup of URL Shorteners!

AMAZING brochure ideas

New facebook homepage!

Another awesome plus tutorial

New site showcasing rt love!

Good update from spotify hacking

Design influences behavior

Surface is just interesting to me, awesome touch screen tech

Coolest 404 page I have seen in forever.

NICE collection of some really great web apps

Really awesome Plus Tutorial – Good one

Great read if you want to build a WP Plugin

Walking through Kindle for iPhone

TONS of typography resources

VECTOR-Stein!

Nice Illustrator CS4 Tips!

Nice look at whats new in Illustrator CS4!

Control your image and what people say about you

Excellent read pertaining to working with clients remotely!

AWESOME PIC – Concept

Great look at CSS Only "DOM TABS"

Awesome way to improve your typography

Great video with NING CEO on how startups can start off rocking

Awesome color and Typography designs

Creating a following on Twitter – Great read from @guykawasaki

Celebs love twitter too

more freaking creative business cards!

Awesome memories in web design!

Awesome Paint Textures! FREE!

Interesting read about twitter gaming

Cool FREE E-Commerce Store

Best places to store your digital junk!(files)

Awesome jQuery Tutorials!

iPhone now with Kindle App??

Good read about building good 404 error pages!

JungleJar.com – For all of your Web Design, Web Development, Web Application, and everything inbetween type needs.

New Design and Social Bookmarking site!