So are you ready for Sunday, June 17, 2012? Do you know what day that is? It is Father's Day!
I know you are prepared, because you are a good kid, wife, parent, etc. Sure. Sure you are. But we don't judge, we know how hard it is to pick out gifts for people these days, especially geeks!! So since I am a geek, and a Father, I figured I would put this list together of a few things that I WOULD LOVE to get for father's day (taking notes? paying attention? feel free to send me some of these haha)
When the holidays get closer I am sure that there will be a ton more awesome gadgets to drool over, like the new macbook pro & whatever else comes out from now until Christmas – but for right now, here is a quick list of some of the hottest & freshest gadgets & items out there that any geeky dad would love to get for fathers day! Enjoy!
As a dad with a desk, I love putting things on my desk. I would totally put these figures on my desk! I am pretty sure all the other geek dads out there love putting silly toys on their desk too. Did I say silly? I meant.. big.. strong.. handsome… manly toys. *grunts and pelvic thrusts*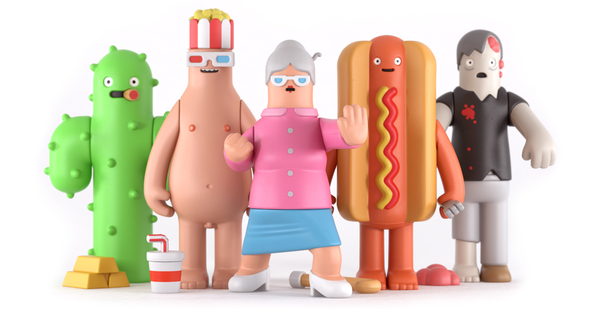 Paper Craft is Fun, Geeky, Cool, and often times FREE! (that is the best part right?) Let dad know you care by printing off some papercraft like these or trying to make some yourself, I would rock these on my desk as well! Avengers Assemble! (some assembly required lulz)
Because. uh. MUSTACHE. Need I say more?
This is easily the coolest surge protector I have ever seen. I want one. I don't even need one. but I want one. So functional!!!!
A geek has got to game. and It is pretty hard to beat an Xbox 360 for that. Especially this epic star wars edition one – its so beautiful!!! R2-D2 & C3PO would be proud.
Anyone who knows me knows that I do not wear watches. I would never even buy a watch. But I WOULD buy this one that I found recently, TikTok + LunaTik. Basically they transform your iPod Nano into the world's coolest muti-touch watch. So sexy.
Featured this here before, so you may recognize it – but its so damn cool, im featuring it again. bask in its awesomeness! Any guy who has this as his 'wedding ring' would never lose it again hahaha.
Again, these days clocks are pretty novelty – but I really love this one. It is so aesthetically pleasing that I would put this up in my office or anywhere lol.
If you really love your dad you would get him one of these bad boys. Or a Macbook Pro. Epic computers! So thin!

C'mon Macbook! Eat a Sandwich!
Every true geek, enjoys the game of thrones. Winter is Coming.
Geeks have a lot of work to do, so we need to re-fuel and stay awake – get dad one of these awesome cups to store his caffeinated beverage in! Cool Design!
One of the hottest gifts on the market! Everyone loves Apple – and everyone wants an iPad (if they don't already have one!). Get your dad into the mobile future!
Not as pricey as an iPad – but still cool! I would definitely love to play with one of these little gadgets for Fathers Day.
This is just, awesome. I want it on my desk. Who doesn't want to be able to levitate junk? I want levitating junk.
These go good in any space, for any geek. Love these alternative movie posters, they are so cool and well designed. the prints are actually fairly hard to get though, here are a few I found. So Classy!
Probably one of the cheapest AND best cameras on the market at the moment for the price – really nice one. Any geeky guy would love to have one of these things whether it be for pictures of the kids or pictures of their wicked geek gadgets & stuff they make! 😀
I have yet to meet a geek that does NOT like hilarious geeky t-shirts. Here are just a few that would put a smile on some lucky dads faces :).
Well, What are you getting for your dad on fathers day? Shirts? Books On Web Design? Gadgets? Let us know in the comments below – If you have any other ideas please share them below so everyone will have a happy dad this year! Thanks for Reading!
You like this? Don't forget to follow us on twitter @andysowards and like us on facebook @andysowardsfan! We are also on that Google Plus & Pinterest thing.