In todays internet world there are tons of different venues you can explore to get your very own site up on the web. Years ago when the web was just a baby the options were limited, you had to learn HTML and build pretty much everything from scratch which took a while. Learning HTML is still a good thing to do, but it certainly isn't a requirement to have a website any longer, and you definitely do not have to build everything from scratch. There is a large selection of CMS (Content Management System) platforms out there on the web now and picking the right one for you can definitely be tricky (and time consuming). So today we are going to Review one that is out there called "Gutensite" – A Cool name, surely named after Gutenberg's Printing Press (or the Bible he printed with it). Hopefully you find this review useful and it helps you to pick a CMS platform that is right for you!
What Is Gutensite?

Gutensite is a California design firm that helps small businesses and non-profits build and manage brilliant websites using their intuitive and beautiful CMS. Gutensite empowers clients to grow, share and inspire.
Gutensite was founded in San Francisco in 2002 as a boutique design firm and launched the beta version of their CMS in 2006 after years of learning what small businesses need.
The CMS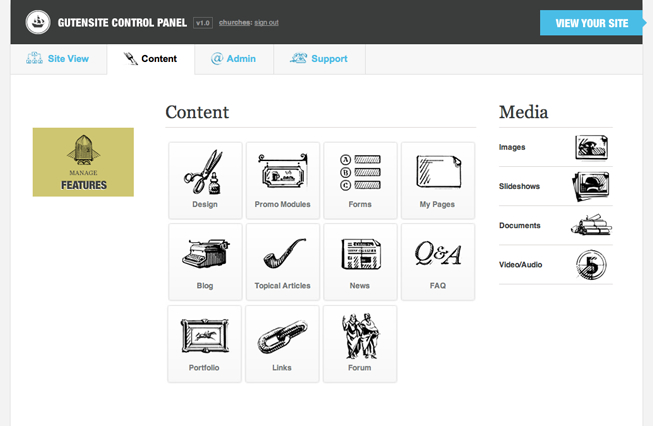 The Gutensite CMS is designed to provide the essential features that all clients need, as well as useful niche, industry-specific functionality, while still being easy for non-technical clients to manage. Gutensite's devotion to design has shaped a simple control panel that empowers clients to manage content without worrying about how the site will look, because the CMS protects the professional design so clients can produce beautiful content with less effort.
Signing Up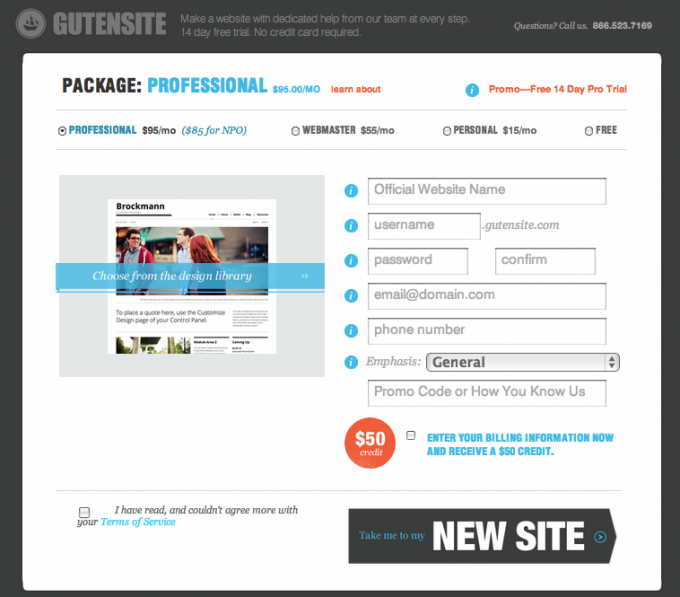 Signing up was super easy, which was really nice – I was in my account control panel within a few minutes. You can sign up for the free subdomain.gutensite.com account, or you can choose any of the other options (that cost extra). I signed up with the PRO Account option which gives you a free 14 day trial, so if you want to really test out Gutensite for yourself that is probably what you should do as well.

Once you sign up for your account you are seamlessly sent to your control panel where you are introduced with a tour! Tours are great, and I wish that all services and programs (offline and on) had these types of tours at the beginning of their product usage just so that everyone is familiar with the system right away. I know that I have had countless clients use services like this and from the get go they ask most of the questions that this particular tour answers in the first five minutes of usage, such as "Where do I find this, or that?","Where do I add posts to the blog?","Where is the menu? Is that something I can edit?" All of these things are covered in their cleanly designed (and easy to navigate) welcome tour (as pictured above and directly below this).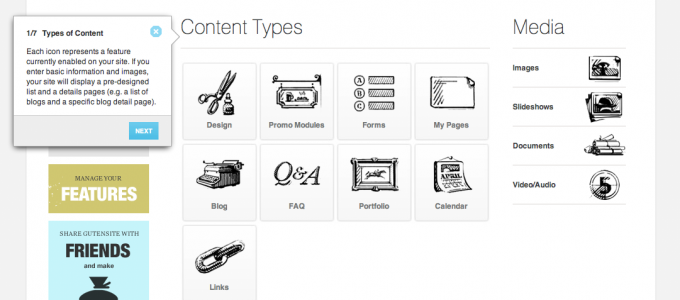 Everything in the control panel is laid out really well, I was impressed with the overall design of the actual gutensite website, then once I landed in the control panel I was pleased to see that the same theme and design style continued into the admin. Clearly labeled buttons and sections of the site made it easy and fun to navigate through and try everything out. If you have used nearly any CMS before you are quickly surprised by how well laid out everything is, and can easily have a decent website created within minutes of playing around. Most CMSs are ridiculously complicated and include a lot of overkill options on the main screens that you get lost in – this is not the case with Gutensite, so far I am enjoying myself! Also remember if you are not savvy with CMSs or have never used one, if you get stuck, with the Pro account you get to take advantage of the included Support! Also it looks like you can 'share code' with friends via facebook and twitter, that looks like a cool feature that could help people across the platform get started as well.
Setting Up A Site
Ok so now we are all setup, and I went ahead and created a site using the Pro account I signed up for – this is the documentation of that experience.
So when we first take a look at our site that is attached to the account, this is what I had, which isn't bad at all for doing absolutely nothing yet.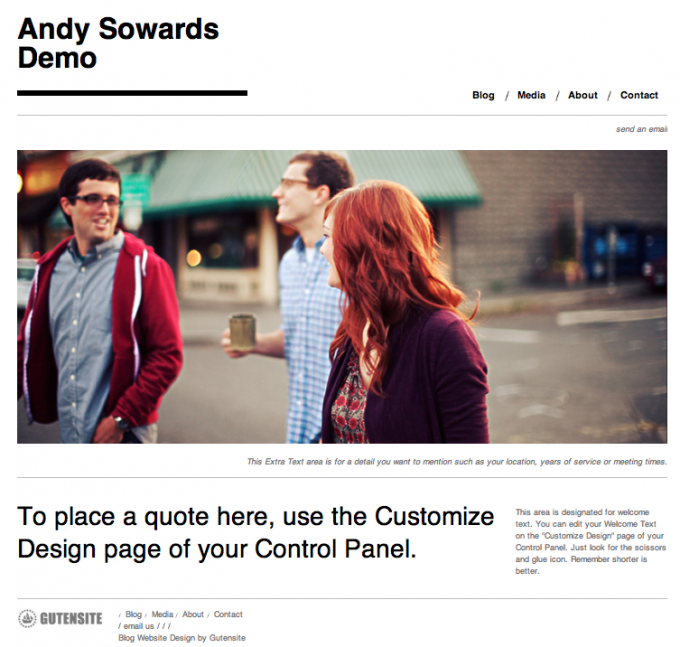 Looks like a nice minimal site right out of the box
Lets change the way it looks a little and get a feel for how flexible the system is. *plays elevator music while you wait*
voila.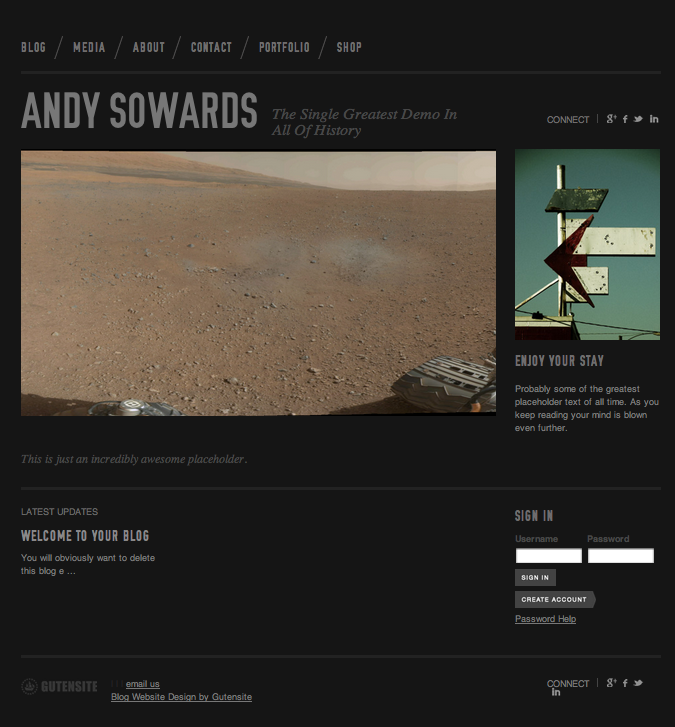 As you can see, you can create a nice looking site in literally no time at all with this CMS, it is a bit simplistic but it compliments the minimal style. Surely if you spent a good amount of time inside the system and asking support questions that don't have obvious answers you will end up with a top notch site!
A couple of things that I noticed going through the setup of the site is that there are multiple skins that you can use for the overall site design which is awesome for beginners and people who are not technical at all, or don't have any design skills and just need a website with a nice design! However, I can see this will be limiting to those with hopes of completely 'customizing' the site themselves, digging into HTML code, and putting in their own custom 'themes'. If you need a nice website that you can manage without having to be bothered with any technical details though, this is a plus. If you are a "hands on" type technical developer that wants to dive in and customize everything straight away then this probably won't be for you. The themes you have to chose from are really nice looking though (as expected).
Although there are a lot of great free templates to choose from, clients can also have Gutensite (or any other authorized design partner) create a fully custom design. The Gutensite CMS intentionally limit's publishers' ability to edit the design directly, because as a Content Management System it's purpose is to focus attention on the content while protecting the design. Gutensite wants all their websites to be beautiful, so they insist that only qualified designers alter the design. If you are a qualified designer, you can become an authorized design partner for free and Gutensite will work with you to get your design installed. I was able to easily add modules to the home page, and there are plenty of customization options for the slider on the home page and other places that you can put modules throughout the site (sidebar, navigation, etc.).
The Modules act as "widgets" and can extend the functionality and look of the site similar to how other CMSs use widgets in sidebars, pages, navigation, etc. I also noticed you can extend the Pro account even further with MLS addons and things of that nature, but I didn't dive into that with this review, but its good to know that they are there.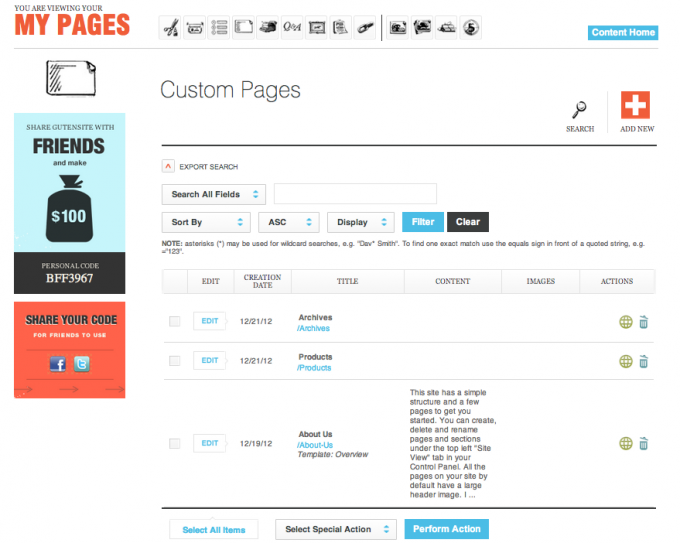 The pages are easy to add/edit/remove as you would imagine – the menu is also easy to manage, which is a definite plus for most people that are looking at systems like this that need a site, and they need it right away, and they want to set it up easily and manage it easily.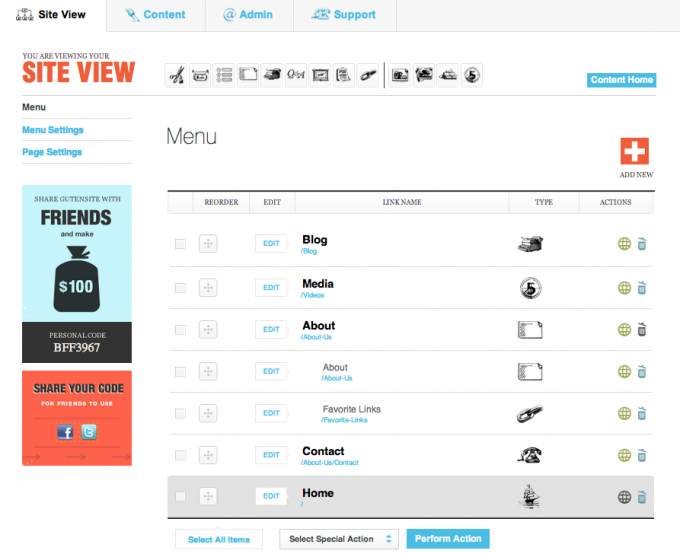 Support
Of course like I said If you have a Pro account the Support is included, but if you don't, the system is still super easy to use. You can do pretty much anything you need to do from the main screen of the control panel. If you get stuck though, there are even a bunch of Tutorials on how to use Gutensite that the creators have already put together for you, how thoughtful of them right? Check out the tutorials here if you want to browse through them before you dive in and give it a try to see if its the right fit for your needs.
If you can't achieve the look that you are going for inside the system, You can request that they build you a custom design (I am sure this costs a fee) but the option is there.
My Experience With Gutensite
As far as website builders and CMSs go, Gutensite is great. But what sets them apart from some of the other mass website builders, is that they are first and foremost a platform dedicated to helping small businesses succeed. They make sure you get the support you need to build a brilliant website that actually makes your business more successful. They consult with you to help you figure out your audience and conversion goals. They help you construct a website that funnels traffic to specific actions. Gutensite wants your website to deliver a great return on investment and become the most important asset in your business.
Overall I had a great experience with Gutensite, It is right up there with any of the hosted website builder platforms I have used in the past (like Wix, IMCreator, etc.) and certainly very different from the "crowd". I would definitely recommend Gutensite to anyone starting out on the web that wanted to do everything themselves with no ones help and wants to get up and running quickly, the options are enough to keep them up to date, but not enough to get them in trouble (break their site, etc.). If you are looking for a CMS for your next website (or your first!) then there is no reason not to give Gutensite a try. Don't just take my word for it though, try it out yourself, you get a free 14 day trial on the Pro version and there is a free account you can use for an extended period of time! So try it out! I hope this review was helpful!
What is your favorite CMS to use for yourself or for your clients? Have you used Gutensite before? Let us know in the comments below! We would love to hear from YOU! Thanks for Reading!!
You like this? Don't forget to follow us on twitter @andysowards and like us on facebook @andysowardsfan! We are also on that Google Plus & Pinterest thing.