Sometimes the hardest part of managing a team is finding an easy to use tool that actually DOES everything you need (and that everyone will use!) that also promotes communication and engagement between employees which actually makes them WANT to use it.
Today we have a software that seemingly does it all! Bitrix24 is an all-in-one collaborative suite. It includes social enterprise (like Yammer), task managemet tool (like BaseCamp), CRM (like Zoho), file sharing and online doc management (like Dropbox, Google Drive, etc.), messaging and video conferencing (like Google Hangouts, Skype), telephony and a few minor things (calendars, planners, work reports, gantt charts, etc).
So let's get to the review, and at the end we have a special giveaway for you guys!
What is Bitrix24?
Bitrix24 offers a united work space which handles the many aspects of daily operations and tasks of a company including CRM, files sharing, time management, calendars, and more.
Essentially, Bitrix24 provides companies with a hub to communicate, collaborate, build knowledge, and generate new ideas in a secure and accessible cloud-based environment.
Bitrix24 has both free and commercial plans (freemium model). The free plan is a fully-fledged social intranet with a limit of 12 users. The paid plans allow unlimited users and contain additional functionality.
All In One Project Management – How Does It Stack Up?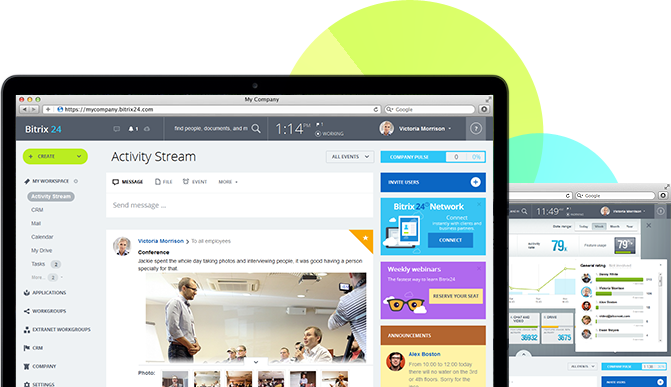 So Bitrix24 is unlike any project management solution i've ever used, and having so many tools in one place really does help. Tools that you don't even think you will need, Bitrix24 has and they not only work, they work well. Team members stay engaged with the social networking aspects of the software, and collaboration doesn't stop there – if you need to create a file together or keep files in your online cloud storage, Bitrix24 has you covered – so not only can you keep track of what things are getting done through the company very easily, you can also GET WORK DONE – INSIDE the software! How cool is that? No need to leave Bitrix, just work inside it as much as possible, it helps to streamline workflows and increase team productivity.
From my experience with Bitrix24, it is great for business owners and project managers leading teams of any size. If you are just starting out or are a single freelancer you may not need every available feature, but to get a feel for it you can use the free trial so you can give it a try and find the right subscription for you. The free version includes up to 12 users and basic project management features plus 5GB online storage (learn how to get 5GB Extra at the end of the post!), while plans for larger teams with more advanced features start at $99/month.
What Bitrix24 is Good At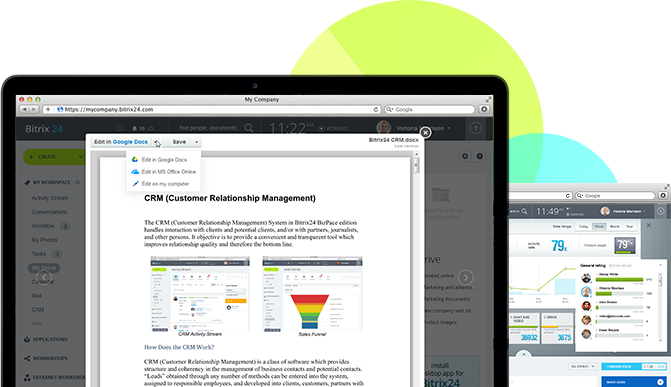 As if it wasn't already the swiss army knife of project management – Bitrix24 also has an app marketplace, and the apps there are free. That translates to even MORE FREE features! They expand Bitrix24 functionality. For example, there's a mailchimp mailer or sticky notes which can be installed into Bitrix24. Besides, there are several migration tools which allow you to import contacts and projects from popular software like Zoho or Basecamp or Yammer. So if you try Bitrix24 (no reason not to, you can get up to 12 users free) and you enjoy it, you can easily migrate over from whatever you used before for your team projects.
Conclusion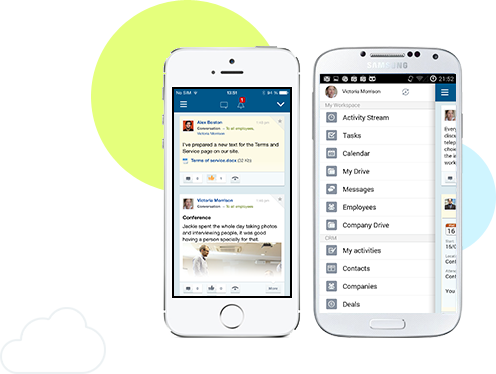 Like all solutions, you probably have to give it a try to see if it is a fit for your company, employees, and work style – the social components that come with Bitrix24 might be perfect for your company – your employees will appreciate the transparency and you will enjoy the ease of keeping up with what everyone is doing – as well as keeping track of projects with their handy charts. The real time messaging and document collaboration also helps streamline things – not to mention the mobile apps, keeping you efficient and productive on the go!
Special Offer!
However, as always, don't just take my word for it, give it a try! It's a free trial after all! As if it wasn't a good enough deal already Bitrix24 has been generous enough to extend a special offer to our loyal readers! Until April 15th you can use promo code "ANDY" when registering a new Bitrix24 accounts and they will add an extra 5 GB to their storage accounts. Again, this promo code will work until April 15th, 2015 – so act fast to get that deal! Also, it can take up to 30 minutes for their system to update to reflect extra space in the control panel, so keep that in mind when signing up with the code.
Do you use Bitrix24? What's your favorite project management software? Let us know in the comments – and thanks for reading!