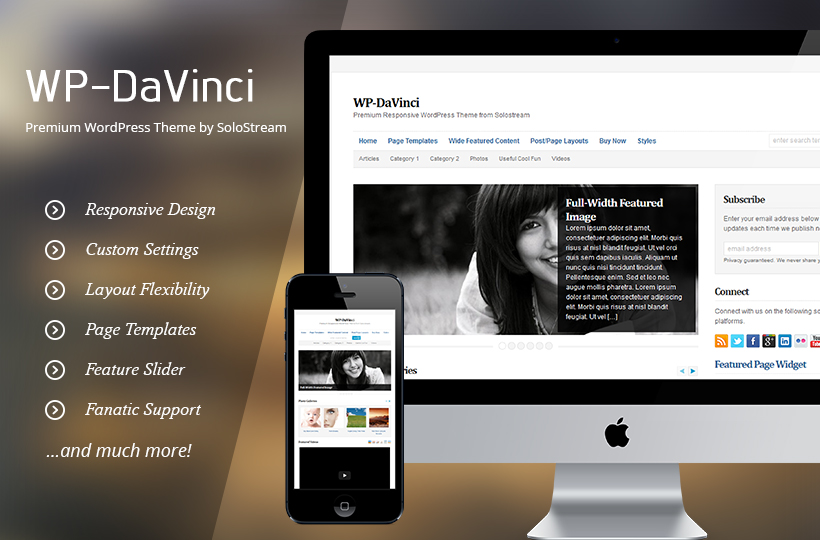 Having your own website is important if you want to appear credible, professional and reputable. Webmasters and bloggers know this that is why they always invest in being creative to make their websites look trustworthy and worth visiting by their potential target audiences. WordPress is a platform that is popular among webmasters, entrepreneurs and bloggers. There are numerous WordPress themes that are available and Solostream is one of the reputable WordPress theme providers.
With Solostream's WordPress theme portfolios, you will find some excellent ones that best suit your preferences and needs. Whether you want a free or premium WordPress themes, you will find one that will best represent your niche. Solostream has dedicated years of experience and expertise in designing superior WordPress themes that will provide solution to webmasters looking for elegant yet highly functional themes with the ease of use. With its consistent active support, all themes are regularly updated to meet the standards of the latest WordPress versions. Here are some of the topnotch WordPress themes that Solostream intricately designed ideally for business and personal blogs.
WP Launch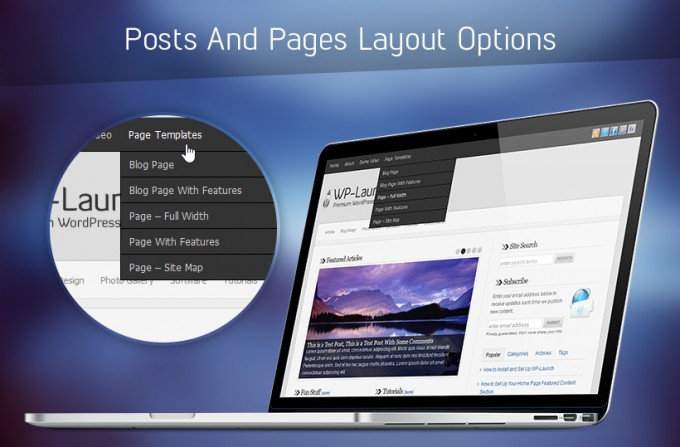 This is a premium WordPress theme created by Solostream that is ideal for webmasters looking forward of building professional-looking websites. The WP Launch provides a crisp interface with faster customization settings to build a website designed for business and professional bloggers. It comes with a simple interface with a magazaine layout available. You can easily customize the design to fit your business or personal websites.
WP Jazz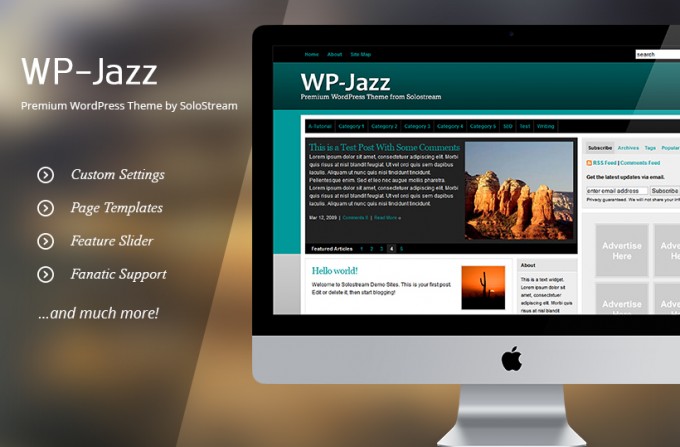 This is a WordPress theme with a magazine layout and an expansive control panel that gives more customization options for the user. You can change some of the colors, layout and the designs of the theme to create a website that is most suited to your niche.
WP Vybe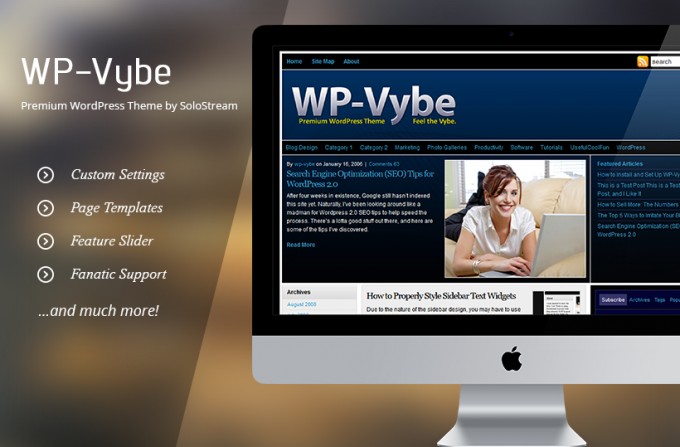 If you are looking forward in creating highly attractive website for your business or personal blogs to engage your target audience, the WP Vybe provides a magazine layout and colorful theme that comes with various color options to tweak. You can easily create multiple web pages with its customizable layout using its built in control panel that is user friendly. The layout comes with high flexibility, giving you an amazing opportunity to create differently colored web pages.
WP Genius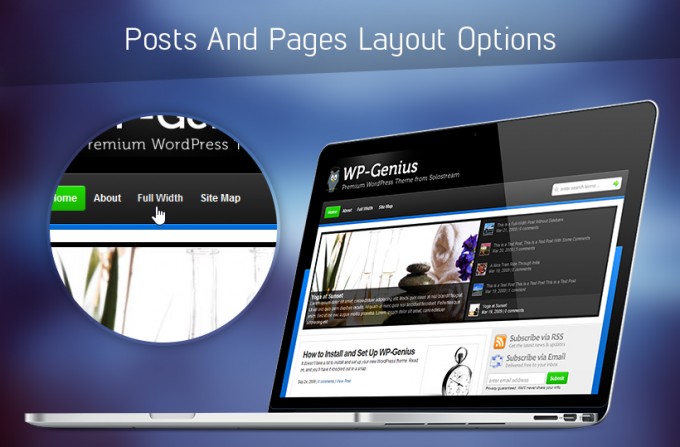 This is a premium WordPress theme that the Solostream team designed to give its users an opportunity to create a full width web page or a magazine styled layout. Its modern interface is elegantly styled with a professional façade. It is user friendly and its control panel allows for a quick tweaking on your theme design to make it more accurately relevant to your niche.
WP Folio Theme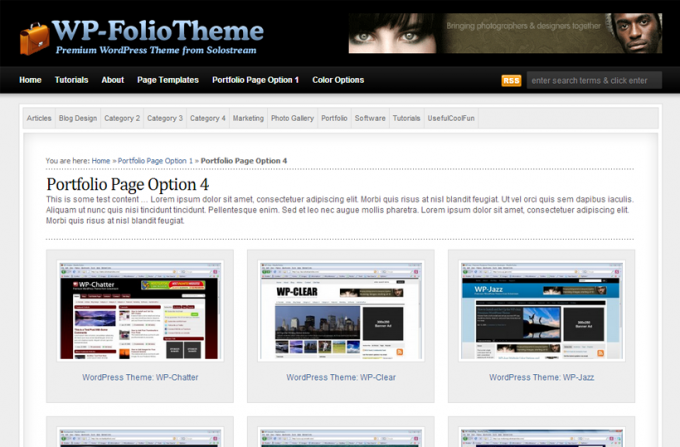 Building your own portfolio online is made easier with this WordPress theme. The Folio Theme from Solostream is specifically designed to provide designers and photographers the abilility to creatively present their portfolio. Through its user friendly control panel, one can showcase their portfolio so easily by customizing the page template designs and use feature sliders to highlight their best masterpieces.
WP Responsive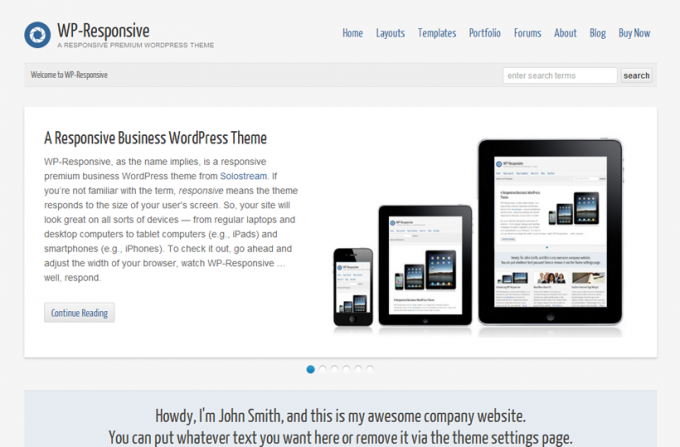 This WordPress theme provides sleek appearance with a modern interface for your website. As the name of the theme implies, it comes with responsive features that allows your website to adapt to the device used by your viewers according to its screen size (for mobile, laptops, tablets or personal computers). Using this WordPress theme will make your website look great on any device used by your viewers.
WP DaVinci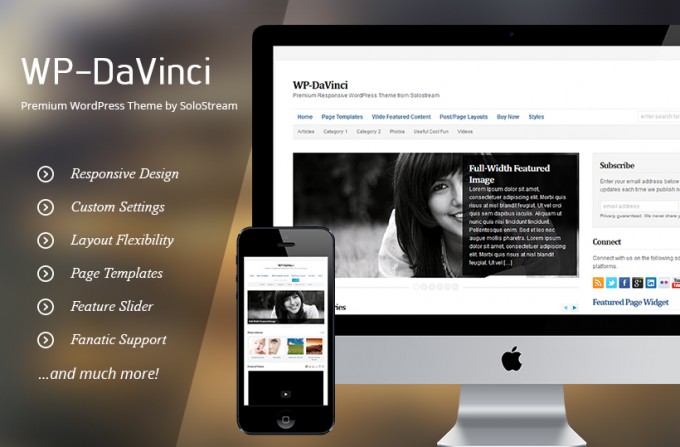 This theme has flexible layouts while providing an elegant and simple design. The theme is designed to provide the user the ability to customize their website without the hassle of going through a complex process. There are customized layouts that you can choose from to instantly create a website design in a snap.
WP Ellie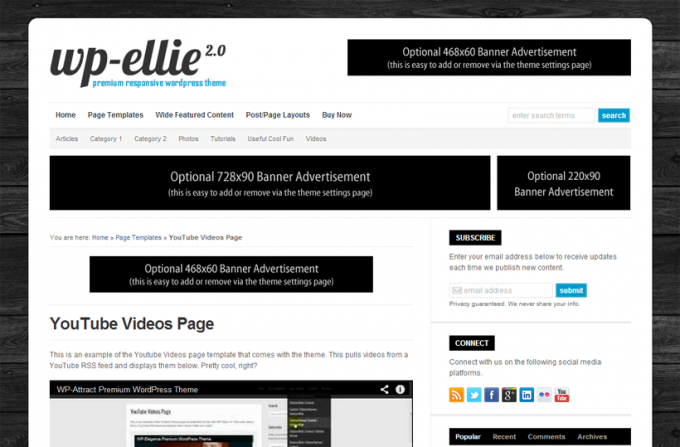 This premium WordPress theme is creatively stylish with flexible layouts that are great for making a business website or a simple blog site. You can also create a magazine style website to showcase your portfolios. Ellie is an impressive WordPress theme that is quick to manage with several customization options for make an impressive site.
WP Blossom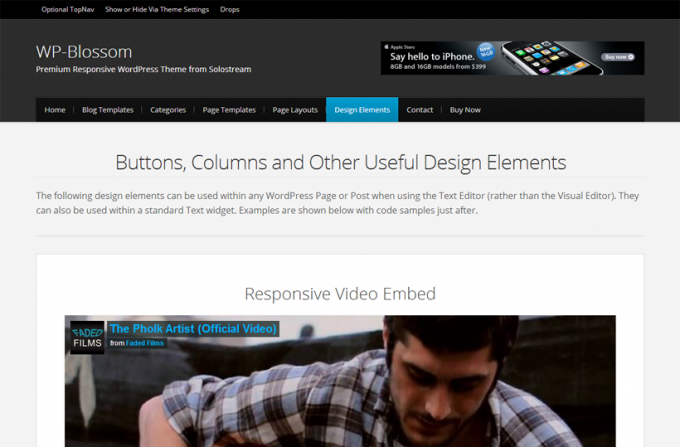 Blossom is one of the best selling WordPress themes from Solostream as it optimizes business websites with its functionality and features. You can creatively build your own blog site or business site that can surely catch the attention of your viewers. Its modern and sleek design makes it an impressive WordPress site that will surely captivate your target audience.
WP Critique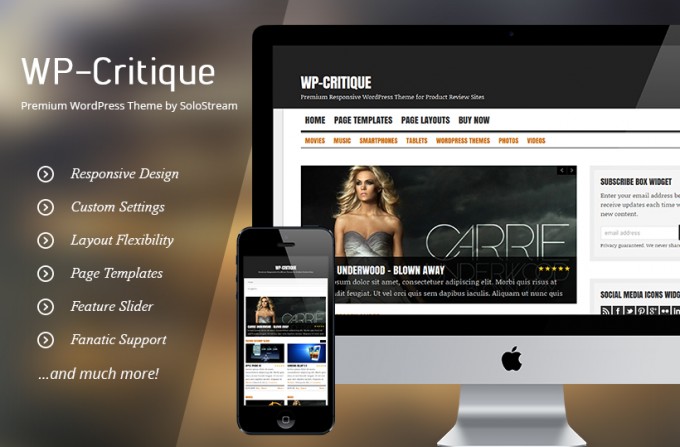 If you aim of creating a product review site, this WordPress theme is specifically designed for this purpose. Critique has unique layouts, elements and functionalities that are designed to optimize showcasing your products, product descriptions, comments or feedbacks. The Solostream's WP Critique is ideal for a business website or blog and for building an online magazine site.