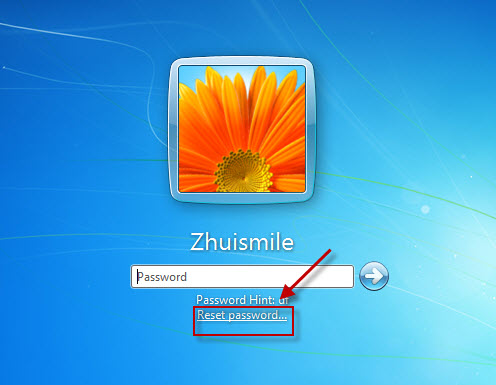 Forgot the password to login your Windows 7 computer? Just brought a second-hand computer but sadly found it is password-protected? No worries, currently there are many available ways that can help you get out of this trouble. Till now I can provide you 2 ways to unlock your Windows 7 password.
Way 1: Unlock Windows 7 Login Password with Password Resetting Disk
A password reset disk could really come in handy if you ever forgot Windows 7 password. The problem is that if you have already created the password before your password lost. Ifyou have created it in advance, then you can use this method to reset Windows 7 password easily. First you can type a wrong password, Windows 7 will pop up a Reset password link below the login box.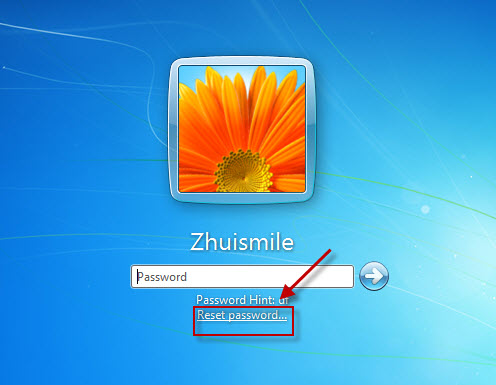 What to do then? Click on the link marked in the picture. Make sure that your password reset disk is plugged into the computer. Wait until the Password Reset Wizard appears, click Next to continue.Select the right password reset disk. Click Next.Type in a new password and a hint for the password. Click Next, then click Finish. Now you can log in to your PC with the new password.
Way 2: Unlock Forgotten Windows 7 Admin Password with Windows Password Key
If you are locked out of Windows without the password reset disk, you will have to turn to a third-party password cracking tool to unlock your Windows 7 computer. Here we would recommend you try Windows Password Key to remove the lost Windows password. It is one of the most powerful password recovery/resetting/bypassing software which can effectively help you unlock your Windows 7 password. Just through three easy steps, you can get your password back! And it required you little knowledge of the Windows 7 operation.
Insert a CD/DVD disk or USB flash to the workable computer and click "Burn" to start burning a Windows password recovery USB/CD.

Take out the password reset disk and insert it into your locked computer. You have to set your computer to boot from the CD/DVD-ROM/USB.
Now Windows Password Key appears on your screen. Follow the wizard to unlock your computer login password.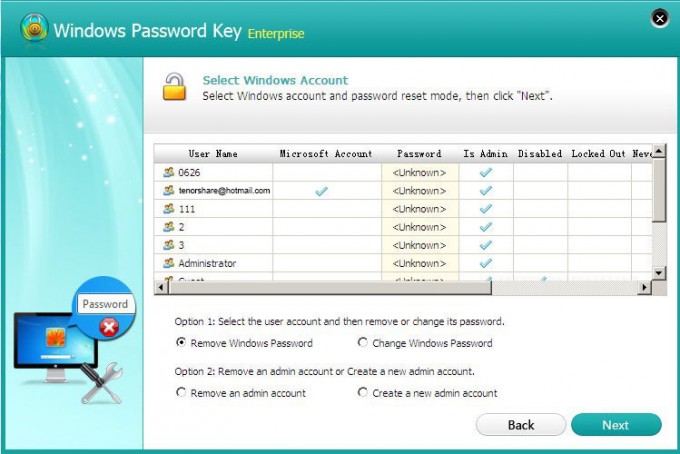 Get this Windows 7 password reset key and regain the access to your locked Windows 7 computer now!