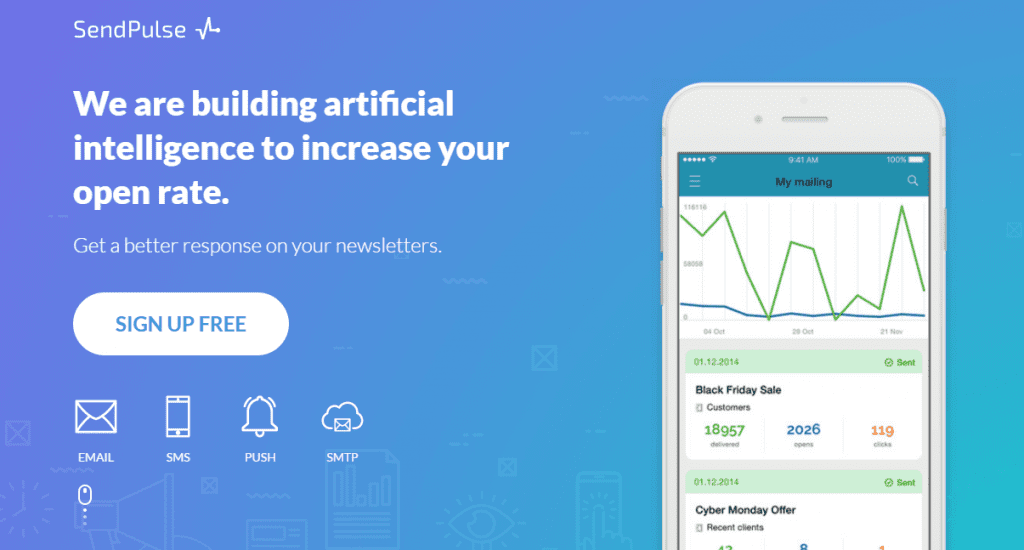 If you run any sort of business online, community, work with social media or even just a hobby blogger – you've probably got an email list to stay connected with your audience and fans.
You are probably familiar with the basics of list building and email marketing too – but are you using your list the best possible way? Are you using the smartest email marketing strategy possible? Probably not. That's where SendPulse comes into play.
SendPulse uses an AI platform (Artificial Intelligence) and other unique features that automatically maximize email Open Rate. In addition to taking the "smart" approach to email – SendPulse is cheaper than other options such as MailChimp, Aweber, and others, quicly making SendPulse the easy choice for marketers – saving you money that could be investing back into your email marketing for more results.
So What Exactly Is SendPulse?
SendPulse creates a behavior user profile for each subscriber based on their communication preference, timezone, content, layout, product purchases and many other unique data points. The user profile is then used by the AI platform to not just create the best experience for each user, but to also understand user behavior in groups with a "lookalike" audience. Using dynamic grouping, the AI platform is able to draw a fuller picture of user predictive behavior and create content with best monetization potential.
SendPulse is an integrated platform that offers bulk email, bulk SMS messages and FREE web push notifications. You get a better overall "Email Marketing Package" deal since they offer the largest quota on its free plans for email and SMTP services and with the least functionality restrictions.
Getting Started
If you are sold already, you can choose the pricing plan that fits your list size/budget – but for the rest of us all you need is the Free account. SendPulse is very easy to use, as you can expect you don't need to have any Design or Coding experience to send beautiful emails that convert. All the features that you have grown accustom to in similar email marketing apps in the past are there for your convenience, plus new great features that you probably didn't expect.
As you can see getting started sending your emails is easy as 1-2-3 – go ahead and give it a try. Import your existing email list easily or just get started collecting emails with a new one – web forms are easy to create and are compatible with popular self hosted software like WordPress.
One of my favorite features is Web Push Notifications – SendPulse handles these brilliantly. You've seen them on so many websites these days, they are the hot new way to stay connected to your audience – well now they are built directly into your email marketing tools. Now just as easily as sending an email you can keep in communication with your users directly from their computers or smartphones!
Creating An Email Campaign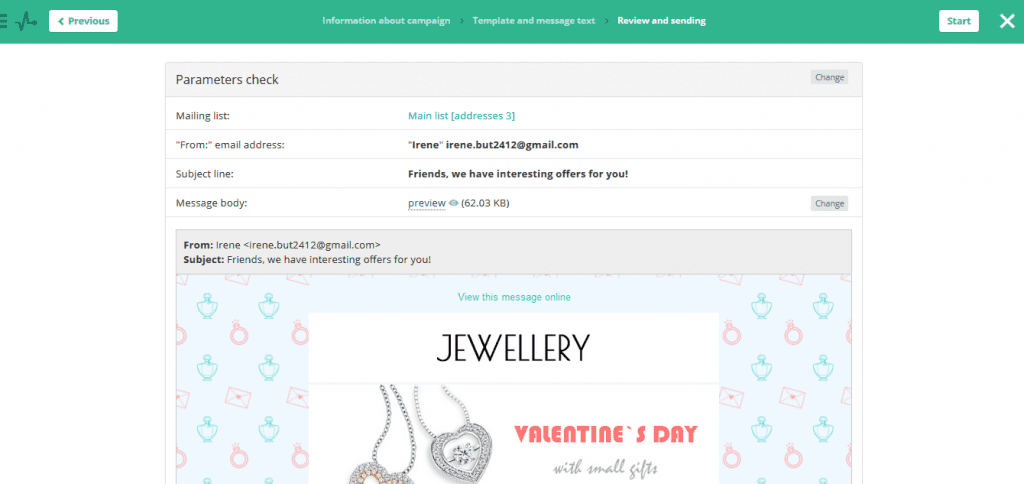 You can quickly and easily create text-based and HTML emails using their built in design templates. There are many pre-designed responsive email templates and layouts to choose from, of course if you are particularly handy you can easily design your own using the drag and drop email editor. Experienced Designers and Developer know how to delve into the raw HTML/CSS code and hack together their own, you of course could take that route also. Once your design is in place it's off to the races – input your content, and other email campaign details, and send it off!
Features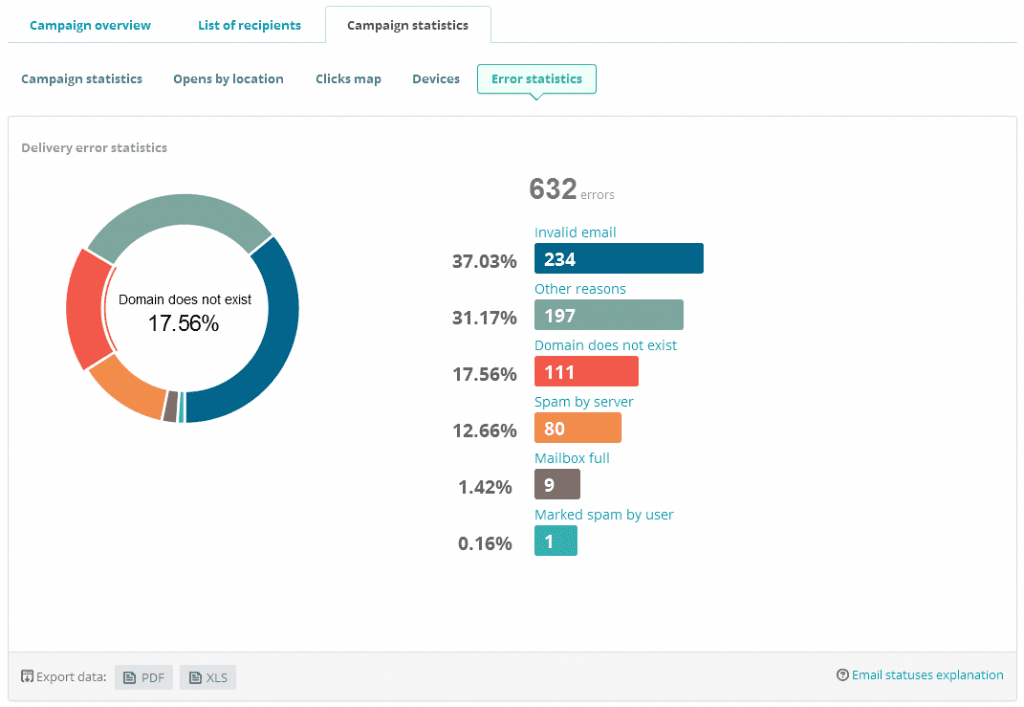 As we mentioned before SendPulse has a lot of great features that you just don't see in other offerings – here are just a few examples:
A/B Testing – This let's you identify which strategy is working, and which isn't. Find out what your audience likes most using A/B testing.
Autoresonders – you can easily setup email automation for your website using different parameters, such as after a certain condition is met, like subscriber opened an email, clicked a link, etc.
Web Push Notifications – reach your users at their computer or smartphone device, this service is available for free can be easily implemented on your website by using the code provided in the SendPulse dashboard.
SMS – easily add phone number of the subscriber while creating a mailing list.
SMTP Server – send bulk emails at high speed with better sender reputation, integrate into CMSs like WordPress.
Reports & Analytics – monitor metrics like click rate, open rate, unsubscribe rate, location stats, click chart, devices used to read the email, and errors occurred. Also integrate with Google Analytics!
as you can see there are some very robust features that you should definitely give a try – you never know how valuable they are until you use them!
How Much Does It Cost?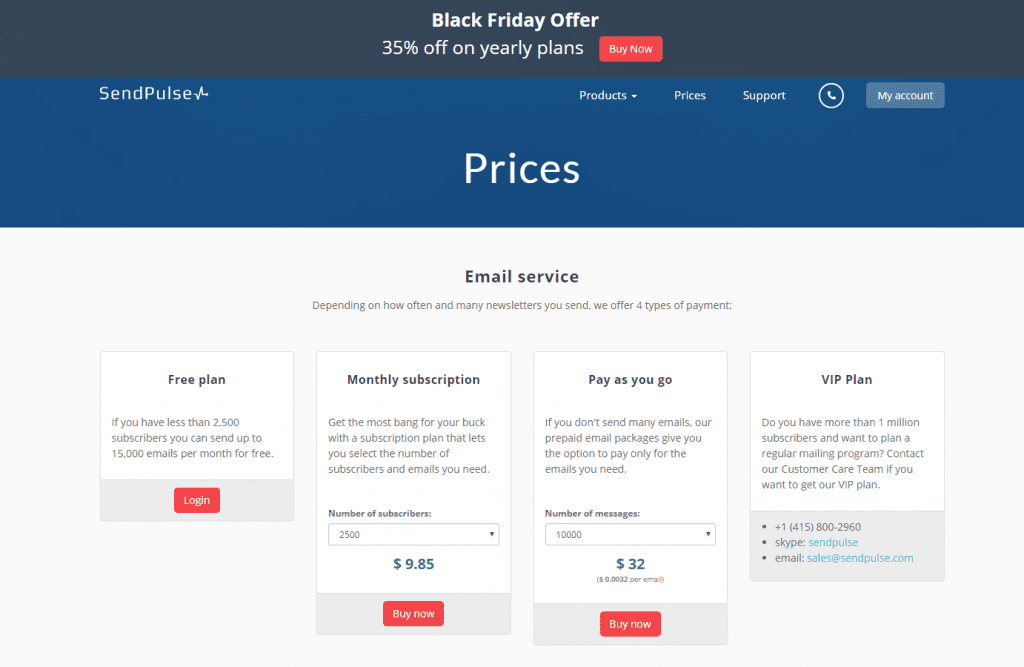 As we mentioned before, for less than 2500 subscribers the service is free (and you can send up to 15,000 times)! The free plan comes with fewer functionality restrictions and a sufficiently large quota compared to competitors offerings. The paid options are also much cheaper compared to competitors such as MailChimp, Aweber, and Constant Contact, plus you get way more features – so you really can't lose by giving them a try.
The paid plan lets you choose the plan based on the size of your mailing list – from 2,500 – 5,000,000.
Conclusion
As you can see SendPulse is a young and hungry company that is clearly shaking things up in the email marketing industry (for the better!) since they are so passionately investing in the development of their software as they plan to add even more advanced functionality to help customers achieve better results.
Take advantage of SendPulse's affordable pricing and smart technology today – no other package offers you the ability to resend unopened emails, web push notification, and artificial intelligence helping to guide your email campaigns to success.
You can sign up here for the free plan and give it a try, and if you like it please share this SendPulse review so other businesses and content creators who need a good email service to send their newsletters can find out about this awesome new service, SendPulse.
Have YOU Used SendPulse? If this SendPulse review was helpful, let us know below in the comments!
SendPulse Review
Value -

10/10

Features -

8.5/10

Design -

7.5/10

Usability -

8/10
Summary
Pros:
Great Features
Reliable Service
Easy Navigation / Ease of use
Cons:
Younger Service
Some Features Not Yet Fully Developed