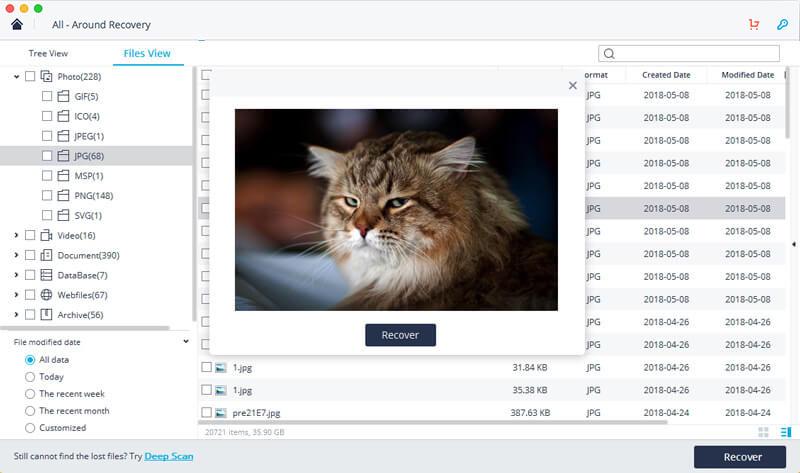 If you have accidentally formatted your SD card and are looking for ways to get your data back, then you are at the right place.
Yes, it is possible to recover formatted SD card on Mac or Windows. There are a number of data recovery software programs that can help you recover your files. Some of these programs are free, while others require a subscription.
Here are a few of the most popular data recovery software programs:
EaseUS Data Recovery Wizard: This program is available for both Mac and Windows. It is a powerful tool that can recover a wide variety of file types, including photos, videos, documents, and audio files.
Wondershare Recoverit: This program is also available for both Mac and Windows. It is a user-friendly program that can recover lost files from a variety of devices, including SD cards, hard drives, and USB drives.
Disk Drill: This program is only available for Mac. It is a powerful tool that can recover lost files from a variety of devices, including SD cards, hard drives, and USB drives.
If you have formatted your SD card, do not write any new data to it. This will overwrite the data that you are trying to recover. Instead, connect the SD card to your computer and use one of the data recovery software programs listed above to recover your files.
Here are some tips for recovering formatted SD card:
Stop using the SD card immediately after formatting it. This will help to prevent the data from being overwritten.
Use a data recovery software program to scan the SD card for lost files.
Preview the files to make sure that they are the ones you are looking for.
Recover the files to a safe location.
It is important to note that data recovery is not always successful. The more data that is written to the SD card after formatting, the less likely it is that the data can be recovered. However, if you follow the tips above, you will increase your chances of recovering your lost files.
Presently, there are all kinds of tools and applications that can help you recover formatted SD card using a Mac or a Windows PC. For your convenience, we have tried some of these data recovery software for Mac/Windows and have picked the best solution in this guide. Not just that, we will also help you pick the right Windows or Mac data recovery solution to fulfill your needs as well. Read on and know how to recover formatted SD card on your Mac or Windows.

Recoverit Data Recovery: The Recommended Data Recovery Solution
Recoverit by Wondershare is one of the best data recovery tools for Mac and Windows systems out there. With an impressive success rate of 96% it will let you get back your lost data under all scenarios. You can perform data recovery on a formatted SD card, corrupt SD card, pen drive, external hard disk, and so many other sources. Not just that, you can also use Recoverit to perform Windows and Mac recovery on the internal storage as well. It features an extremely user-friendly interface and will let you perform disk recovery on Mac/Windows in minutes.
Data types supported
Recoverit Data Recovery supports all the major types of content like photos, videos, documents, music, compressed files, email, and what not. There are more than 1000 file formats that it can extract.
Preview available
The photo recovery Mac/Windows tool also allows us to preview the extracted media files first and selectively restore them.
Different scanning modes
It features a normal and a deep scan. If you have less time, then perform the normal scan and get quick results. The deep scan is more time-consuming, but would also yield better results.
Positive recovery results
Recoverit will perform excellent recovery in all kinds of scenarios like accidental deletion, formatted SD card, corrupt SD card, and so on.
Free Windows and Mac versions
The free recovery software for Mac and Windows offers basic support and can easily be upgraded to a premium version. It supports Windows XP, Vista, 7, 8, and 10 as well as systems running on macOS 10.6 and later versions.
How to Recover Formatted SD Card Data?
Even if you have got your SD card formatted, don't worry. With the assistance of Wondershare Recoverit, you can easily perform SD card recovery on Mac/Windows. Here we take Recoverit for Mac as an example.
Step 1: Connect your SD card
Needless to say, you need to start by connecting your SD card to the system and launching Recoverit Data Recovery for Mac. Choose to perform external device recovery and select the location of your SD card from the list.
Step 2: Wait for the scan to complete
Sit back and wait for a while as the application would try to recover files from SD card on Mac or Windows. Don't close the application in between or unmount the SD card during the data recovery process.
Step 3: Recover the extracted data
In the end, all the extracted data would be displayed on the interface in different categories. You can preview your photos and videos from here and mark the content you wish to get back. Now, click on the "Recover" button and save the selected content to a secure location.
How to pick the best data recovery tool for Mac/Windows?
Since there are so many Windows and Mac recovery software out there, consider following these suggestions while picking the best solution.
Success rate: Firstly, do some research and know what the data recovery success rate of the tool is. The higher the success rate, the better the tool would be. For instance, Recoverit has a success rate of 96% which is one of the highest in the industry.
Compatibility: The tool should support your SD card and be compatible with the Mac or Windows version that you own.
User-friendly: It should have a clear and friendly user interface that would not require any hassle to operate.
Data types supported: Kindly note the kinds of media files, documents, and other types of data that the tool can recover. It should support the data types that you have lost.
Security: Needless to say, the data recovery software for Mac/Windows should protect your files and must not store them anywhere in between.
I'm sure that the guide would have certainly helped you recover formatted SD card content under different scenarios. If you want to get positive results, then consider using a data recovery tool as fast as you can. This will prevent your data from being overwritten and you can easily get back the formatted SD card content in less time.