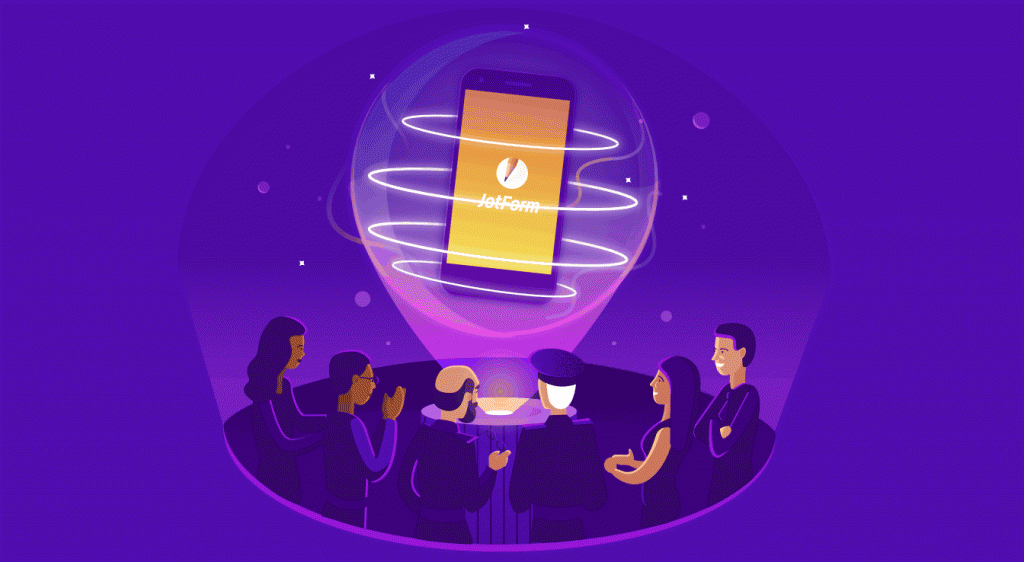 In a world where every day more and more services are going to the cloud, it can be exciting, but it can also complicate things and become expensive! Thankfully there are companies like JotForm that keep things simple, and free! In the past we've reviewed some great apps by JotForm. Today they are taking it to the next level by doing what they already do well, on the go!
Today we are proud to announce Mobile Forms by JotForm – a new take on their old mobile app, and a re-invigoration of the service to work flawlessly on mobile phones! Now you'll be able to take your forms offline, literally – and on the go! So let's get into the wild and give this new app a spin, join us!
JotForm The Company


JotForm is a leading online form creator that provides organizations across all industries with the tools for fast, easy, and secure data collection. Founded in 2006 by Aytekin Tank as the first drag-and-drop online form builder they now have over 4.7 million registered users worldwide. Bootstrapped, with more than 130 employees they have enjoyed 50 percent year-over-year revenue growth for the past five years! Their customer list includes some of the most famous brands on the planet, Facebook, Adobe, Uber, BBC, PayPal just to name a few.
How is JotForm Changing The Mobile Form Game?
Before we dive into the impressions we got when we fired this bad boy up just try to wrap your head around the ambitious goals they had for this release.
Create and edit forms. Building forms just got a whole lot easier. Quickly and easily create forms and make edits on the go.
Offline data collection. Whether you're in the field, on a mountain, or flying over the sea, gather important information offline — with no internet connection.
Advanced form fields. Take advantage of advanced form fields, such as geolocation, voice recording, image upload, and e-signatures to get more complete data for your business.
Kiosk mode. Kiosk mode allows multiple people to fill out a form over and over again on a single device. Use kiosk mode at trade shows or conferences to collect important information.
Assign forms. Assign forms to your teammates so they can access, fill out, view, and manage their responses.
Customize notifications. Enable or disable notifications on your forms so you can cut through the noise and stay on top of what matters most.
Share your forms and submissions. Easily share your forms and form submissions via email, text, or through other apps.
Quite an impressive list, as not only are there a ton of features, but there are a ton of features that i've never ever seen listed for any app or software available on this scale, for free!
How Do The New Features Measure Up?
We know that JotForm makes creating online web forms easy – when we first got a chance to try their new "Mobile Forms" app we had some expectations and assumptions of what it was going to do, and the kinds of features that were available. After diving in our minds were changed as what we expected was being blown away. Let's focus on what really stood out to us first.
Kiosk Mode
Kiosk mode basically gives you the ability to lock your device (tablet, smartphone, etc) so that users can easily access and interact only with your form. After each entry, the form automatically refreshes so you can easily collect multiple submissions on one device. Create a dedicated survey stand, or just get your customers to register for something – collecting their information in real life, at a physical location, has never been easier (for you and them!!!). You could use this mode/feature to gather information during an event, from trade shows and conferences to street fundraisers, or even in your own yard.
Offline Data Collection
This feature goes hand in hand with the Kiosk Mode feature, since you are going to be on location with your customers – it's possible that no network or wifi will be available. No worries, with the Mobile Forms app you can work offline, meaning you can fill out your online form on any device, anywhere, without having to worry about cell service or Wi-Fi. When you reconnect to the internet, your responses will automatically sync with your JotForm account.
Old Features Made New Again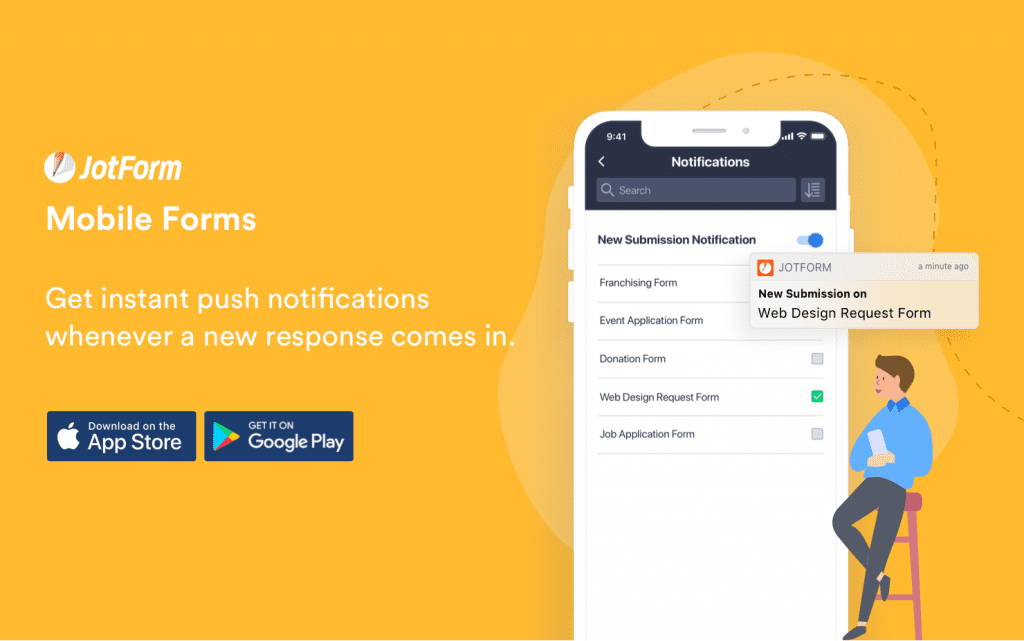 In addition to the great features that we just covered, in our testing we found the Mobile Forms app very enjoyable because it married what we already loved about JotForms with the ability to do it all just as well offline, and on the go. Some of the other great new additions were the Advanced form fields, being able to add geolocation coordinates, voice recordings, image uploads, and e-signatures on the fly really makes data gathering robust and you can be sure that they will be adding new and even more awesome features in the future! The other new features here is the new collaboration features that help you to work with your team easier – making it easier to collaborate, share, and just work faster. Productivity improvements are very apparent in this latest update and could arguably be the best new feature. We are all for anything that let's us Work anywhere, speed up workflow and automate quickly on the go!
Conclusion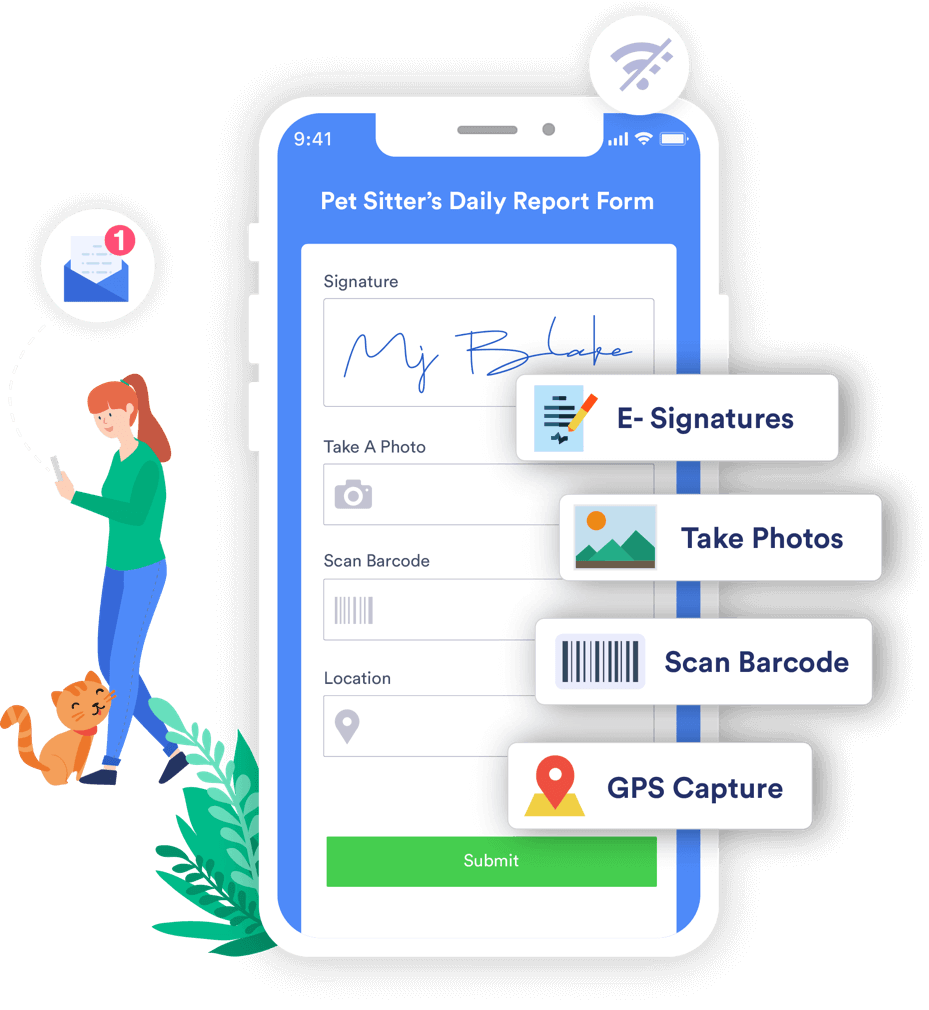 We loved our time with JotForm's latest app – it is not only an improvement on the last app, it's an overall improvement on the product. I love being able to create my forms in the browser on my desktop PC and then switching over to the mobile forms app on my android phone when I need to tweak something, or check notifications, or just share it with a colleague!
JotForm has gone above and beyond with their already valuable service – yet again! We are giving this new app a solid 9.5 out of 10! A nearly perfect score! Because it deserves it, the attention to detail they have put into this app, and even the promotional videos this time around, really make us smile. Doing it right, you are. Yes.
We still feel like there is no easier way to create step by step forms (or classic forms) for your business and get those submissions back in an easy and automated way. Do yourself a favor and give JotForms a try today if you haven't already – and if you have, make sure to grab the new app! You won't believe how smooth your forms can get! You can get this app on iOS or Android phones – check the itunes store or the google play store for "JotForms Mobile Forms" and you can thank me later!
JotForm Mobile Forms App Review
Features -

10/10

Usability -

8.5/10

Design -

10/10
Summary
JotForm's new Mobile Forms app is a walk in the park, access your forms on the go, create new ones, do basically anything you want with your forms from your phone!
While there are always options and customizations that could make the product better, there is a lot here – we only ran into a few hiccups on this literally brand new app but what is there is brilliant. New features rock.