Table of content:
---
---
Top 10 WordPress plugins and tools for business sites
1. Rank Math
Rank Math features:
How Rank Math is helpful for business websites?
2. LiteSpeed Cache
LiteSpeed Cache features:
How LiteSpeed Cache is helpful for business websites?
3. Booknetic
Booknetic features:
How Booknetic is helpful for businesses?
4. Sucuri
Sucuri features:
How Sucuri is helpful for business websites?
5. UpdraftPlus
How UpdraftPlus is helpful for business websites?
6. WPML (WordPress Multilingual)
WPML features:
How WPML is helpful for business websites?
7. Divi Builder
Divi Builder features:
How Divi Builder is helpful for business websites?
8. Hostinger AI Assistant
Hostinger AI Assistant features
How Hostinger AI Assistant is helpful for business websites?
9. WP Mail SMTP
WP Mail SMTP features:
How WP Mail SMTP is helpful for business websites?
10. PushEngage
PushEngage features:
How PushEngage is helpful to business websites?
---
Your website is the digital storefront that requires a perfect toolkit to captivate, engage, and convert site visitors into customers. A right set of plugins can skyrocket your online business success.
There are over 60,000 WordPress plugins, making the task of choosing the right toolset quite overwhelming.
Many plugins can be used effectively by users with minimal levels of technical expertise. However, some are more advanced or complex and may require a higher degree of technical knowledge to install, configure, and use correctly. In such cases, you can opt to hire a WordPress developer to set them up.
Our experts have chosen the right pick of WordPress plugins that a business website must have in 2023. These plugins and tools offer a variety of features that can help businesses improve their websites.
Top 10 WordPress plugins and tools for business sites
1. Rank Math
The WordPress Rank Math plugin has emerged as a powerful tool to help website owners, bloggers, and businesses in easing search engine optimization efforts. It is more than just your average SEO plugin and comes as a feature-rich, all-in-one solution to simplify optimization techniques.
Rank Math saves you from spending a lot of time on repetitive work and makes optimization of posts (articles, blogs, etc.) easier. It helps rank the site higher in search engine results.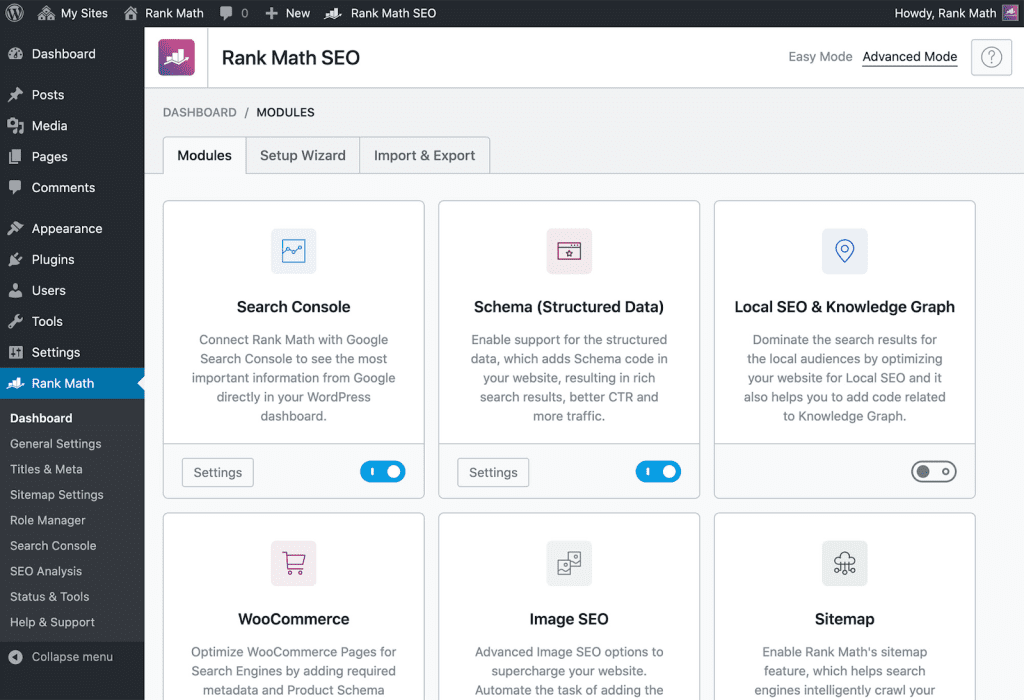 Rank Math features:
The key features of Rank Math are:
Easy to use and simplified dashboard
Google schema markup
Advanced keyword optimization
Content AI
Google Search Console integration
Recommendations for building links
Front-end on-page SEO
Furthermore, this WP plugin has several modules like support for advanced custom fields, AMP integration, configuration with 301 and 302 redirects, and many more.
How Rank Math is helpful for business websites?
Rank Math offers on-page and off-page SEO tools, helping you optimize your content, meta tags, and images. The plugin offers insights into your website's performance and loading times, which is a crucial factor in SEO and enhancing user experience. It lets you focus on creating quality content while improving your site's rankings.
2. LiteSpeed Cache
Much more than a cache management plugin, LiteSpeed Cache is packed with a variety of features designed to deliver the best WordPress site performance.

LiteSpeed Cache supports WordPress multisite. It can work with the most popular WP plugins such as WooCommerce, bbPress, and Yoast SEO.
LiteSpeed Cache features:
Image optimization
Automatically generates critical CSS
Responsive image placeholders
Database cleaner and optimizer
Cloudflare API
Single-site and multisite support
Load CSS asynchronously
How LiteSpeed Cache is helpful for business websites?
Leveraging the LiteSpeed Cache can improve your site's loading speed, which, in turn, enhances user experience, reduces bounce rates, and improves SEO rankings. This WordPress plugin remains a valuable asset for website owners in providing an efficient browsing experience.
3. Booknetic
It is a WordPress appointment booking plugin that lets businesses automate their online scheduling process. This versatile WP plugin caters to various industries like health & medical services, legal consultants, beauty & wellness, repair centers, and so on. Booknetic is a great choice for businesses of all sizes, from startups to large enterprises.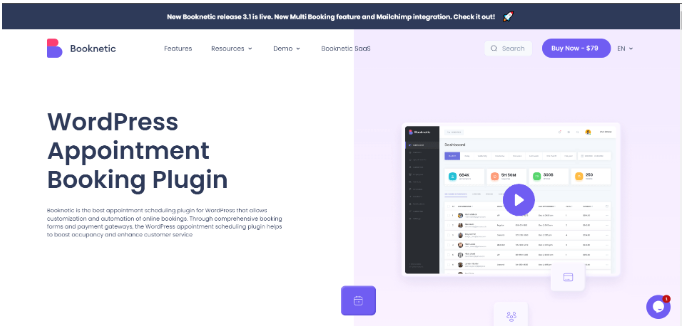 The latest version of Booknetic is 3.8.2, released in September 2023, with added features like a note section to the info on the customer panel, a 15-minute time period rescheduling for the drag & drop feature in the calendar, and redirection to the booking page after a customer signs up.
Booknetic features:
Booknetic helps to enhance productivity with its range of features, such as:
Customizable booking forms
Appointment reminders
Automatic customer follow-ups
Recurring payments
Online payments
Waitlist
Deposit payments
How Booknetic is helpful for businesses?
Booknetic allows small businesses to automate online scheduling. It saves time and increases efficiency by managing appointments, all in one place. Businesses that require online payments can integrate it with popular payment gateways like Stripe, PayPal, and Razorpay.
4. Sucuri
Sucuri is a WordPress security tool for securing websites. Utilizing it will protect your WordPress site, improve performance, and monitor for indicators of hacks. Though it cannot cater to all your security needs, it provides tools to reduce security risks.
However, configuring firewalls, monitoring traffic, and dealing with security alerts often require technical knowledge. If you are not tech-savvy, you can hire a WordPress developer to do it for you.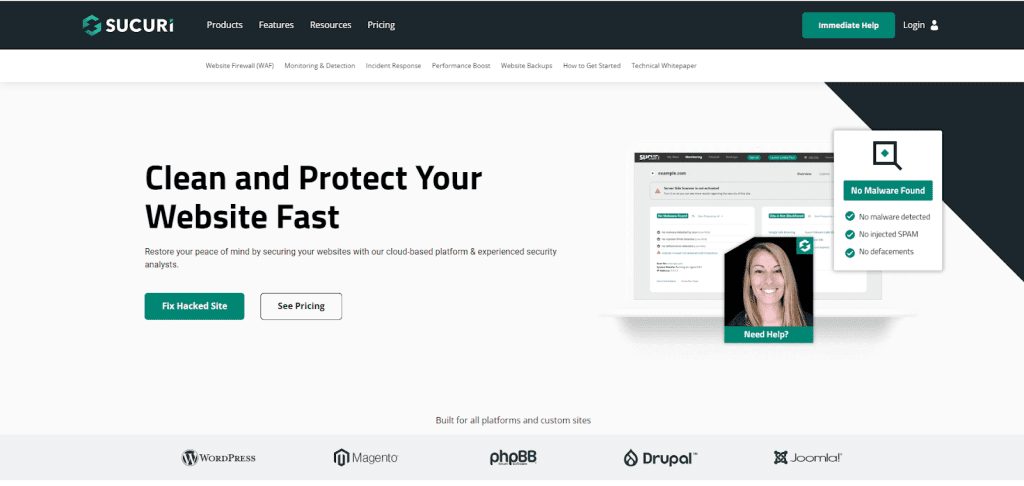 Sucuri features:
Sucuri comes with various hardening security features like malware scanning to help keep the WordPress website protected.
Email alerts
Firewall integration
Core integrity check
How Sucuri is helpful for business websites?
Sucuri secures business websites in a number of ways:
Malware scanning and removal
Website firewall
Website monitoring and alerts
Performance optimization
SSL certificate integration
Brute force protection
5. UpdraftPlus
UpdraftPlus is a popular WordPress plugin that provides backup and migration services for WordPress websites. It lets site owners backup their data on different storage locations such as Google Drive and Dropbox.

How UpdraftPlus is helpful for business websites?
Data backup and recovery– In the event of data loss or website crashes, businesses can easily restore their websites to a previous working state using these backups. This ensures minimal downtime and prevents potential revenue loss.
Website migration– UpdraftPlus simplifies the process of migrating a WordPress website from one hosting provider to another. This enables users to download their site data from the source and upload it to the destination.
Scheduled backups– UpdraftPlus allows businesses to schedule automatic backups at regular intervals, such as every 2, 4, 8, or 12 hours, daily, weekly, monthly, or fortnightly. It ensures businesses have up-to-date backups without any manual intervention.
6. WPML (WordPress Multilingual)
It is a WordPress translation plugin that lets websites be translated into 65 languages. It helps website owners create multilingual content facilitating their visitors to switch between languages when required.
However, setting up language configurations and handling translation complexities can be challenging. It requires technical expertise. In such a case, you can hire a WordPress developer to handle the plugin setup complexities.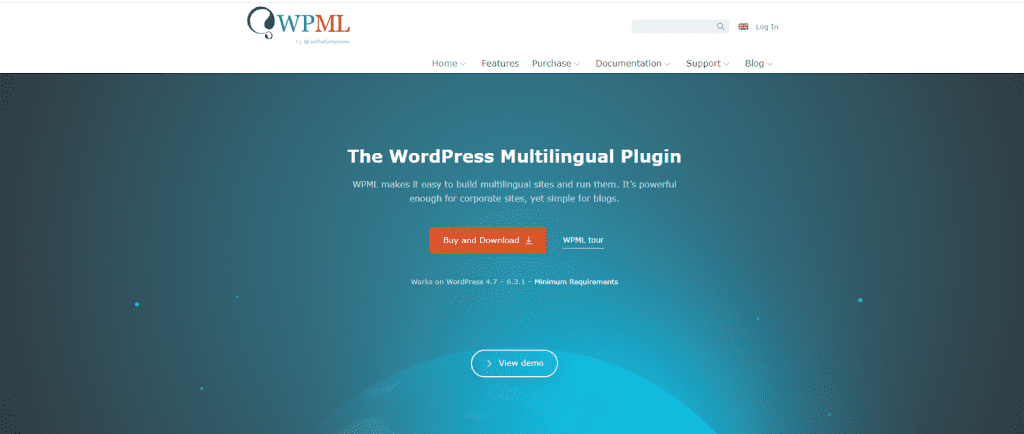 WPML features:
Multilingual content management
Translation editor
Language-specific URLs
Media translation
Language switcher
How WPML is helpful for business websites?
You can add multilingual SEO information to each page with WPML, ensuring that search engines can index and display the correct language versions to users based on their search queries.
WPML adds a language switcher to your site making it easy for visitors to switch between different language versions of the site.
It enables site owners to set up language-specific URLs for each language version of the site.
7. Divi Builder
Next on the list is Divi Builder, a powerful WordPress plugin that lets users create highly customized and responsive web designs. With this WP plugin, users can create pages and post with over 200 design modules like text, images, buttons, and more.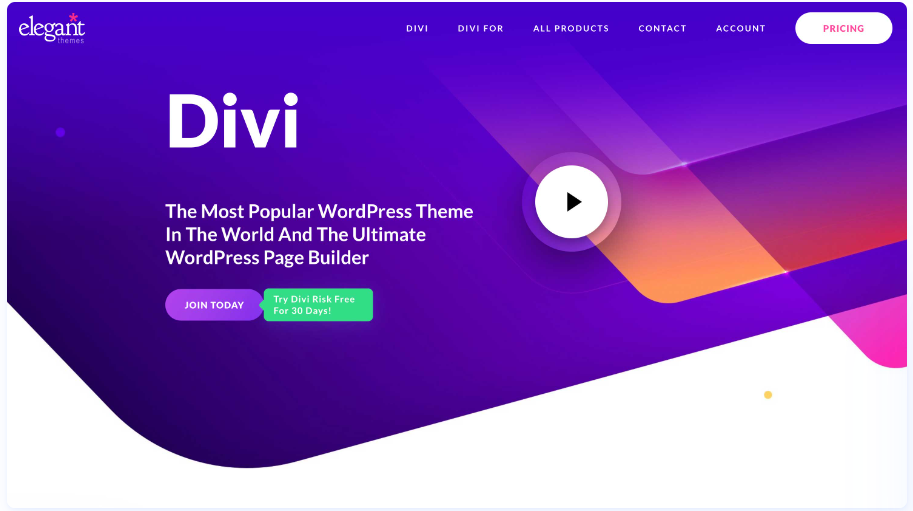 Divi Builder features:
Drag and drop visual builder
Over 200 customizable design elements
2200+ design layouts
How Divi Builder is helpful for business websites?
Divi Builder enables businesses to create visually appealing sites aligned with their brand. Its user-friendly interface and customization options make it a valuable WordPress tool for businesses to establish a strong online presence.
Let's see how it is helpful for business websites:
Branding consistency
Speedy development
Conversion optimization
eCommerce integration
SEO-friendliness
Customer support
8. Hostinger AI Assistant
This WordPress plugin is designed to automate the process of website content creation. It is especially helpful for businesses that do not have the time or resources to curate in-house content.
Hostinger AI Assistant can produce SEO-friendly content by inserting relevant keywords in the text, making it well-suited for creating blog posts.
Hostinger AI Assistant features
Pre-defined options for the type of post, content length, and voice tone
SEO-friendly content creation
How Hostinger AI Assistant is helpful for business websites?
The below examples demonstrate how this AI assistant helps business websites –
A small business owner can use Hostinger AI Assistant to generate blog posts for their products or services.
A marketing agency can use this AI assistant to curate content for their client websites, like landing pages, product descriptions, and social media posts.
For an eCommerce site owner, this WordPress plugin can help generate product descriptions, category pages, and blog posts related to their products.
9. WP Mail SMTP
WordPress, by default, uses PHP mail() to send mail. However, there are several issues with using this PHP function. Emails sent using mail() are considered spam by several email service providers (like Gmail and others). Also, it does not support authentication, making it less secure for sending emails. If your WP hosting server is not configured to use mail(), emails may not be delivered successfully.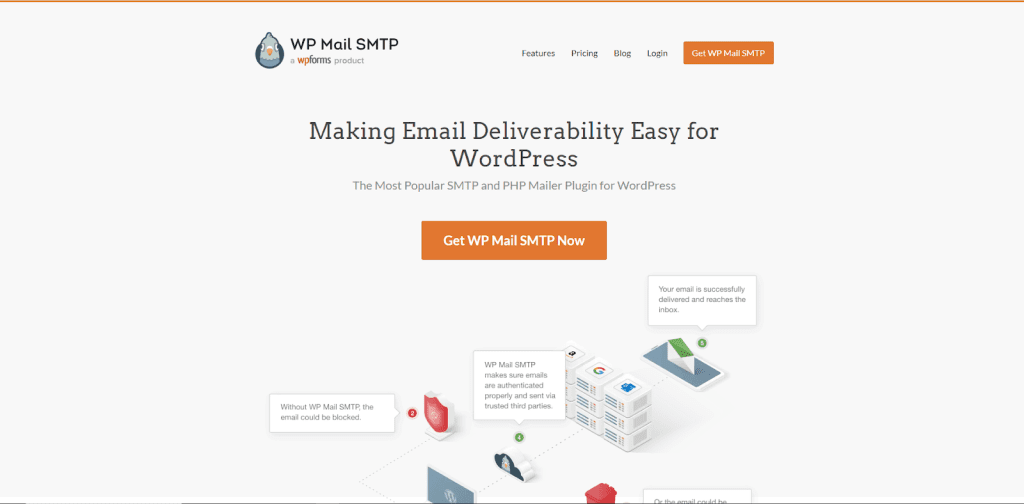 WordPress Mail SMTP is a recommended practice for sending emails. It offers better reliability, security, and deliverability than the default PHP mail() function. Additionally, SMTP provides more control and monitoring capabilities essential for business websites that rely on email communication.
WP Mail SMTP features:
Multisite support
Email log
Email reports
Open and click tracking
Smart email routing
Email failure alerts
Weekly email summaries
Manage notifications
How WP Mail SMTP is helpful for business websites?
WP Mail SMTP routes the emails through a proper SMTP server, improving the chances of emails reaching the recipient's box.
SMTP prevents your emails from being flagged as spam, ensuring that important business communication reaches your audience's primary inbox.
This WP plugin can enhance your business's credibility by reducing the chances of important emails ending up in spam folders.
10. PushEngage
PushEngage empowers businesses to engage their site visitors via push notifications.
It allows sending targeted announcements to customers, which, in turn, results in increasing website traffic and customer engagement.
For instance, an eCommerce site owner can trigger price drop alerts, bloggers & publishers can send the latest blog post notifications to subscribers, and so on.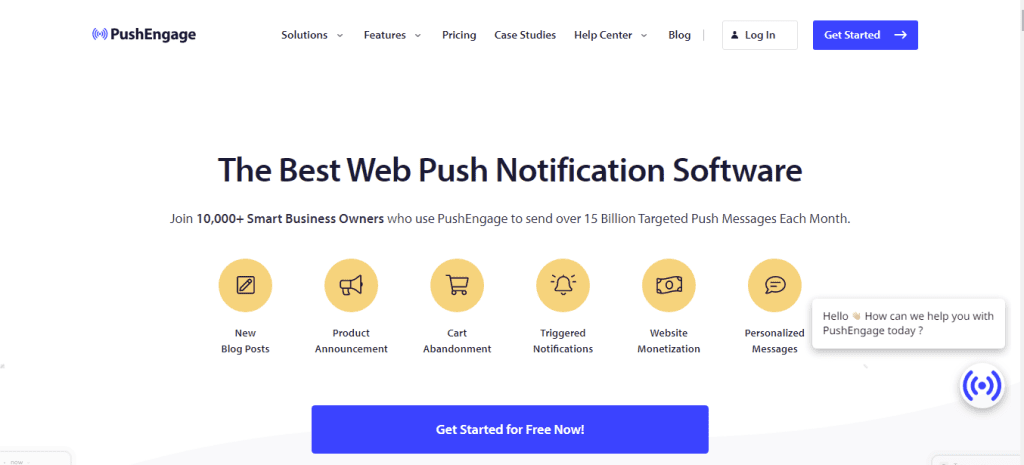 PushEngage features:
Multi-platform support
Automated notifications
Performance analytics
Scheduling alerts
How PushEngage is helpful to business websites?
It is an effective way to re-engage visitors and keep them informed about new products and content updates.
The ability to send personalized and timely notifications leads to an increase in conversion rates.
PushEngage allows businesses to target specific audience segments with tailored messages.
This WordPress plugin is helpful for businesses with diverse audiences as they can reach users across various devices and browsers.
Conclusion
The list does not end here. There are many other great WordPress plugins available, but the 10 listed in this article are a great place to start for a business owner. Here are a few tips for choosing and using WordPress plugins.
Choose plugins from reputable developers.
Read user feedback on plugins and tools before installing them.
Keep your plugins up to date.
Only install the necessary plugins.
Furthermore, if you're not sure which plugins or tools to choose, or if you need help installing or using them, don't hesitate to contact a WordPress expert. Nevertheless, ensure only using the right toolset for your WordPress site to attract visitors and generate more leads for your business.
Best of luck!