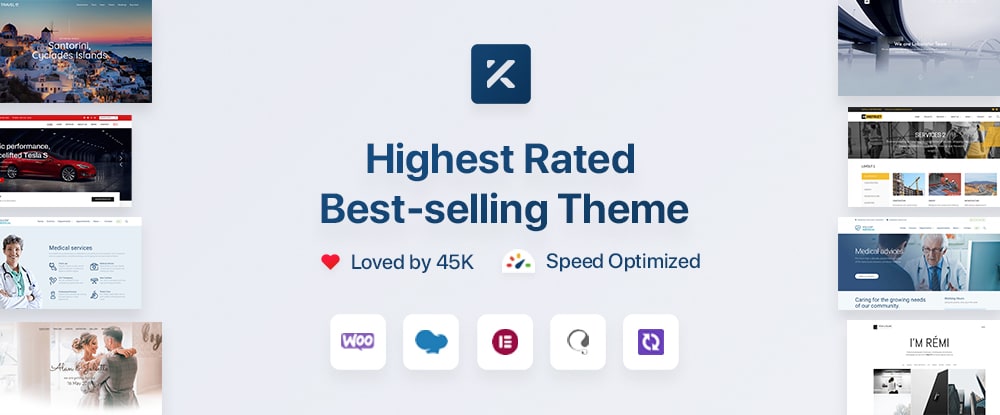 These Are The Best 10 WooCommerce & Shopify Themes for 2023
If you searched long enough in hopes of finding the best WooCommerce or Shopify themes for your online store you would eventually discover several that might do the trick. Finding the best one to serve your purposes might take a lot of additional searching.
May we suggest looking into several (in this case 10) themes. One or more of which should be picture perfect or very close to it with respect to satisfying your design perception or objective.
These great WooCommerce and Shopify themes all feature highly built-in page editors and highly customizable options. They are designed to ensure your store will be fast, reliable, and acquaint your customers with an exceptional shopping experience.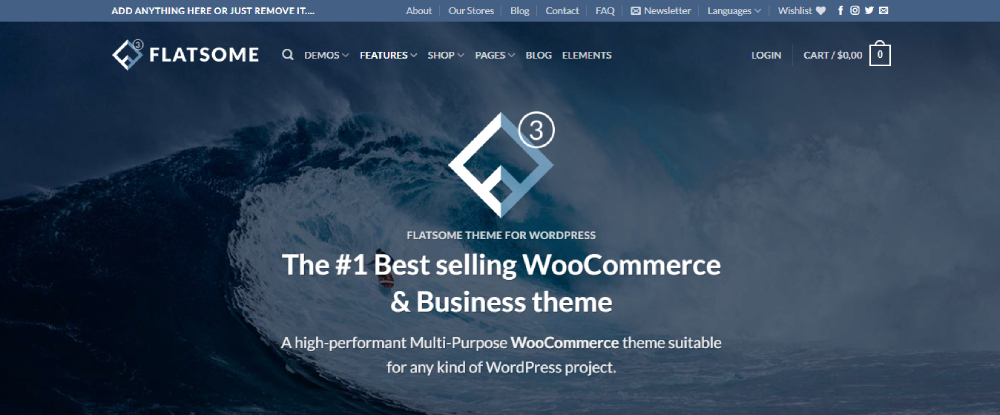 Flatsome could be the perfect answer to your eCommerce store-building needs. This high-performant best-selling WooCommerce theme is great for individuals, design agencies, and businesses looking to establish an online presence.
Flatsome has the right tools, aids, and options for anyone wanting to create a super-fast and reliable website that provides an amazing user experience.
Flatsome's new UX builder is revolutionary, responsive, and super-fast when it comes to creating pages, sliders, and banners. It lets you –
organize your content with drag and drop functionality.
create and alter layouts and edit text.
create custom responsive layout and content options for desktop, mobile, and tablet.
Flatsome's Live Theme Options feature gives you unlimited possibilities to make your site beautiful and unique. Note that visitors often visit well-designed websites for the aesthetics.
Other features include –
a library of content elements including sections, video, images, and sliders.
customer-centric options including live search, product quick view, product highlight (sales bubble), filter options, wishlist and cart, etc.
Click on the banner to learn more about this best-selling WooCommerce theme.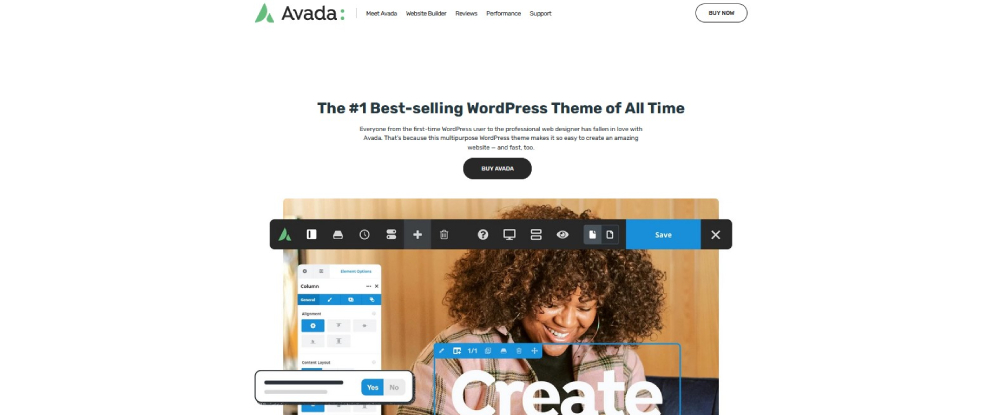 Many of Avada's users refer to it as the Swiss Army knife of WordPress themes, and since first-time WordPress users and professional web designers alike love working with it, it should come as no surprise that it is the best-selling WordPress theme of all time with 750,000 users to date.
What does the Avada WooCommerce theme have going for it?
Avada is built for speed, and you can count on it to give impeccable performance.
Avada's WooCommerce builder is ideal for creating custom shop and product layouts.
Plugin installation can be minimized. For example, the Avada Form Builder lets you build forms the way you need them, and its custom archive layouts let you build archive pages the way you want.
Other features include 400+ pre-built web pages and 120+ design and layout elements.
Avada is SEO optimized and 100% responsive. Click on the banner to learn more.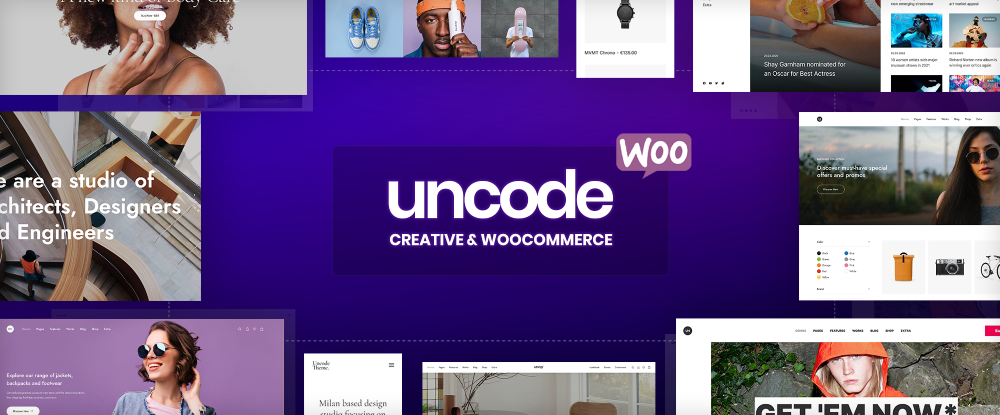 The Uncode creative WooCommerce WordPress theme is one of the best-selling themes of all time on the Envato market with more than 100,000 sales to date.
Uncode is constantly updated to keep abreast of the latest design and technology trends.
WooCommerce website building tools range from Uncode's advanced drag and drop Product Builder to performant Ajax product features to carefully crafted importable pre-made designs (70+) and Wireframes sections (500+).
Ajax filters enable users to filter products on the fly according to category, size, color, brand, price, etc.
The Variation Gallery option gives users additional views of variable products while Quick-View gives users product overviews without being directed to detail pages.
Other customer-centric features include wishlist and shopping cart support and Catalog mode.
Uncode's gallery of inspirational user-built websites is worth a look when visiting the website. Click on the banner and find out even more about this creative theme.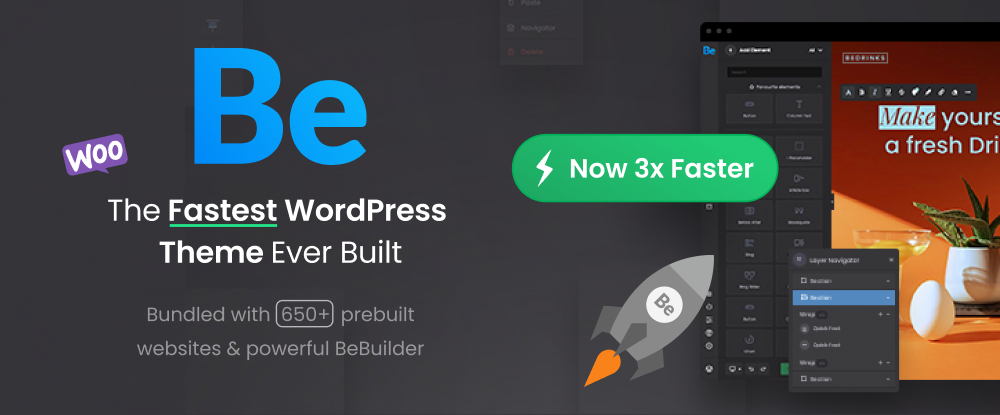 BeTheme holds the distinction of being the fastest WooCommerce theme ever built thanks to its new BeBuilder. Virtually every facet of this multipurpose theme with its 40+ core features is designed to help you create a website that will effectively represent and boost your brand.
Features you'll especially enjoy working with:
Builders galore, including BeBuilder, the fastest, lightest, and most intuitive visual website builder you'll find for WordPress, plus a Sidebar Menu Builder, a Query Loops/Loop Builder, a Popup Builder, and Be Header Builder 2.0.
Be's library of 650+ Pre-Built Websites is BeTheme's most popular core feature. Each pre-built website is customizable, responsive, and features basic UX functionality.
Be Blocks, which offers a time-saving selection of pre-designed sections.
Be is also one of the most popular and widely used multipurpose WordPress themes with its more than 250,000 customers to date.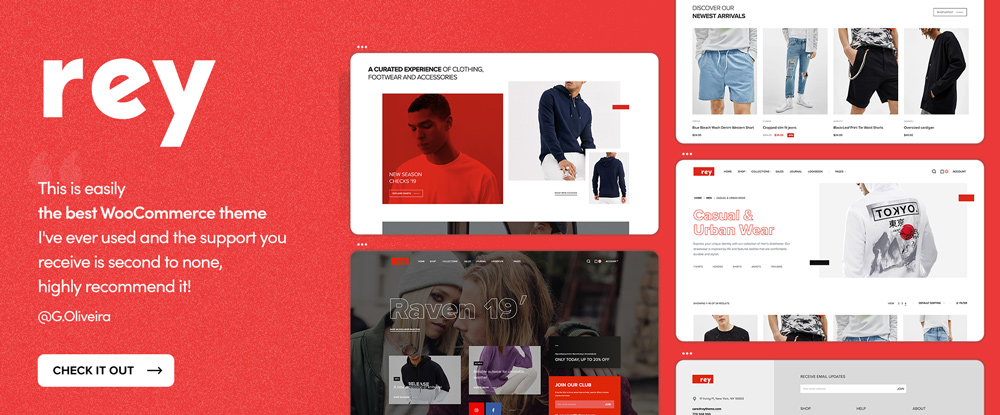 Some of the most important things you may want to know about a WordPress WooCommerce theme is whether it is eCommerce dedicated, the number and quality of its pre-made designs, and whether it is constantly updated.
Rey satisfies these criteria and more.
This popular WooCommerce theme offers outstanding performance.
Rey comes with a drag-and-drop page builder that makes it easy to create custom pages and layouts without any coding skills.
Rey is easy to set up and use. Seamless integrations with Elementor, WordPress, and WooCommerce together with flexible visual editing, customer-centric product features including fast search and navigation, and the selection of internal optional modules provide virtually unlimited flexibility.
Rey's stunning design features are easily conveyed to your website's design to impress your visitors.
Rey is responsive and is SEO friendly, making it easy for search engines to discover and rank your website.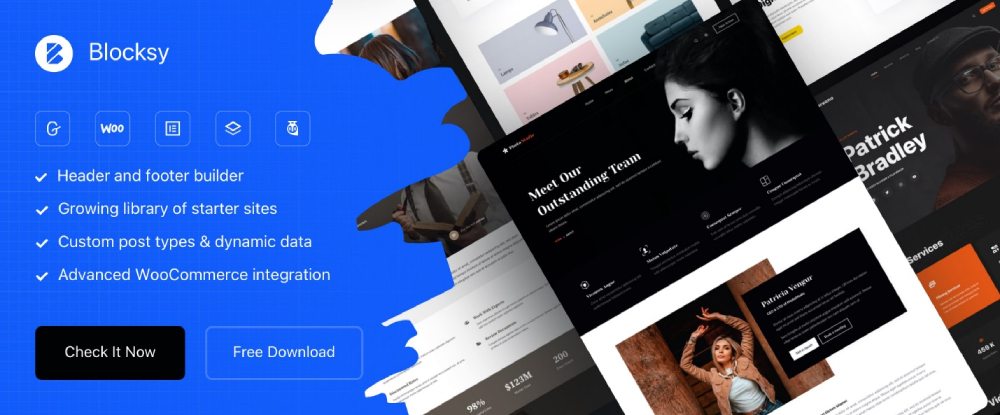 The Blocksy free WooCommerce theme is noted for its minimalist and effective approach to design. Blocksy is 100% integrated with WooCommerce and features a multiplicity of customization options that will help you create a stunning and engaging eCommerce store in minutes.
Among its many features you're sure to like are–
Blocksy's selection of up-to-date and elegant pre-built starter sites
its powerful header and footer builder, a mega menu extension, and its compatibility WooCommerce and with the Elementor, Brizy and Beaver Builder page builders.
the Content Blocks module offers plenty of flexibility by allowing you to add custom content to any page based on your specific needs.
Blocksy is built on top of Gutenberg using the latest web technologies.
There is also a white label module should you wish to establish your own brand.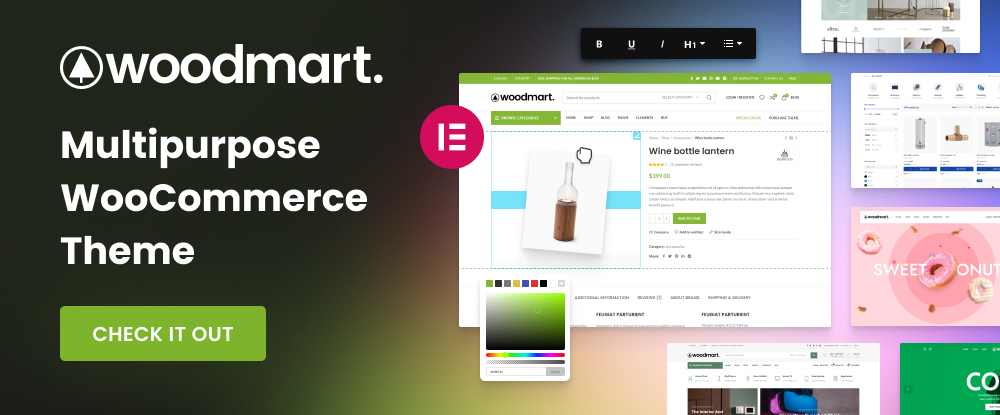 This multipurpose WordPress WooCommerce theme is particularly noted for its exceptional selection of product display presentations and options. The website itself is a masterful example of what an online store designed to attract and engage visitors should look like. You might even be tempted to select a product on display, forgetting that it is for demonstration purposes only!
Features you'll love include –
80+ stunning pre-built websites plus special pages and templates you can customize to fit your needs.
Shop and product page Elementor builders and Elementor custom checkout.
Customer-centric Ajax features including product search, filters, swatches, and quick-shop features.
Woodmart is responsive. You will have no trouble designing a mobile-friendly website and store.
Woodmart is at the head of the class when it comes to speed, reliability, and customer support.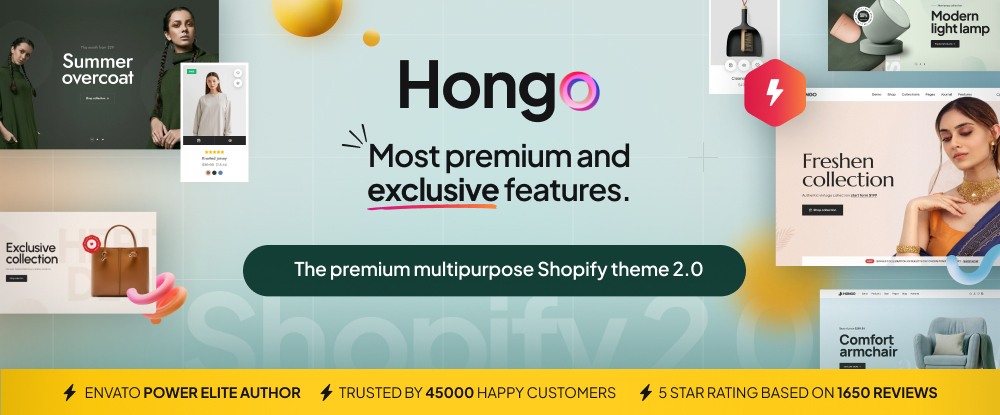 This premium Shopify theme is packed with features that enable its users to launch a wide variety of successful online stores, especially those to be used in Shopify, the world's premium eCommerce platform.
A key advantage to using Hongo is the savings one can realize by using Hongo's features in place of paid Shopify applications.
Hongo users will benefit from –
12 ready full demos for different business niches like fashion, furniture, jewelry, electronic, decor, etc., etc.
Excellent loading speed and healthy SEO results.
Out of the box premium features that include quick view, product compare, wishlist, advanced filters, color swatches, product videos, product bundles, and many more.
Online detailed documentation, help videos and highly rated customer support.
Hongo is highly flexible and customizable using the Shopify Customize panel with its 140+ ready sections, product cards, product detail styles and lots of customization settings to adjust as needed.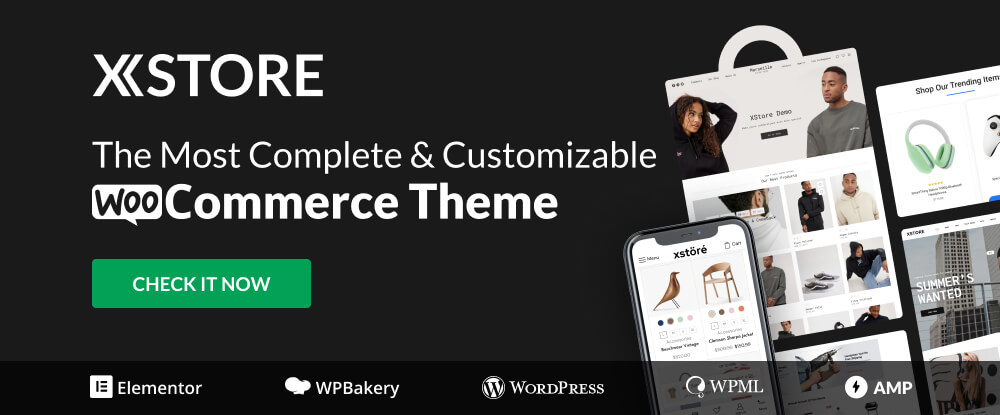 One of the best features of this popular WooCommerce theme are the 130+ demos that are specifically geared for online stores. Each is modern and responsive, can be imported with a single click and come with the necessary pages to build your online store. All you have to do is customize where you need to and add your own content.
XStore is easy to set up and easy to work with.
Popular features include mega menu support, the powerful Theme Options panel, blogging aids, and customer-centric options and features like wishlist, product compare, and booster sales aids to help you sell more.
Extensive documentation comes with the package and XStore is SEO optimized.
XStore was built to load fast, so you won't have to worry about slow response times that could affect your store's conversion rate.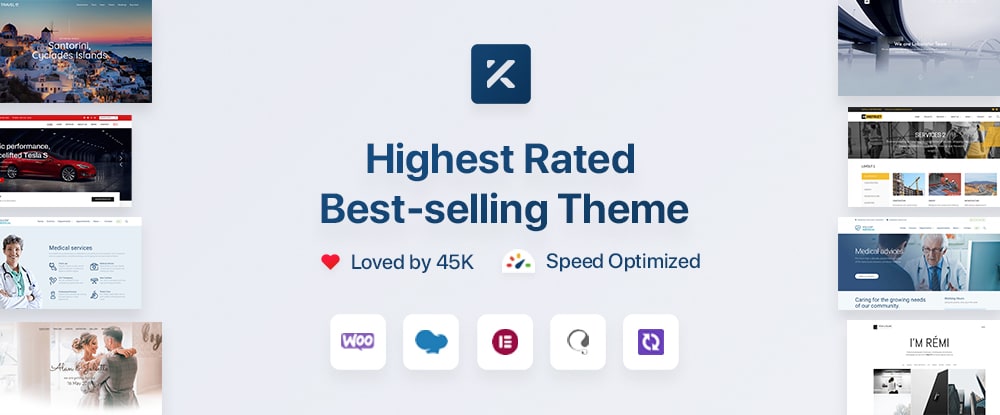 Kalium is a flat-out beautiful WooCommerce theme that not only features a winning design but one that will help you create an engaging online store with a high conversion rate.
Kalium's Live WooCommerce builder is complemented with its highly customizable product catalog having a wealth of template layouts to choose from.
You also have the choice to create your own layout with the Kalium WooCommerce builder.
You will experience high conversion rates with the newly designed cart and checkout pages. The stepped checkout feature is straightforward, and customers won't get distracted by unnecessary forms or other content.
Other key features include product filters, product hover styles, up-sells, cross-sells and a grid/list catalog switcher.
Kalium is speed optimized and enjoys an exceptional product rating and great product reviews.
*******
Whether you're starting from scratch or upgrading your existing eCommerce shop, WooCommerce themes are one of the most accessible tools for enhancing your website and simplifying your business processes.
There are many good themes on the market, so many in fact that you'll benefit from this curated list of ten best WooCommerce and Shopify Themes. Every theme listed above offers one or more specific features you might be looking for.