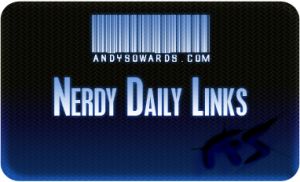 This week is flying by! Its Thursday already, and Guess What? I have another HUGE Web Development/design Links post for you to Enjoy!! Thanks everyone for all the love and support, I appreciate you all! Now Get your Daily Nerdy Web Development/Design Links!!
Web Development/Designer Resources, Inspirations and Entertainment!!
Top analysts on twitter! Need an analyst?

New iPhone photo sharing service

Bubbles! Need I say more?

Good read on making jQuery plugins customizable

Great read on usability

Dont do these stupid things to your website

Make the transition from your hobby to a business – good read!

SWEET Gmail Filters to download!!

Awesome place for iphone app demos!!

AWESOME tutorial! Nice robohorse!

Great hand drawn resources!!

Great read about Safari and CSS

Sell your designs!!

Nice watch about photoshop retouching

GREAT laptop sleeves, want one!!

NICE logos! Amazing

Awesome tongue typography!!

Gmail storing data now?

AWESOME tool – puts your tweeps into a mosaic image!

Newspapers Save yourselves with social media!

Photoshop skills your mom should know haha

Great wooden textures!

Great educational tweeters

Share! Added to SU

Great interview with guykawasaki

Great read about building a youtube dialog box!

More Designers to follow on twitter!

French P2P laws are crazy!

Awesome 3D Fire tutorial!

Swag! Free! Giveaway!

This is just cool

Get the good ones back!

Awesome roundup of Watchmen Watch type!

Gmail FTW

GREAT list of Designers and Creatives that are worth a listen on twitter

Awesome swirl vector

Good tips for ecommerce success!

Need a job? Use twitter

Awesome! News Aggregator now has twitter search

Its true, we never are LOL

Great read for Graphic Design Speakers

Good questions are hard to find.

Great small business twitter tips!

Awesome Illustrated Characters on these sites

Where did all the time go? Social Media

Inspirational read – theres still time

Target ads at yourself? Really?

Awesome place to bookmark web design and dev sites

Looks like a good tut!

Very nice iPhone App web designs

Awesome examples of High Quality FREE Icon Sets

Great read – best and worst twitter apps for iPhone

Awesome way to get reviews

More awesome jQuery tutorials for you to slave over 😉

Nice grungy textures! – hi-res

GREAT look for people with a ton of follows on twitter – how to manage with tweetdeck

Cool look at Creative paper usage in web site design

Quick tutorial on creating skype-like buttons using jQuery!

NICE! jQuery in Dashboard widgets!

Some inspirational artwork here

Sweet wallpaper!

Don't screw up – good tips

Grammar Myths! Get your grammar on – Sometimes in this world of email and txt we often lose our grammar skills

Most popular JS Frameworks – good list – jQuery is my 1 and only tho

AWESOME Wallpapers – Need a new one?

Logo of the day from yesterday, nice!

Good tools for twitter business research

AWESOME and Inspirational look at Interface design from the past to present – Good read for anyone!

Wow, who knew annual reports could look so good? LoL

New iPod Shuffle!

Show your character on LinkedIn

For the most part this is true

I feel weird for being a programmer now too haha

Great video featuring wearable tech – for nerdy gadget lovers

Awesome Helvetica Exhibition pic

WHA? Apple rejects twitter app over swearing?! #FAIL

Good watch – blogging isn't for dummies

Good read for followholics

Typography Scarf LOL!

Awesome new mindmap app – worth a try – heard its great

great ways to create javascript modal windows (pop up divs) and dialog boxes (that are styled)

Dang CSS is 10 years old! great read
If you like this, You'll love These.