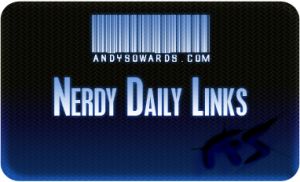 TGIF! Its the weekend! ALMOST! This is a 3 day weekend for most people, so enjoy it and knock out all those projects that have piled up! We have some great CSS and Photoshop stuff in the list, also a ton of great Creative and inspirational Link Collections. Hope you enjoy it and pass it to a friend! Thanks everyone for all the love and support, I appreciate you all! Now Get your Daily Nerdy Web Development/Design Links!!
Web Development/Designer Resources, Inspirations and Entertainment!!
AWESOME Lego movie posters

WOW that would rock

Great read about achieving your goals

Great web industry jargon glossary

Great and Quick MS Word Letterhead!

Awesome ways to flunk design school

Awesome gmail organization coming to gmail!

Great twitter profile in google analytics tutorial

Awesome cracks texture!

amazing caricatures!

Awesome photo manipulation tutorials!

Awesome Color Tools!

Excellent Poster Designs!

Awesome read – Social Search needs an Algorithm too

Excellent Freelancing Resources!!

Awesome Interview with Kimberly Beaven!

Are you wealthy or rich? or neither? LoL

What type of geek are you?

Go green in your business!

Lots of Resources and Inspiration for Designers!

Awesome Social Media Icons!

Awesome Blog Post Footer designs!!

Are you listening on twitter?

Excellent 3D Web Design Effect Tutorial

Great read for installing WAP

Wow. build and share fonts.

This is awesome. 26 years. 85 notebooks.

Great Blogger Interview

Awesome ways to view Page Source on iPhone

This is a great thing to know

Great Read for OOP in CSS

Great read for freelancers – letting your clients know about catastrophes

This has potential to be awesome

Interesting social media marketplace!

This is pretty cool!

SWEET! Netflix in Media Center!

Manage your To Dos!

Be more creative, Damnit!

Hulu coming to the UK?

Interesting Read – Universal IE6 CSS

Awesome Flash Photo Galleries!

Interesting read – Crumpling business cards individually?

They really don't care about your brand.

Awesome read about supporting old browsers

Awesome Tips for Cost Effective web dev

Awesome plugin lets you use your html/css knowledge to extend the browser!

Amazing collection of Moleskine Tips Tricks and Hacks!

Awesome Resume Designs!

Cool eye tracking study results

EVERYONE SHOULD READ THESE

Great CSS Steps to improving your code!

Crazy creative Anti-Smoking ads

Awesome Geek T-Shirts!

AWESOME 3D Graffiti!

Excellent Tips for using the 960 Grid System!

Excellent tip for making a planet!

Awesome look at Photoshop Automation

Awesome Twitter profiles!

Awesome look at the evolution of the SocMed API

Great help when trying to center absolutely positioned divs with css
If you like this, You'll love These.