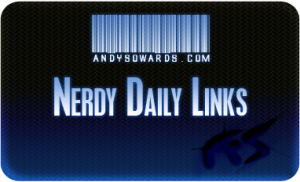 This week is starting off great! Catching up on my workload as well as getting some rest. Happy Veterans Day to you all! Been having fun this week chatting with Subscribers (Which grow by the day now!), daily visitors, and twitter friends! I am proud to log onto twitter each morning and have someone ask "When are we getting those nerdy web techy web developer/designery Resources Today?" Makes me smile :). So go get those resources!
Web Developer/Designer Resources
Some Amazing Adobe Air Applications, That YOU MUST USE! Good Stuff!

Good Weekend! My oldest son turned 3 years old (You can find pictures in my Flickr stream below 😀 )! I again (as I always do!) Would like to thank all of
WordPress
Good Insight into Multi-Authored blogs and how to efficiently handle them!

WP 2.7. An In Depth Look at Admin Panel

NerdPress. I am all about some Nerdy WordPress Themes! Check this one out!

Issues with that Pesky thumb.php in WordPress?
Javascript
Onwards and Upwards. Javascript Best Practices for Enhancing the Web Standard.
iPhone
Quick and Easy Tutorial on Iphone-tizing your website!
Twitter Stuff
Get the promotion you deserve!

Set Twitter Goals to get the most out of twitter.

Best Twitter Services to use!

Tips to gaining a Twitter Following, and Keep it!
Web Developer/Designer Inspiration
Great Roundup of Logos submitted by the Designers! Insight behind the logo! Featuring yours truly 🙂

Animal Based Logo Inspiration!

Nice Inspirational Graphic Designs! Good Collection

Never a Better Time for Startups eh?

Really inspirational/clean/professional web site designs!

Very nice collection of Creative Wines and Packaging.

More Amazing Photography. Very Inspirational. Huge list!

Great Photo Inspiration! Amazing!

@mayhemstudios has been featured around the web this week! Here are some places you may have seen him!

Awesome interview with art director, senior designer and founding partner of Bleed designstudio

Web Development/Design Nerdy Daily Links For 11/10/2008 – I again (as I always do!) Would like to thank all of the Subscribers (Which grow by the day now!), daily visitors, and twitter friends for making it a success so far! I am proud to keep those nerdy web techy web developer/designery Resources coming
Freebies!
Nice Pavement Textures!

Cool Krazy Kaleidoscope Doodad Vector Pack Download!

Cool Image Resource for Photoshop tutorial Authors! Spice up your tutorial!

some nice snow, ice, snowflake and Christmas brushes Just in time for the holidays!!

Collection of photoshop cheat sheets!

Free WordPress Themes, Icons & Typefaces. Some nice freebies! By Ten by Twenty ™
Blogging
Get on the Adholes blogroll

It is up to you to get your blog included in the Profitable Bloggers. Please fill out the form below and we will include your blog in our list. – You heard the man, Get on the list if you have relevant information on your site!

Mike Smith wants YOU to use these headlines, be sure to let him know when you do 🙂
Design Tutorials
multi-part series of articles about basic design. Part Two – Emphasis

multi-part series of articles about basic design. Part One – Balance

multi-part series of articles about basic design. Introduction.
SEO
Part 1 on Improving your SEO – Beginners guide
Freelancer/Business/Marketing
Being a freelance designer is no excuse for not being prepared when dealing with clients and potential clients.

Good Quote. Anyone who owns their own business. "If your company went out of business tomorrow, who would miss you and why?"

If you are an Affiliate Marketer, You should be using StumbleUpon, Heres why.
Web 2.0 News
Oh my Goodness. Myspace updated the user profiles? AND with near complete adherence to W3C HTML standards? Hell Froze Over?

VideoCrawler provides its users with more customization options, such as the ability to rearrange the interface, as well as the option to restrict searches to TV shows, podcasts, or slideshows.

Keeping all your social media sites updated can feel like a lot of work sometimes. This is where Tarpipe, a Portuguese startup, comes in. Tarpipe allows you to develop complex workflows for publishing content to multiple social media sites through an intuitive, Yahoo Pipes-like interface.

Stay away from Mp3 Headphones if you have a Pacemaker, Yikes!

Morale of the story, Keep your Keys in your pockets.

Happy Bday FireFox! 4 years old! Such a little guy.
Social Media/Web Tools
Design Float is a social media site dedicated to the design industry. Check It Out!

Tools for the Social Media Entrepreneur! Check them out!

Gotta keep that MBR Safe!

Interesting New Tool – Apture provides the first rich communication platform allowing publishers and bloggers to easily turn flat pages of text into multimedia experiences.

Backlinked.com backlink monitoring
simple free solutions to organizing and
validating your paid and exchanged
incoming links. Nice!

Share Powerpoint Anywhere!

Picitup, dubbed as the world's first content based image search engine, allows user to search for similar images based on their own uploaded image.

Fast and easy Web Applications? Interesting.
Photoshop Tutorials
Cool Intensely Grungy Wallpaper! Everyone Loves Grungy.

Really cool Floral Type tutorial! Photoshop in 5 Minutes!

Cool Web 2.0'ish Magic Wand Tutorial!
jQuery
Cool insight to a new-ish jQuery HTML Templating process
Laugh of the Day
Muhahaha. Must. Mess. With. Designer. Friends.
PHP Programming
Building member authentication with PHP. Nice insight if you are new to Programming.
Pictures from my life (mainly my cute kids)
If anyone wants to see Me as a Vampire on Halloween, then you can view my flickr. Also My 3 year olds B-day pics are in there too, just to give you a little insight into the man behind the Daily Nerd Links!