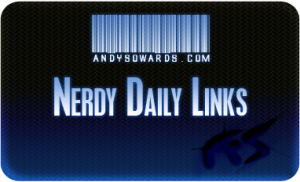 Get your Mind ready for Thanksgiving with a healthy helping of Nerdy Links! Preparing you for thanksgiving this week ;)! Go get the resources!!
Freebies!
Awesome High Quality Fonts!

Amazing! Best wood textures I have ever SEEN!

FREEBIES! Ink Vector Trees!

Nice, Free, Wall texture pack!

Awesome Polka Dot Patterns that are Seamless! Freebies!

Nice Sketchy Arrows! I suck at hand drawn stuff so this is great!

Really amazing Modern Design Trend Brush Sets! FREEBIES!
Web 2.0 News
Wow! Thats a pretty big offer!

Magpie = Fail!
Secret Santa!
Freelance/Business/Marketing
Get your Freelance on with these Job Sites!

Friendship makes the Twitterverse Go Round. Srsly.

Successfully spy on your competitors! Good tips!

Your Clients, asking for WordPress themes, What to ask THEM!
Tutorials!
Photoshop Selection Techniques!

Make a Blogger Business Card in 5 Minutes! Nice!

Awesome Ghost in Photoshop and Cinema 4D Tutorial!

Really AMAZING lighting effects to pull off in Photoshop!

Awesome Photo Manipulation Video, Good insight to workflow!
Web Developer/Designer Inspiration
Crazy old Books, Crazy old designs!

Another Great Weekly Roundup of all things Web. Nice list!

Some REALLY nice dark Designs. Inspirational.

Nice Collection of Logos from 10 Logo Designers!

Another great Designer Interview from Fuel Your Creativity. Featuring Menachem Krinsky!

Amazing and Inspirational Web Agency.

Check out Arbentings Best of the Week! Great Collection yet again! 🙂

Collection of Sites for Designer Inspiration!
jQuery Stuff
Cool InLine Alternative to Lightbox! jQuery R0x0rz
Blogging Tips
When I grow up I wanna be just like you…

Giveaways and Competitions rock! Especially if you are the one holding them 🙂
Web Developer/Designer Resources
Nice Tips for Increasing Usability in Design

The stuff to have if you use Google Chrome, Like me!

Web Development/Design Nerdy Daily Links For 11/24/2008 – Starting the Week off STRONG with a healthy helping of Nerdy Links! Preparing you for thanksgiving this week ;)! Go get the resources!!

Hilarious steps to take, to ensure you are the WORST developer ever. LoL I have seen code that makes me think the person I inherited the project from took these steps 🙂

Great Workflow Example, The Creative process behind Design Cubicle's logo!

Great Resources for T-Shirt Designers!
Programming
This is the funniest programming video I have ever seen. Never thought someone would use claymation to teach pointers 🙂

Collection of some of the Best PHP Frameworks to use!
CSS Stuff
Nice CSS Dither Effect!

Nice Sketchy Icons!
Contests
Another great contest from FeCoding.com – PSD to WORDPRESS